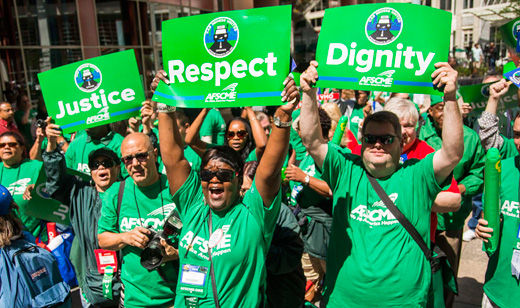 CHICAGO – Over 1,000 delegates to the 41st AFSCME International Convention left McCormick Place July 16 and travelled on foot, by car, by train and by bus to the Thompson Center where they told the 12,000 cab drivers of this city who are trying to unionize that they are not alone.
"This is so beautiful," said David Adenekan, one of those cab drivers, as he looked out over the sea of green AFSCME T-shirts filling the downtown streets. "America is beautiful," said Adenekan who came here 20 years ago from Nigeria. "It is beautiful because it has unions who fight for the people and this is beautiful because here is one of the most powerful of those unions coming all out to cover our backs."
The way Adenekan, who has a wife and two sons, 2 and 5 years old, tells it the cab drivers of Chicago need to have someone "cover" their backs.
"Most of us are losing at least $7,500 a year because of some awful rules the city put in back in 2012," he said. The loss of more than seven thousand dollars income for the average driver, Adenekan explained, results from a combination of factors including higher lease rates charged by the companies that own the cabs, reduced work hours and high credit card fees.
Adenekan said he needs a union because "The drivers, not the companies or the passengers, have to pay the credit card fees, and we have to pay every cent of the ever increasing gas costs. We face police harassment over minor regulations. The result of all this is that even if we put in 60 or 70 hours a week we end up with an hourly rate less than the federal minimum wage."
Adenekan said cabbies began organizing themselves into Cab Drivers United in the spring and have been rapidly gaining membership. "Just look and listen to that," he said as the crowds outside the glass front of the Thompson Center began chanting and shouting in response to speakers on the rally platform. "This is a big deal today," Adenekan said, smiling from ear to ear. "What is happening today is a big step forward for us. We are eventually going to be able to win this thing."
The impression Adenekan gives is that, as important as both pay and benefits are (there currently are no benefits or sick days), cab drivers in the Windy City are concerned about a lot more. "This has to do with dignity," he said. "Forty-six years ago sanitation workers in the South carried those signs that said 'I am Man.' Well that holds true today. "
"Cab drivers are ambassadors for this city," he said. "If you get off a plane at O'Hare, I am the first person you meet in Chicago. I am proud of this and I work to make sure that you are welcomed and are having a pleasant trip. Don't I deserve something other than harassment and a sub-minimum wage?"
Meanwhile on the podium, Rev. Dr. William Barber II, president of the North Carolina NAACP and leader of that state's Moral Monday movement, was whipping up the crowd in support of Adenekan and his fellow cab drivers.
"Cab drivers are more than just faces behind a wheel," said Barber. "Without them the city would come to a standstill. You don't want to see a city with no cab drivers. We must not allow those who drive us to be themselves driven into poverty.
"Instead of degrading them, harassing them and fining them we should be giving them the dignity that comes with membership in a union – a living wage and the ability to support themselves and their families."
Photo: Marching in Support of Chicago Cab Drivers: AFSCME activists rally to support Chicago cab drivers who are trying to build a union with AFSCME. The rally was held July 16 during AFSCME's 41st International Convention. Photo credit: Tessa Berg, convention website.