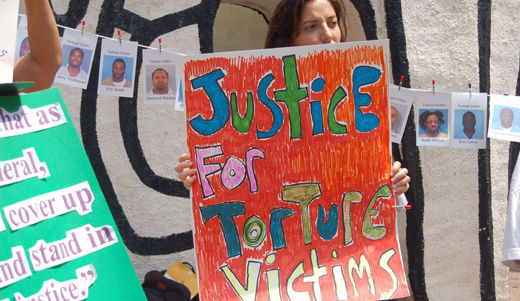 CHICAGO, Ill. – After living behind bars for more than 23 years for a crime he did not commit, Michael Tillman was finally freed Jan. 14 here.
Tillman was sentenced to life in prison for the 1986 rape and murder of Betty Howard in a South Side abandoned apartment.
But, Tillman says he was tortured into confessing by police detectives. The detectives worked under the disgraced and notorious former Chicago police Area 2 Commander Jon Burge.
Over three days of questioning, Tillman says Burge's detectives beat him with a phone book, staged a mock execution by holding a gun to his head and suffocated him with a plastic bag. Detective's also poured 7-UP into his nose after forcing his head back, in a form of waterboarding, he says.
An appeal was initially made on Tillman's behalf on the grounds that his confession was forced and should not have been used during his trial. And in 1991 his conviction was overturned and he was granted a new trial.
Yet a 1996 jury eventually found him guilty again.
This week Myles O'Rourke, the assistant special state's attorney asked that the murder and rape charges against Tillman be dropped because he was convicted with "coerced statements" and the state couldn't prove his guilt based on the remaining "unreliable evidence."
Special prosecutors note that evidence shows "a pattern and practice of abuse," at what is now the Calumet Area police headquarters, which was employed under Burge and his detectives. In their court papers, prosecutors point out detectives under Burge had also given conflicting explanations for blood found on the floor in the room where Tillman was interrogated.
They also say evidence appeared much stronger against another man, Clarence Trotter, who is also serving a life sentence in Howard's murder. Trotter was found in possession of the murder weapon and personal belongings of the victim's. His fingerprints were found at the scene.
Circuit Judge Vincent Gaughan dismissed Tillman's case freeing him after almost a quarter century behind bars.
Speaking to reporters alongside his family Tillman said, "It feels good" to finally be out of prison. Yet nothing could remove the pain and suffering of all the years behind bars and he hopes the detectives who are responsible for putting him there are one day held accountable.
"They'll get what they got coming," said Tillman. "The system will do to them what they did to me."
Criminal justice attorneys say Tillman's release carries important implications that could positively impact other victims, mostly African American males, who claim they were also tortured into confessing under Burge and his detectives.
Attorneys add Tillman's direct connection to the alleged torture practices of Burge and his detectives is the first case of many others for the state where a victim was finally brought to justice.
"In 35 years – starting with Richard Daley, Richard Devine, Lisa Madigan – no prosecutor in charge of these cases has ever conceded that a man was tortured or abused at Area 2," said attorney Flint Taylor to reporters outside the court.
Taylor is known for taking on several Burge-related cases involving African American torture victims who say they were forced to confess to crimes they did not do.
Tillman is the latest longtime inmate to be set free due to allegations of torture under the eye of Burge.
Torture victims and their supporters say Illinois Attorney General Lisa Madigan is not doing enough to address the dozens of other Burge cases. However Madigan's office contends they are reviewing and leading on-going investigations. Six inmates have been freed in recent years, a Madigan spokesperson told the Chicago Tribune.
In 1993 Burge was fired from the police department due to the abuse of a criminal suspect in his custody. In May he is scheduled to go to trial in federal court on charges he lied while testifying in a civil proceeding about alleged torture under his watch. He is currently retired and continues to receive a pension. Not a single detective under his command has been charged with criminal wrongdoing.
Taylor looks forward to the day where the more than 20 other Burge-related torture victims that remain in prison despite their repeated claims of innocence, are also brought to justice.
"It is incumbent that everyone who has documented case of torture or abuse from Area 2 and Burge's people, that they have a new hearing and a new trial without that tortured confession," Taylor told the Chicago Tribune.
"It doesn't mean that they are all innocent. It doesn't mean that they are all guilty. But regardless, they are all entitled under the Constitution and the law not to be convicted in part or in total on tortured, coerced confessions," he adds.
Next steps in Tillman's case will be to obtain a certificate of innocence, similar to a pardon, that would entitle him to nearly $200,000 in compensation from the state for his years in prison, said Taylor.
Photo by Pepe Lozano/PW