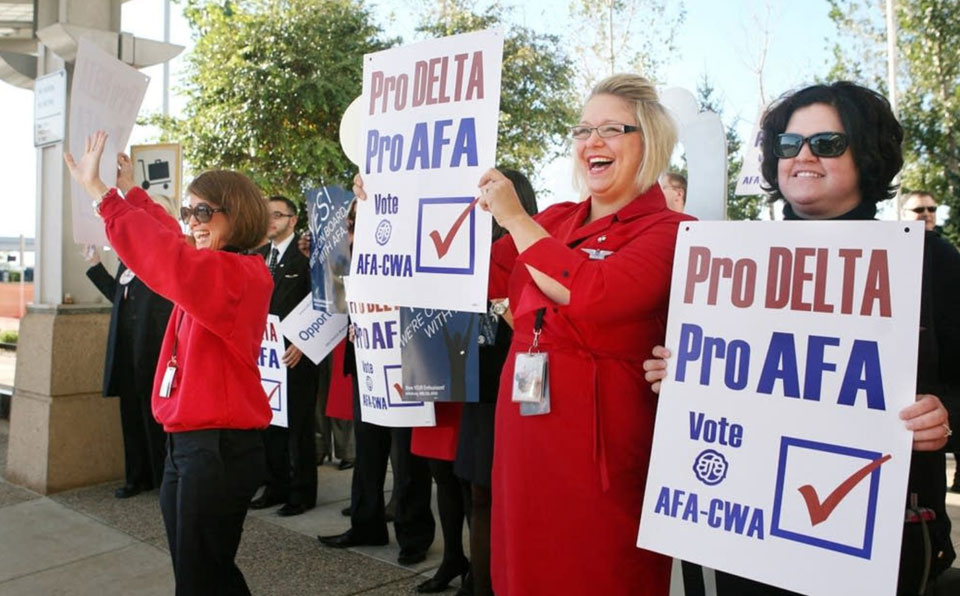 ATLANTA—After at least a two-year drive, and 12 years after a narrow loss under unusual circumstances, the Association of Flight Attendants-CWA is trying anew to unionize the 22,000 flight attendants at notoriously hostile Delta Airlines. And this time, union President Sara Nelson and rank and file members are confident they'll win.
AFA must gather union election authorization cards from at least 50% + 1 of the total workforce before it can file with the National Mediation Board for a recognition vote at Atlanta-based Delta. The NMB oversees labor-management relations at airlines and railroads.
If AFA-CWA wins—and that's not a given considering the track record of Delta's bosses and the tactics they used last time—Delta members would be the largest private-sector group organized at one shop in years. They also would increase AFA-CWA's ranks by around 40%.
When AFA-CWA tried to win at Delta, it lost by approximately 300 votes, the union said. Then, most of the attendants were Delta workers. Reuters reported the actual count was 9,216 for-9,544 against unionization, though 438 union attendants backed unions other than AFA.
But that Nov. 3, 2010 defeat occurred after Atlanta-based Delta, then as now enormously hostile to unions, had just devoured wall-to-wall Minneapolis-based Northwest Airlines. And there were more Delta flight attendants then than Northwest attendants. The Northwest attendants were familiar with unions and their benefits; Delta's weren't.
Key issues driving the current campaign are arbitrary scheduling, pressure to violate federally mandated work rules, low pay, lack of transparency, and general Delta disdain. AFA-CWA also points to the contrast between how the carrier mistreats its flight attendants and how it must obey the contract with its only unionized workers, the Airline Pilots Association.
In a 5-minute-18-second video on YouTube and @MorePerfectUS, rank and file attendants note union wins elsewhere—-at Amazon warehouses and Starbucks coffee stores—inspired them, too, as has a general positive turn in the U.S. towards unionization.
The video juxtaposes boasts by Delta CEO Ed Bastian about record bookings and revenues with what that means to Delta's exploited flight attendants, plus Nelson's comments.
"We're not treated like real people, we're not treated like humans, with families and obligations and stresses and illnesses. I am seniority #13,998 and that is how I'm treated at Delta," flight attendant Kara Depuis explains.
"Workers are stretched thin, staffing has been cut and we've been asked to do more than ever," union President Nelson replies. "Forced overtime hours, and the airline industry is no different. Going into COVID (the coronavirus), people were working twice as long as they were prior to 9/11," said Nelson, an Oregon native and longtime United flight attendant.
"Delta is gonna have a rough summer because they're severely short-staffed. The only way the airline runs, the only way it takes off, is by people working more hours, taking more shifts, than they ever have before."
The attendants enlarged on her comments. "Behind the scenes, we're getting rerouted and making me fly on my off-days because of these promises, these empty promises, that I'm used to getting, to the public," a young woman attendant, who was not identified, said.
"Right now, for instance, I can sign in for a trip that's going to be two days. I'm anticipating working two legs, layover, work for two legs," Depuis elaborated. "Once I sign in for the trip, I am basically at the company's whim. There are no real guidelines about who gets reassigned when, who gets rerouted when. There's no transparency. We don't know how the decisions are made or when they're made."
"When things go wrong in the operation, what that means is that oftentimes, the flight attendants are stranded in the airport," Nelson replies on the video. "They can't get a hotel room and they can't get ahold of scheduling, because there's no one there to tell them where to go or what to do or how to be safe, even.
"When you're planning on getting home and feed the cat or pick up your kid from preschool, and you're not getting home and don't know when you are, and you don't know how to tell people to pick up the pieces of your life in the meantime, it's really hard."
The video also says Delta, three years ago, arbitrarily declared flight attendants must work longer hours or lose benefits. It couldn't do that to the pilots, "because they have contractual protection from a union," Depuis points out.
"So they didn't have to deal with the quality of life changes, they didn't have to deal with the financial impact, because it was determined by a contract and they (Delta) couldn't change it. It's really hard not to see this as forcing us into being more productive."
Jack Dafoe, who was with Northwest when Delta swallowed it, said "I was protected by work rules, which were so important to me. If we were illegal to work a trip, there was no emotion involved. It was just contractual. It was business-like. I would call a scheduler and say 'I'm illegal to work this flight,' and then my hotel and transportation were just set up.
"Now it's emotionally charged, and sometimes the scheduler will harass you, you know, to…try to get you to work that trip you're not supposed to according to the work rules."
Harking to Southern hatred of unions and workers, Nelson says Delta "integrated an anti-union stance for decades. It's woven into the culture Delta has perpetuated."
But put all the exploitation together and both Nelson and the workers on the video predict a victory. "This one is not gonna be close. This one they're gonna win by a mile," says Nelson. Adds Depuis: "There is something in the air here that I've never felt before."