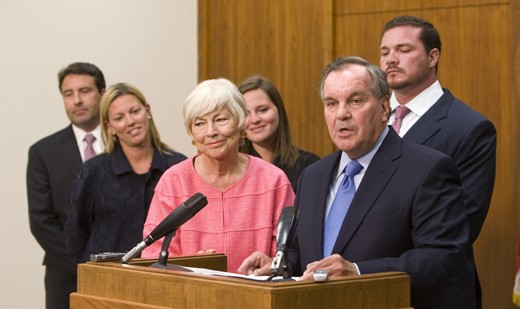 CHICAGO – After 21 years as mayor, Richard M. Daley announced this week that he will not seek re-election for a seventh term in the upcoming February elections here.
Longtime Chicago independent political and labor activists say it's about time.
"I've lived here my whole life, born and raised in the Back of the Yards neighborhood, and the city today is practically bankrupt," said Linda Coronado, former commissioner of Latino affairs under Daley's predecessor Harold Washington, the city's first Black mayor elected in 1983.
Coronado who is also a former Chicago school board member said she wasn't too surprised that Daley has decided to step down. A number of different factors including family considerations (Daley's wife has cancer) and the economic crisis the city is facing, not to mention the incredible violence plaguing Chicago, probably played a role in his decision, she said.
"There's probably not much he can do at this point," she said. "I believe it's time for a change and it's time for Daley to move on, like he stated."
There is still a lot of work to be done including addressing the city's racial divide, notes Coronado. "And we're going to need the best team possible that has knowledge about Chicago's finances, our education dilemma, saving city services and ensuring public safety, when it comes to eventually electing a formidable candidate."
Community activist Rudy Lozano Jr. (and this author's brother), who came within some 400 votes of an upset victory in a recent Democratic primary for state representative earlier this year, said Daley's announcement is bittersweet for progressive and independent forces.
Lozano said Daley is leaving the city in bad shape including: a $655 million dollar budget deficit; a public school system under attack due to mass privatization; rampant violence in low-income communities especially in Black and Latino neighborhoods; and a public housing structure that almost doesn't exist anymore.
"Over the years Daley has hurt working-class communities," said Lozano. "The Daley dynasty has institutionalized a level of corruption and has made it an art form and this will all be part of his legacy."
The only sectors that are sad to see Daley go will be the corporate business elite and the mayor's cronies, including those in City Hall that have benefited from his no-bid contracts for the last 21 years, Lozano says.
Many predict no single unifying candidate will emerge in the coming months and a huge vacuum will take effect. Others note some will break into "camps," including the African American and Latino political sectors. The Democratic machine will also put up its contender, they add.
"Now is the time to build a broad multi-racial coalition and seriously look at the 2015 mayoral race in order to have a real progressive candidate that can bring together a real independent choice," said Lozano.
"We're going to have to really develop our young political leadership and it's time for our generation to take initiative through organizing, mobilizing and strategizing to unite all of Chicago's diverse communities," he said.
Kathy Devine is also a veteran political and labor activist that has worked on dozens of campaigns to elect independent Democrats over the years. She said the first time she worked against Chicago's powerful and legendary Democratic machine was in 1969.
"I never looked back after that," she said. "The more informed I became about the machine, the madder I got."
Devine said the machine's ties to corruption, cronyism and racial disparities all led up to the 1983 mayoral election of Harold Washington.
"Everybody came together in 1983," she said. "The presidential election of Ronald Reagan in 1980 kicked it all off. We were horrified by Reagan's election and the independent movement in Chicago at the time was to fight back and unite the black, white and brown communities."
Devine said she and others began a massive campaign to register new voters all over the city, years before Washington considered running.
"We knew the only way to change things here on a local level was to register new voters by going door to door and every time we won something we registered more," she said.
Devine believes the reason why Daley (the current mayor) always won, after Washington's death in 1987, was that the vote total was consistently low.
However Daley's unexpected retirement has jolted the city, she added.
At this point many predict a free-for-all. City Clerk Miguel del Valle, several aldermen, a few congressmen, some Cook County and state officials, as well as President Obama's chief of staff and Chicago native Rahm Emanuel are all considering a run.
But Beatrice Lumpkin, a retired teacher and longtime union and peace activist hopes that the city doesn't inherit a Daley clone.
She said on the whole Daley has not been pro-labor and she'd like to see a trade unionist make a run.
"I'd like to see a candidate nominated by a coalition of labor, African American and Latino organizations," she said.
Photo: Mayor Richard M. Daley makes his announcement surrounded by family, Maggie Daley, front, Sean Conroy, Nora Daley-Conroy, Elizabeth Daley, Patrick Daley, back row. (Antonio Dickey/mayoral photographer)