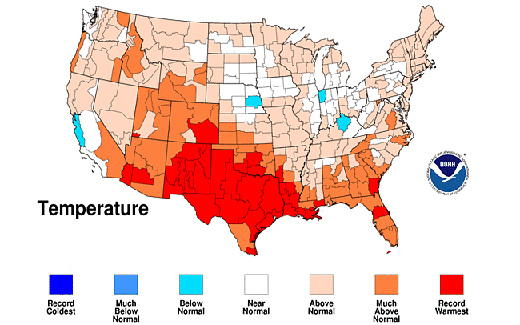 It's been a record hot summer, scientists say. Now, get ready for winter extremes.
This summer has been the second hottest on record, the National Oceanic and Atmospheric Administration reported last week. The agency's figures go back to 1895. The hottest summer was recorded in 1936.
August, in particular, was the hottest on record for the Southwest and South regions.
Six states – Arizona, Colorado, New Mexico, Texas, Oklahoma and Louisiana – had their warmest August on record. For five other states, this August ranked in the top 10 warmest on record – Florida (3rd), Georgia (4th), Utah (5th), Wyoming (8th), and South Carolina (9th).
Only nine of the lower 48 states had near-average temperatures in August, and no states had below-average temperatures.
The southern U.S. really got clobbered, as the persistent heat combined with below-average rainfall during the three summer months to produce a continuing record-breaking drought across the region.
For Texas, this summer's drought has been equaled only once in the past 461 years – and that was 222 years ago! "An analysis of Texas statewide tree-ring records dating back to 1550 indicates that the summer 2011 drought in Texas is matched by only one summer (1789), indicating that the summer 2011 drought appears to be unusual even in the context of the multi-century tree-ring record," the NOAA said in its Sept. 8 report.
A natural climate phenomenon called La Niña is part of the reason for these record droughts and for other extreme weather events. La Niña is a periodic weather pattern that originates over the tropical Pacific Ocean, typically arising every three to five years. In La Niña, cooler than normal ocean surfaces interact with the atmosphere and affect weather around the globe.
According to the NOAA, "The strong 2010-11 La Niña contributed to record winter snowfall, spring flooding and drought across the United States, as well as other extreme weather events throughout the world, such as heavy rain in Australia and an extremely dry equatorial eastern Africa."
NOAA forecasters expect La Niña to continue through the coming winter, so we may see a continuation of the Texas drought and other extreme weather patterns.
But what about global warming? Is it a factor?
"It is difficult for scientists to know how much global warming has contributed to this year's sweltering conditions, but there is growing evidence that manmade climate change is leading to more frequent episodes of extreme heat," scientist-journalist Alyson Kenward writes at Climate Central.
She cites a new report, "Current Extreme Weather and Climate Change," released Sept. 8 by a panel of climate researchers.
"All weather events are now influenced by climate change because all weather now develops in a different environment than before," these scientists say.
"While natural variability continues to play a key role in extreme weather, climate change has shifted the odds and changed the natural limits, making certain types of extreme weather more frequent and more intense."
Rather than totally triggering any extreme event, global warming just makes it worse, meteorologist Jeff Masters of Weather Underground, a report reviewer, told USA Today. "'A warmer atmosphere has more energy,' said Masters, contributing to heat waves, tornadoes and other extremes. Even heavy blizzards come from an atmosphere packed with extra moisture by global warming he adds. 'Years like 2011 may be the new normal.'"
So, after you unplug your air conditioner, get the snow shovels ready.
Image: Map shows above average and record high August 2011 temperatures across the nation. NOAA