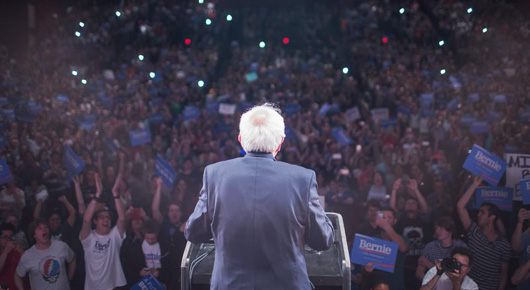 While vote totals in yesterday's Western primaries confirmed that Hillary Clinton is speeding toward victory, more and more leading Democrats, including Clinton supporters, are urging Bernie Sanders to stay in the presidential nomination race for the good of the Democratic party.
Clinton won in Arizona, but Sanders' victories in Idaho and Utah gave him 57 percent of the delegates up for grabs yesterday. A day earlier, he also won the vote among Democrats Abroad.
Both Democrats and Republicans held a primary in Arizona and caucuses in Utah yesterday. In addition, Democrats held caucuses in Idaho.
In all three states, Democratic voter turnouts broke all records. The turnout in Idaho was the largest for any caucus in U.S. history.
Among Republicans, the results confirmed that Donald Trump is still in the lead.
Press accounts from across the nation have been spotlighting the fact that Trump has become a magnet for white supremacist groups.
Moreover, several of Ted Cruz's supporters are blatantly anti-Semitic. For example, Cruz has refused to disavow Ted Nugent, a National Rifle Association board member who recently published a broadside implicitly saying that Jews "want to take away your guns."
To date, Clinton has close to 1,700 delegates not counting those chosen in the Utah and Idaho caucuses and Sanders has 895. These totals include 482 super delegates currently pledged to Clinton and 27 pledged to Sanders. To win the Democratic nomination, a candidate needs 2,382 delegates.
It takes 1,237 delegates to win the Republican nomination. Cruz emerged from Tuesday with about 471 delegates in total and Ohio Gov. John Kasich has 145.
Trump won in Arizona and now has a total of some 743 delegates pledged to him.
Trump channeling George Wallace
Meanwhile, there has been increased national press focus on the white supremacists who have attached themselves to the Trump campaign.
In a CNN interview, news anchor Wolf Blitzer told Trump that the Anti-Defamation League has listed notable racists who support him.
Blitzer asked Trump, "Why do you think these various white supremacist groups are supporting your campaign?" He also urged Trump to disavow and "condemn" all such groups.
Trump denied any knowledge of white supremacist support and refused to disavow any group. Recently Trump gave the same response when asked by a TV interviewer about Ku Klux Klan support. Later, Trump said he couldn't hear the question clearly because of an earpiece malfunction.
He can make no such excuse for his answers to Blitzer.
The same day as the Blitzer interview, the arch-conservative National Review compared Trump to George Wallace, the segregationist Alabama governor who ran for president in 1968.
"At first glance," the National Review said, the comparisons between Donald Trump and Adolf Hitler are obvious. … Both used the disaffection of an angry ethnic majority to gain power. … And both appealed to xenophobic notions of nationhood to rile up their supporters.
"[However], the precedent for the rise of Donald Trump is not Nazi Germany; the precedent for Donald Trump [can be found] in the United States of America."
The National Review article details similarities between Trump and Wallace. It says that like Wallace, Trump "whips his crowds into an emotional frenzy and silences dissent by encouraging violence against protesters and having security guards remove them by force."
In addition to the National Review, Yahoo News recently ran a piece saying "Donald Trump is luring the country's racist contingent out of the woodwork."
The writer cites a PBS NewsHour segment featuring Trump supporters who have Nazi and white supremacist tattoos.
"Please keep running, Bernie"
In face of the hate-mongering spouted by Trump and Cruz, most Americans can take hope – at least for the present – in the fact that nationwide polls show Clinton beating Trump and Kasich in the general election. The same polls show Sanders beating Cruz in addition to Trump and Kasich.
Clinton is well ahead of Sanders in delegates who will vote for her at the Democratic National Convention in July. However, some of her supporters – including some Democratic Party leaders – are encouraging Sanders to stay in the presidential nomination race.
"I don't think any Democrat should call on [Sanders] to get out," said Sen. Sherrod Brown, D., Ohio. "Almost no Democrat I know would say that. And shouldn't."
Nationally respected political observer and Democratic Party advisor Harvey Wasserman recently wrote "Run, Bernie, please keep running.
"We all win when Bernie Sanders runs," Wasserman wrote. "We need him to continue through the Democratic Convention and beyond.
"He is, above all, educating and energizing a new wave of activists and ordinary citizens of all ages. The impacts are essential and incalculable. They will be with us for decades."
Furthermore, the Politico online newsletter reports that "Democratic senators of all stripes are as impressed as they are surprised by Bernie Sanders' insurgent campaign."
Hillary supporters Sens. Claire McCaskill, D., Mo., and Jeanne Shaheen, D., N.H., both said that Sanders is sharpening the contrast between what Democrats and Republicans stand for:
Senator Chuck Schumer, D., N.Y., added "Bernie is a very constructive person. And he wants to move American politics closer in his direction. He's done that already."
Summing up the thinking of many Democratic leaders, Sen. Brian Schatz, D., Hawaii, said "I think that Sen. Sanders has built a movement. And that whatever happens, the two big tribes of the Democratic Party will be able to unite at the convention and be so much stronger."
CORRECTION: An earlier version of this story incorrectly implied that Hillary Clinton had won the most delegates on Western Tuesday.
Photo: On March 22 Bernie Sanders addressed an enormous night rally in San Diego, California. | Pacific States for Bernie Campaign Facebook page