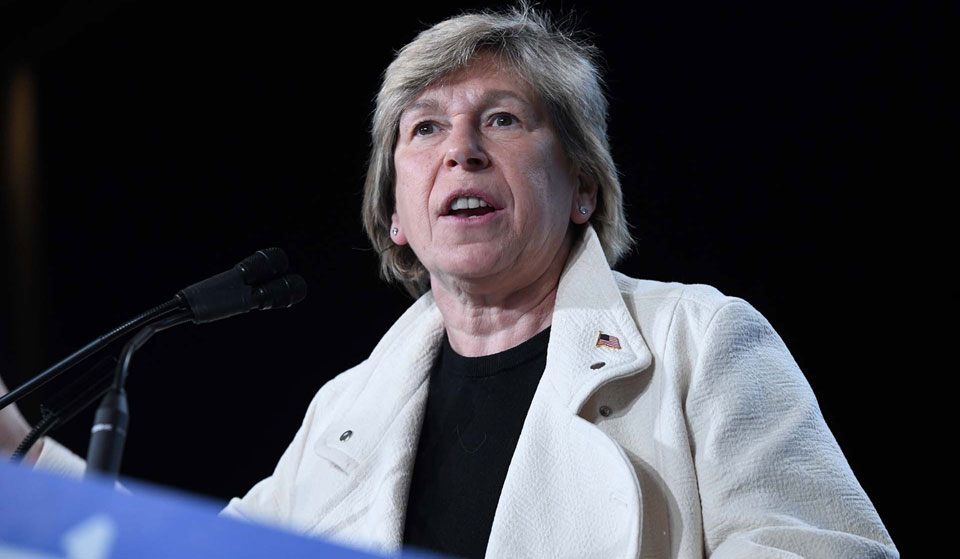 BOSTON —After what Teachers President Randi Weingarten called a "brutal" two years facing the coronavirus pandemic and political fire from the right—including the right-wing majority on the U.S. Supreme Court—the nation's teachers must still rise to action to beat back both the continuing plague and the radical reactionaries, she says.
And all through this, she adds, AFT's teachers and health professionals and their 1.6-million-member union—which grew with affiliation by the American Association of University Professors—must and are crafting innovative ways to reach students, especially those who need education the most.
Weingarten laid out both the perils and the goals in her keynote address to the union's convention in Boston, July 14-18. Other speakers included First Lady Dr. Jill Biden—an National Education Association union member—and Sen. Elizabeth Warren, D-Mass. It also had seminars and sessions tackling sensitive topics, such as the impact of systemic racism.
The conclave occurred during the backdrop of an increasingly heated election campaign, where progressive forces, including both teachers unions, are proclaiming that not just elected offices are at stake, but so is democracy itself.
That's because the radical/white supremacist right, led by former Republican Oval Office occupant Donald Trump, his political devotees, and his heavily armed insurrectionists, are poised to take over Congress, state capitols, elections machinery, and school boards.
But it's not just Trumpites who are a threat. It's the corporate class and its privatization plans, running roughshod over people's wants, needs, and desires, Weingarten said.
"When people with power try to lock in systems that privilege the few, decimate the middle class and make every day a struggle for working people, we fight for a better life for all and for the next generation to do even better," Weingarten declared.
"Above all, when people of ill will try to poison our country with fear and anger, we offer a path that lifts everyone up. We fight for everyone's freedoms."
The right will succeed, Weingarten warned, unless teachers and the nation strike back.
"I see the stress and strain, I see the frustration," AFT's teachers and health care workers "have undergone," she said. It ranged from managing distance learning in schools to the union having to spend $3 million to buy anti-virus personal protective equipment for its members whose employers forced them to wear garbage bags against the virus.
"But I also see your work…to get schools and colleges open" after the pandemic-forced closures "and to help students connect and learn, the organizing to make our workplaces safer, to get the resources needed, the engagement with parents and communities.
"And I see the attacks…on public schools and universities and the people who work in them, attacks on healthcare personnel, attacks on democracy, attacks on our freedoms.
"Demagogues are playing on fear," she said. "Fear of the other. Fear of change. Fear built on false narratives. And the tech companies aren't helping. Social media is weaponizing this hatred and division. Being online can be like swimming with sharks, most alarmingly for our children.
Making it worse
"And too many politicians are making it worse. You know the politicians I am talking about—the ones who stoke grievances rather than solve problems," a slam at both Trump and his acolytes like Gov. Ron DeSantis, R-Fla. Catering to the right, DeSantis pushed its "Don't say gay" law through the Republican-gerrymandered legislature.
The pols "should be helping us help our kids and our communities, not making it harder with their culture wars and division," Weingarten said.
Since they don't, teachers must step up to counter those threats, she said. Weingarten, a Jewish civics teacher from New York City, cited the Biblical story of Queen Esther, who was reluctant to confront her husband, Ahasuerus, about the king's prime minister, Haman, who wanted to eradicate the entire Jewish community in Persia—at that time the world's largest.
Like now, Esther lived in a time "when those in power sought to maintain their privilege through oppression. At a pivotal moment, a reluctant Esther was told 'You have been put here for such a time as this.' And she acted.
"My friends, so must we. That certainty comes not only from the faith I was raised in but my faith in you, in us, and in our movement. We are here for a reason.
"This moment can be viewed through the lens of fear or hope, despair or aspiration, self-interest or the greater good. The members of this union definitively, defiantly, and undeniably choose hope, aspiration, and the greater good."
Weingarten's warnings about politics also encompassed threats to teachers, public schools, and education in general, from both the white supremacists and corporate-sponsored privatizers. She reminded the convention AFT has "a legal defense fund' to aid any teacher threatened with discipline or firing "for teaching the truth" about U.S. society and history, rather than kowtowing to right-wing lies.
"When culture warriors try to prevent teachers from teaching honest history, we stand up for teaching the truth—the good, the bad, and the mountains we have climbed…We are supporting our members in teaching civics and honest history, so young people can reckon with our past, understand our present and create a better future," she said.