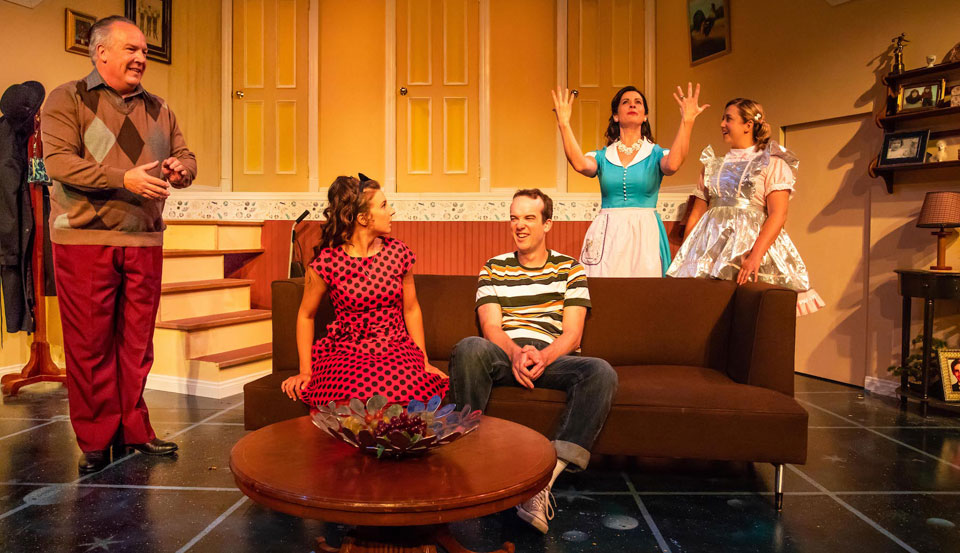 LOS ANGELES—Genre spoofs are among my favorite types of productions, the paragons being Mel Brooks's parodies, such as his loopy lampooning of the Western in Blazing Saddles. In John O'Keefe's wonderfully, wildly witty and wry All Night Long the conventions of 1950s and '60s sitcoms such as The Donna Reed Show are raked over the comedic coals as America's nuclear family is exploded.
Ironically, before the eponymous Reed starred as the squeaky clean housewife Donna Stone in her 1958-1966 situation comedy, she won an Academy Award for portraying a prostitute in the 1953 classic From Here to Eternity. But this only seems to buttress O'Keefe's parodying portrait and point that beneath the surface of the all-American family's façade lurks a surreal world of urges, as the instinctual id clashes with the repressive superego.
In this play Alina Phelan (who previously appeared in a stage spoof of Westerns, Rio Hondo), portrays the wife and mother Jill. So naturally her husband is named Jack (Phillip William Brock). Of course, together they have America's statistically obligatory 2.5 children.
The .5 refers to Terry (Cat Davis), a character of not only indeterminate gender but of species. Living in a sort of cubbyhole behind a modern stainless steel fridge (that seems out of place in this period piece), it's unclear whether Terry is a kind of outer space alien, robot or a mere mortal after all. John Patrick Daly portrays the son with the sitcom-ish name of Eddy—think Leave It to Beaver's rascally Eddie Haskell. His sister, too, has a pop culture moniker par excellence—Tammy (Caroline Klidonas).
In this uproarious satire that rips the veneer off of the so-called traditional family, both of the high school students, Eddy and Tammy, grapple with their emerging sexuality. When O'Keefe wrote All Night Long a long time ago, during the sexual revolution of the relatively uninhibited 1970s, his suggestions of mother-son and father-daughter dalliances may have been seen in another context. Today audiences are more likely to condemn this parent-child hanky-panky as forms of abuse and molestation. Indeed, one of the most jarring sequences in Michael Moore's new Fahrenheit 11/9 is a disturbingly creepy segment with the despicable Donald inappropriately touching and verbally lusting after his daughter Ivanka. Gag me with a spoon!
The humor here is biting: It's not well meaning, as in screwball comedies or Marx Brothers classics, so full of joie de vivre. Rather, the quite demented jokes in this play tend to stick in your throat as America's nuclear families turn radioactive.
Veteran helmer Jan Munroe deftly directs his excellent ensemble and also created a superb set. The clever play includes some special effects and sight gags—keep yer peepers peeled.
Insomniacs and those who enjoy their comedy to be bittersweet and full of sometimes venomous fun as it debunks shibboleths and phoniness are likely to love this piece of subversively radical theatre. Most of the opening night audience, including moi, laughed throughout this strange, bizarre two-acter full of twists and turns. For fans of genre-busting, it's all in the family in All Night Long, as America's conventional family gets whacked in Open Fist Theatre Company's revival of O'Keefe's wacky whirlwind.
All Night Long runs Fri. and Sat. at 8:00 pm, and Sun. at 7:00 pm through Oct. 21 at Atwater Village Theatre, 3269 Casitas Ave., Atwater Village (Los Angeles) 90039. Free parking at the lot half a block south of the theater. For reservations: the company website or call (323) 882-6912.