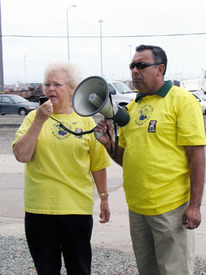 OAKLAND, Calif. — The story of hundreds of workers seeking a union at a California almond processing plant is increasingly being heard around the state and around the world.
Faced with their employer's union-busting efforts, the workers are seeking a neutrality agreement and a card-check system to determine their wishes concerning the union.
On July 28, workers from Blue Diamond Growers' almond plant in Sacramento joined supporters from unions including longshore, port and transit workers at the Port of Oakland headquarters of international shipping giant American President Lines. APL, the largest ocean carrier of Blue Diamond almonds, ships thousands of tons a year.
A similar group gathered at APL's Los Angeles offices. Each called on APL to urge Blue Diamond to respect its workers' right to organize.
In Tokyo, members of the All Japan Dock Workers' and Seamen's unions held a coordinated solidarity action.
The date held special significance, for the workers seek to join the International Longshore and Warehouse Union's Local 17, and July 28 marked the 105th anniversary of the birth of legendary ILWU founder Harry Bridges.
As Oakland workers waited for their representatives to return from APL's office, they spoke about their working conditions. Alma Orozco, a sorter for 30 years, said some of the mostly older women workers must do their jobs bent over a narrow belt in very cramped quarters. When areas of the plant are fumigated, she said, ventilation is inadequate and workers are sickened by the smell. Some departments are hot, she said, and some lines are unsafe. Dust and noise are common.
Orozco said it "took years" for the sorters and packers, many of whom have decades of service, to reach the present $11 an hour pay scale. "The cost of living ran over us," she said.
Since the struggle to organize began, she said, "I feel uncomfortable going into the plant anymore. I feel stressed out because they may fire us at any time."
"They think workers should accept crumbs and be satisfied," added 32-year worker Michael Olivera.
The workers have been trying to join the union for two years. During that time they have suffered management-led "captive audience" meetings, harassment and threats to close or move the plant. Four union supporters were fired, with two rehired on order of a National Labor Relations Board administrative law judge. Blue Diamond has been found guilty of over 20 federal labor law violations.
In recent weeks the workers have fanned out across California's Central Valley, ILWU International Organizer Agustin Ramirez said in a telephone interview.
At the offices of the Merced Union High School District Board, on which a Blue Diamond board member serves, almond workers were joined by some 25 members of the California School Employees Association, all wearing their union shirts.
Similar actions have taken place in Modesto, Chico, Colusa and elsewhere, and more are planned in coming weeks.
The international side of the campaign involves the International Transport Workers' Federation, International Dock Workers' Council and the International Union of Food Workers. In November and again in April and May, they helped spread the message to Blue Diamond distributors in India, South Korea, Japan, the United Kingdom, Australia, New Zealand and elsewhere.
Last spring, for example, the All Japan Seamen's Union wrote to Blue Diamond's Tokyo office that "the publicity surrounding the contentious labor situation [in Sacramento] is not helpful to Blue Diamond's image here in Japan or around the world."
This summer, union delegations to South Korea and Japan have helped spread the message. Ramirez said he and 36-year Blue Diamond worker Gene Esparza found solidarity with their struggle, too, when they participated in an AFL-CIO delegation to Seoul in solidarity with South Korean union federations opposing the impending Korea-U.S. Trade Agreement. While there, he said, they spoke with key brokers and clients, and told the Korean unions of their struggle.
For information on upcoming California actions, contact Agustin Ramirez at (916) 606-4681.