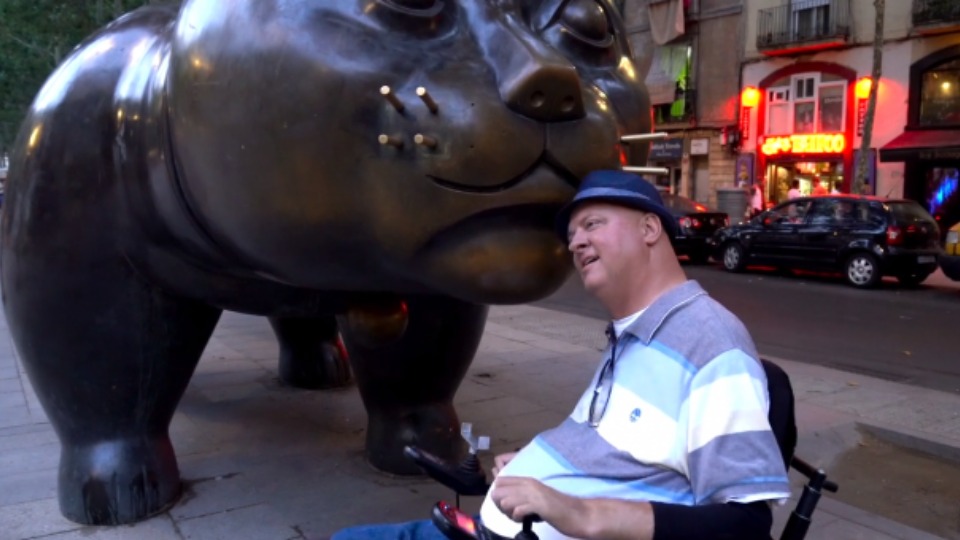 Well, for the first time since the COVID lockdown began, after about 15 months of streaming cinema online, your peripatetic film critic finally attended his first screening in person. The event took place June 3 at the Landmark Pico Theater, a major West Los Angeles theatrical venue where arthouse and blockbuster movies alike are shown. The occasion was the directorial debut by Ensenada-born actress Magi Avila, of Altitude Not Attitude, which was preceded by a red carpet in the Landmark's lobby. The celebs who walked the red carpet included supermodel/actress Kelly LeBrock, who was the titular The Woman in Red in that 1984 Gene Wilder romcom.
This was followed by a well-attended reception inside one of the multiplex's theaters, where a bartender provided libations and servers made the rounds with delicious appetizers that were each adorned by mini-flags from the countries of origin for the hors d'oeuvres, catered by Chef Stacie Rauch of The Personal Palate. For instance, chocolatey mini-mousses were topped by diminutive French Tricolours.
The reason for these cleverly presented canapés became apparent once—after Ms. Avila and the film's protagonist introduced the film in person before a crowded theater of moviegoers excited to be back inside an actual cinema—Altitude Not Attitude took off. Much of her production—which, according to Avila, won Best Documentary at the Virgin Spring Cinefest and the Spotlight Documentary Awards, and was an official selection at about16 film festivals—was shot abroad, at locations including Paris, Barcelona, and London. But this 62-minute film is much more than a mere travelogue, because its hero (and I do not use that term lightly), Michael Warkentin, is a quadriplegic.
Despite relying on a motorized wheelchair and assistants to help him get around and navigate his way through life at home and abroad, the freewheeling Warkentin is determined to live life to the fullest. Embodying the concept of "mind over matter," the unstoppable Warkentin refuses to allow the disabilities from an accident he suffered when he was about 22 define him and prevent him from getting on with his life and seeing the world. Why let a "little" thing like being paralyzed from the chest down prevent you from enjoying one's existence? (As this reviewer doesn't believe in plot spoilers, if you want to find out how wonky Warkentin actually finances his globetrotting lifestyle, well, you'll just have to see this stirring biopic yourself.)
Like that other Michael—Michael Moore—Ms. Avila served as the documentary's director and onscreen narrator, chronicling the gallivanting Warkentin as he jet-sets to some of the 26 nations he has visited since his near-fatal fall around 30 years ago. The documentary is inspirational, especially given the adversity we've faced in recent times. The 54-year-old Warkentin sums up his can-do, uplifting "message to you is, do not wait to follow your heart's desires. Life is short and if you do not get what you need, it is your own fault. Spend time envisioning what you really want out of life. Concentrate on every detail of the life you desire and figure out what steps are needed to reach those goals."
I've known Magi Avila for about 20 years, and the subject matter appealed to her because this immigrant artist has had to overcome many obstacles in her own life. The beautiful Baja California thespian-turned-helmer has had a varied acting career on stage and the big and little screens, appearing in Mexican telenovelas, and north of the border in U.S. TV programs such as Training Day, The Shield, and the Amazon Prime series My American Family. In the movies, she has appeared opposite Nicolas Cage, Willem Dafoe, Bruce Willis, Demián Bichir, and in a Woody Allen film. Onstage, she starred in a bio-play about the South American entertainer Carmen Miranda, The Lady in the Tutti-Frutti Hat, at L.A.'s Hudson Backstage Theatre (see Magi Avila reel 3 – YouTube). Ms. Avila, who was resplendent in a tightfitting purple gown at the premiere, is also in a number of shots in Altitude Not Attitude that show her pulchritude off to good effect.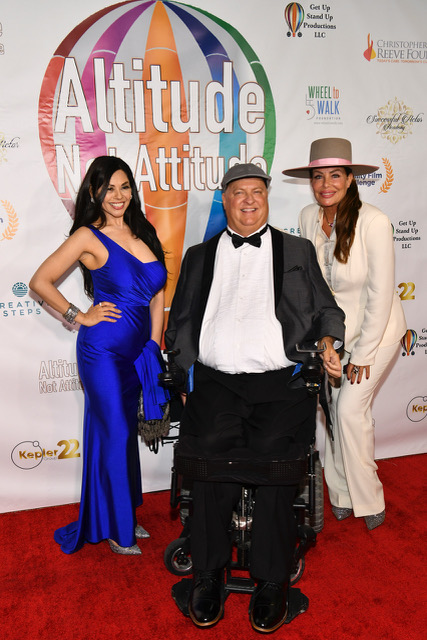 According to film historian Luis Reyes, who attended the world premiere of Altitude, co-wrote three books about Hawaii in the movies with me, and also co-authored the seminal Hispanics in Hollywood: "Magi's directorial debut is an accomplished piece of work in the documentary realm. She told Michael's story in a very visually interesting and concise way. It gave us an insight into Michael in his own words and how he and his experience was viewed by others… All the elements came together in the hour format and she showed her storytelling abilities with a touch of added dramatizations or recreations."
The screening drew a large crowd and wasn't socially distanced (so I actually changed seats). After the documentary, Ms. Avila, Warkentin, Dr. Nancy Irwin (a psychologist who discusses trauma in Altitude Not Attitude), and others participated in an illuminating panel discussion, to help mark the auspicious premiere of a spirit-raising film—and the launching of a promising new directorial career.
And as for your roving reviewer, after about 15 months of lockdown, the lovely opening of Ms. Avila's Altitude Not Attitude announced his reintroduction to covering, in the flesh, the once-routine private screening, premiere, etc., and watching motion pictures back where they belong: Back on the big screen in a darkened theater, the way God, D.W. Griffith, Edwin S. Porter, Georges Méliès, and the Lumière Brothers intended them to be seen! To be honest, the enthralling event was a bit like losing my virtual virginity. How great to still be alive—and back at the movies again! A splendid time was had by all.
The film premiered on AppleTV+ and iTunes June 8. For more info see: Altitude Not Attitude – The true life story of Michael Warkentin (altitude-not-attitude.com)