SHAKOPEE, Minn.—Amazon is forcing its workers at its monster warehouse in Shakopee, Minn., to walk out again.
The 1,500 workers, one-third of them migrants and refugees from Somalia and other nations of East Africa, plan to peacefully walk off the job for six hours on July 15.
That's the first of the monster distributor and retailer's two Prime Days, when it makes loads of money through deep discounts on televisions, toys, clothes and more. It's also when Amazon cancels all vacation time and other breaks for warehouse workers, forcing excessive speedups and workloads to get products out the door.
The causes that forced the workers to walk: The speedups, the high workloads, and Amazon's refusal to promote temps it hires to full-time jobs, as warehouse traffic demands. One group of workers will walk out during the last three hours of the day shift, through 6 pm. The second group will stay out during the first three hours of the following night shift.
And that could put a crimp in Amazon's business. The Prime Days are when Amazon gives its "Prime" customers, who pay a subscription price for membership, free shipping on Prime Days – which is where the warehouse workers come into the picture. Demand goes way up, and Amazon orders them to satisfy it, all in the name of corporate greed.
Like other monster companies, Amazon is run by a capitalist class – in this case, Jeff Bezos, the world's wealthiest person and his managers – that as a business practice exploits vulnerable workers, women, people of color, LGBT people and others to line its owners' pockets. The capitalist practices in turn widen the income and wealth gap between the rich and the rest of us.
So Amazon's Shakopee workers are forced to toil extra hours, often in unhealthy conditions, to fulfill those orders. When they complain, Amazon illegally retaliates against their leaders, forcing the workers and their reps at the non-profit Awood Center, which serves East African and other Somali migrants, to the Twin Cities to file labor law-breaking charges, formally called unfair labor practices.
This is not the first time Amazon forced its Shakopee workers to walk. Late last year, they staged demonstrations as winter approached in the downtown Twin Cities to protest untenable working conditions. That walkout occurred in subfreezing weather. In March, the workers had to walk over low pay and Amazon's refusal to accommodate to their religious practices.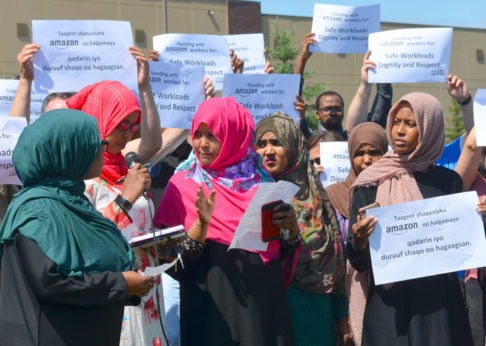 Amazon raised workers' pay, and increased some benefits. It says that's enough. But Awood, which receives help from the Service Employees, also lodged a complaint with the federal Equal Employment Opportunities Commission over the religious discrimination. The warehouse's East African and Somali workers are Muslims, and Amazon at first refused to lighten their workloads during Islam's holy daylight-hours fasting month, Ramadan. That refusal is illegal under U.S. civil rights laws.
So with that history, it's no surprise Amazon forced its workers to walk again. But the workers are using the leverage of the firm's Prime Days to achieve maximum impact, and publicity.
As before, the workers want better working conditions, more opportunities for advancement and respect on the job. They also want Amazon to recognize their right to organize. The pro-worker engineers joining them from climate-conscious Seattle demand Amazon also recognize – and ameliorate – its contributions to global climate change.
"As Amazon and its CEO Jeff Bezos continue to make record profits, workers are facing increasingly unstable jobs," Awood says. The workers also hate the mandated speedups and high packing quotas, a key characteristic of Prime Days.
"No one can meet this intense rate of demand" to pack and ship goods, warehouse worker Mohamed Hassan told the alternative paper City Pages after the March walkout. "Amazon treats us like robots. They just keep pushing us."
The warehouse workers' past forced walkouts achieved at least one win – a lessening of the speedups and quotas during Ramadan. They also drew political attention and support, from the Twin Cities all the way up to Democratic presidential hopeful Sen. Bernie Sanders, Ind-Vt.
After learning of Amazon's practices, Sanders last year introduced what he calls "The Stop Bezos Act," and he's described it during the recent presidential candidates' debates, though not by that name.
Sanders' bill would require any corporation which pays its workers so little that they must draw on federal aid such as housing vouchers and food stamps to help survive, to repay the government for the sums it spends. Amazon, Walmart and McDonald's are the senator's prime examples.