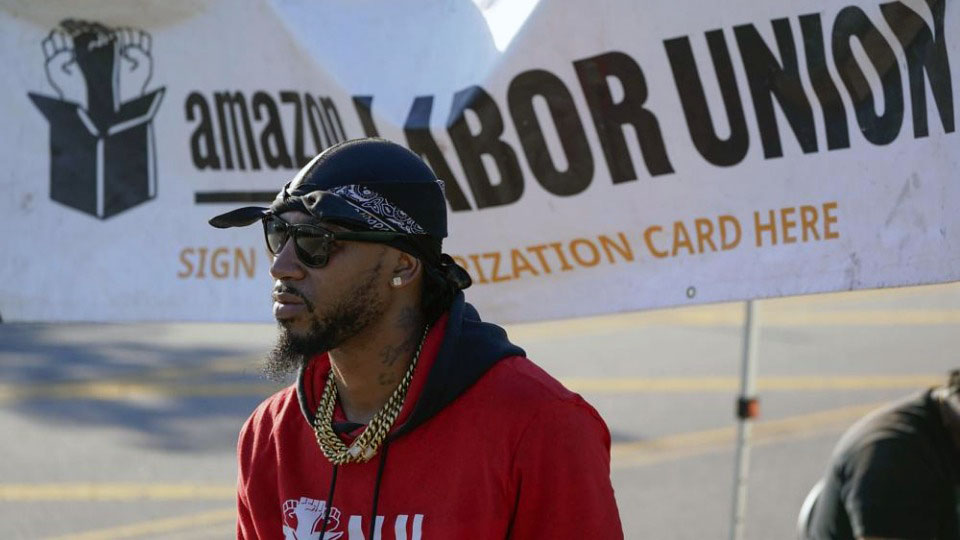 STATEN ISLAND, N.Y. (PAI)—The second unionization recognition vote in Amazon's history has been set at the monster retailer-shipper's Staten Island, N.Y., JFK8 warehouse for March 25-30.
In an election agreement between the independent grassroots Amazon Labor Union, represented by Eric Milner, and company officer Amber Rogers, it'll be an on-site vote in a tent in the warehouse parking lot at 546 Gulf Avenue—complete with required face masks, physical distancing, and plastic shields to protect workers, staffers, and observers from community spread of the coronavirus.
But if the modern-day plague becomes too virulent, the National Labor Relations Board's regional director, whose office is running the vote, can step in and postpone or cancel the vote or switch to mail-in balloting, the agreement says. The JFK8 warehouse has 6,000 workers. And they're going to be called in groups, the pact adds.
In addition, the union filed election authorization cards with the National Labor Relations Board to demand a vote at a second Staten Island warehouse, LD5, which employs 1,500 workers. The NLRB is still checking those cards.
There are both similarities and differences between this unionization drive and the one last year at Amazon's monster warehouse in Bessemer, Ala. But both drives are part of the mass movement nationwide of low-page, ill-treated, and exploited workers who—thanks to the pandemic—realize they have leverage over bosses.
Other groups of workers exploiting such leverage include Starbucks workers—the count of organizing drives at that nationwide coffee chain just passed 100 stores—non-tech Google workers, port truckers in Los Angeles, adjunct professors, college RAs and TAs, and retail and fast food workers.
The big difference between the Staten Island vote and last year's balloting in Bessemer is the Amazon Labor Union is independent and from the grassroots, with an ever-growing organizing committee of inside-the-warehouse workers who have credibility with their colleagues—and who deliberately shun outside political support.
The big similarity is that Amazon, owned by one of the three richest men in the U.S., Jeff Bezos, is running its usual virulent anti-union campaign, featuring in-house "captive audience" meetings and lies about cutting benefits and reducing pay to the minimum wage if the union wins—not realizing the minimum wage in New York City is $15 an hour.
For its part, the union, while promising it will fight for better pay and working conditions, is also warning workers the struggle will continue even after it wins. "Amazon Corporate is a formidable adversary. Every ALU member can see it will be a long and bitter fight to get what we need and deserve. If you want $30/hour, job security, and better working conditions, you'll have to fight for it. The bosses won't just give it to us," it warns on its website.