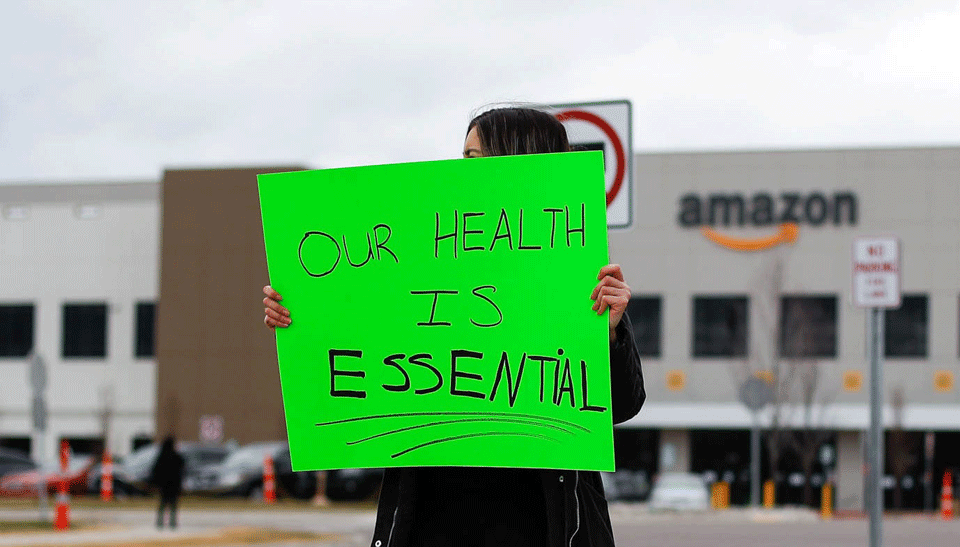 STATEN ISLAND, N.Y.—The coronavirus death May 4 of a so-far-unidentified worker at the Amazon warehouse on Staten Island – the same warehouse where assistant manager Christian Smalls led a prior walkout over lack of safety – again spotlights the monster retailer's exploitation of its "associates."
And the same day the Staten Island worker died, a top Amazon executive and software engineer, Tim Bray, quit on principle, saying he could not work anymore for a firm that punishes people who raise concerns over its stands against worker protection and against climate change.
The worker's death "is especially tragic," said Retail, Wholesale and Department Store Union President Stuart Appelbaum, who has been especially outspoken about the monster retailer's working conditions.
"Nobody should have to put their life at risk when they go to work. They need to know their employer is providing them a safe work environment, but Amazon has failed to do that."
"For a long time now, workers at JFK8," the Staten Island warehouse,  "and other Amazon facilities around the world have been demanding safer working conditions,  especially during this pandemic." The worker's "death unfortunately has shown the true cost of Amazon's failure to provide a safe work environment."
Appelbaum demanded Amazon "immediately close" and disinfect the warehouse. He also demanded independent monitoring of all Amazon warehouses nationwide. The firm says it's taking safety measures to protect its workers, but "what the company claims it is doing is obviously not working," Appelbaum dryly said.
The Staten Island worker was the fifth Amazon employee to die so far this year from the coronavirus pandemic, including two at Whole Foods, a grocery chain it owns.
In March, Smalls led a lunchtime walkout of at least a dozen workers from the Staten Island warehouse, all protesting Amazon's refusal to protect workers against the pandemic. That afternoon, Amazon fired him – and also tried to publicly smear him, saying he didn't do enough on his own to protect colleagues.
The firm has since instituted some worker protections, as Smalls acknowledged on May Day, when he helped organize nationwide protests by unprotected "essential" workers.
Amazon's attitude towards its workforce is so typical of retail monsters, such as Amazon and Walmart, that May Day saw tens of thousands of workers at Amazon, Walmart, FedEx, Target, Shipt, Instacart, and Whole Foods walk out over the firms' lack of safety protections during the pandemic. Trader Joe's workers asked customers to stage a one-day boycott.
All those firms are also aggressively anti-worker and anti-union. So are big firms in the so-called "gig economy" – so much so that on May 5, California Attorney General Xavier Becerra sued two of them, Uber and Lyft, for misclassifying their workers as "independent contractors." Such misclassification leaves workers unprotected by any labor laws, including minimum wages, overtime pay, and health and safety requirements imposed on firms.
It's also so typical of corporate repression, both on the job and of workers' voices, that Bray quit, forgoing a million-dollar yearly check as a high-tech engineer. His reputation in that field is so high that other tech firms promptly bid for his services.
"It's evidence of a vein of toxicity running through the company culture," Bray wrote in a tweet protesting Amazon's firings of workers who spoke out against its dismissal of climate change concerns and its refusal to address worker safety. Bray tried to change Amazon attitudes through internal channels, but he was rejected.
"I choose neither to serve nor to drink that poison….Remaining an Amazon VP would have meant signing off on actions I despised, so I resigned," his tweet added.