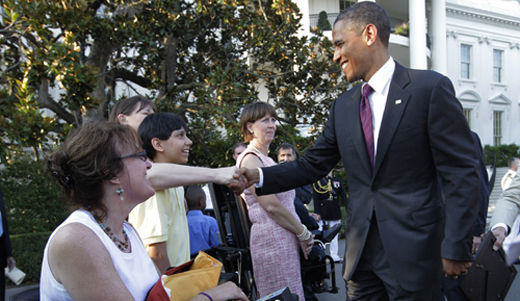 Here's a brief summary of the Americans with Disabilities Act. It was passed July 26, 1990, and became effective on January 26, 1992. The law is made up of five titles that ban discrimination against disabled people within the United States.
To start off the celebration of the 20th anniversary of the Americans with Disabilities Act right, President Barack Obama signed an executive order establishing the federal government as a "model employer" of people with disabilities.
"We're going to boost recruitment, we're going to boost training, we're going to boost retention," Obama said from the White House. "We'll better train hiring managers. Each agency will have a senior official who's accountable for achieving the goals we've set. And I expect regular reports. "
The Department of Justice will issue two new rules protecting disability-based discrimination. This will prohibit disability-based discrimination by 7 million private businesses and more than 80,000 state and local government entities.
The department is also trying to make it easier for 9-1-1 call centers to accept text or video messages from disabled people. Movie theaters should also offer ways to offer movies with closed captioning. The use of more accessible office equipment and furniture, including accessible medical exam tables, chairs and scales and ATMs with audio could also be helpful.
"Our goal is to help level the playing field with disabilities to ensure that everyone has an opportunity," said Kareem Dale to the Washington Post. Dale is legally blind.
Eighteen months from now for the first very first time, recreational facilities such as amusement parks, gyms, swimming pools and arenas must be constructed so that it is compliant with the new 2010 standards. This will also apply to all new buildings that are built.
"Equal access. Equal opportunity. The freedom to make our lives what we will. These aren't principles that belong to any one group or any one political party. They are common principles. They are American principles," Obama said.
While the act has been "transformational" for tens of millions of people, more still needs to be done.
According to a press release from the Kessler Foundation and the National Organization on Disability many Americans with disabilities "are still struggling with many of the same lifestyle and economic issues they confronted in 1990 when the ADA became federal law."
Workplace discrimination still happens regularly and unemployment rates among those with disabilities are much higher than their non-disabled peers, experts say.
Photo: President Barack Obama greets guests attending a commemoration of the 20th anniversary of the Americans with Disabilities Act, the law designed to eliminate discrimination against people with disabilities and to make buildings more accessible by wheelchair, on the South Lawn of the White House, July 26, 2010, in Washington. (J. Scott Applewhite/AP)