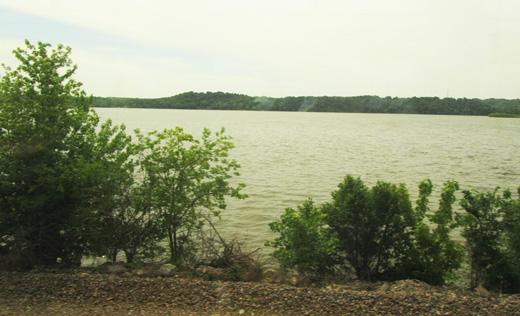 ABOARD THE SOUTHWEST CHIEF – I've driven cross-country a couple of times and found it a memorable adventure. But at my age I don't look forward to long-distance driving any more. I had a conference to attend in Chicago, then a reunion in New Haven, and decided: This is my moment for Amtrak across America. One-way to the Windy City set me back only $138. I opted against the sleeping car accommodation: It was more expensive and I know I don't sleep well on clattering trains.
My seat mate was Alva, an African-American woman, retired from her career with the LAX airport police. Alva was traveling with two relatives to a niece's high school graduation in West Virginia; they still had another train ride ahead of them after Chicago. After some days with the family, they plan to make the same three-day trip back to L.A.
Along the route that the Chief takes on its way out of L.A., we passed through industrial suburbs where the detritus of a metropolis piles up alongside the tracks. We saw half-completed construction sites, stacks of abandoned lumber and tile, beaten-up boxcars off on side tracks, and piles of refuse. Ramshackle houses and trailer parks dotted the horizon. Either window you peered out of, it was the other side of the tracks. There's a fellow named Potemkin that Amtrak might consult with about making the scenery a little more scenic. But it's a real slice of America, decay and dilapidation almost everywhere you look.
The biggest town you hit east of L.A. is San Bernardino, home of the American big-box economy. Warehouses burst at the seams with Chinese goods recently offloaded at Los Angeles – America's largest port – that will soon appear on retail shelves. From the train you see those vast acres of warehouses, whose workers – as well as the truck drivers who drive the containers from the ships to the distribution centers – are among the lowest-paid in the country. They'll soon be on track toward $15 an hour thanks to the California state legislature.
Nighttime across Arizona
In the Sightseer Lounge that first night, after the last of California had slipped by, I met Clifton, who was on his way to see a girlfriend in Bentonville, Ark., home of Walmart. Clifton runs a successful company that circulates petitions for state initiatives around the country, verifying signatures, and if the signer is not a registered voter, well, he can take care of that on the spot. He's a born salesman, very agreeable. If someone he approaches disagrees with the initiative, he'll say, "Yeah, no way that should pass, dude." And if the signer likes the initiative, it's "Hey, this shoulda been the law years ago, right?" He, too, likes the gentle pace of train travel.
From the lighted coach you barely see anything out in the dark. But suddenly there will be an outcropping of light – the street lamps delineating a town, or some corporate endeavor all lit up like day, with visible plumes of smoke. A 24-hour working mine site, perhaps? What else could be so industrial at this hour?
At 4:30 Wednesday morning, I'm still hanging out in the café car when we pull in to Flagstaff, Ariz., which at an elevation of 7000 feet sits adjacent to the largest contiguous Ponderosa pine forest in North America. I had passed through here once before on a road trip and remembered its resort-town feel and its clean air.
At 5:00 a.m. a train attendant walks through the car and sees me writing these notes. "Doing your homework?" she asks cheerily. (The train employees are all unionized.)
The plastic water cups in the café car say, "Rail Consumes Less Energy Than Cars or Air Travel." Possibly some people take trains for that reason. You'd think a conscious Congress would make more of that point and make Amtrak better countrywide.
As it is, though, Amtrak loses money. Only freight is profitable. Amtrak takes a loss on most of its passenger routes, but by federal law it must be maintained. If my map-reading skills are accurate, there are only two states in the Lower 48 (Wyoming and South Dakota) which have absolutely no Amtrak service.
The profitable lines are on the East Coast, especially the Northeast Corridor routes used by commuters. The other route that makes money is the Auto Train, which leaves from Lorton, Va., 25 miles south of Washington, D.C., and ends in Sanford, Fla., near Orlando, allowing folks to avoid the tedious drive south toward their Florida vacation.
There are some family groups traveling together, a couple with three or four children. It's slower traveling this way, but airfares can really add up for so many people. If you don't have to be anywhere in a hurry, this is measurably cheaper. And for the kids, this might be their great adventure for the year.
For much of the route the Southwest Chief mimics the old Route 66, which is often visible a few hundred feet from us. It still bears a good deal of local traffic and in some places it has been modernized into stretches of Interstate. At our best speed we can travel about 90 miles an hour, but then a curve looms up ahead, or an incline, and our progress slows. I've been on bullet trains in Japan, and Amtrak is a sorry comparison. Our old mule lurches along; my penmanship suffers. I've concluded that the flatter the terrain, the more rattle on the rail, but I couldn't prove it.
We're in the high desert now, eastern Arizona heading toward Winslow, a town made famous in a 1972 song by the Eagles. A park, statue and mural commemorate the tune here, and I wonder if a good optional feature on Amtrak might be a soundtrack. The guy across the aisle looks at the dusty shacks on the outskirts of town and says, "Looks like Mexico." Pulling away from the station I see something truly imaginative I wish I had had time to experience up close: A maze, possibly a quarter of an acre in area, devised from waist-high bales of hay. Just past it, a large solar installation, of which we'll see several en route, but not nearly enough to power a nation.
Indian country
We've moved into New Mexico, Navajo country, with grazing horses. I see motels and teepee rooms. With the time change (Arizona doesn't subscribe to Daylight Saving Time) almost immediately the landscape changes. Tall mesas, stone formations – cliffs, pinnacles, erosive columns, sudden sinkholes, rocky flat-tops capped by curls of wind-resistant shrubs and stunted trees, flat stream beds with a bare trickle of muddy water at their bottom reflecting the low morning sun.
We ease into Gallup and sit in the station for several minutes. It's a center for Indian trading emporia. At the window I copy down the names of some of them: "Zuni Fetishes Direct," and "Richardson's: A Great Place to Pawn." About noontime we pull in to Albuquerque, where Native sellers line the tracks with tables of their wares – jewelry, blankets, hats, dolls.
East of Lamy, N.M., the soil becomes red. The pines, the deep gullies and the low rocky hills tell us that we are now passing through the southern end of the Rocky Mountains. We see the snow-covered peaks of northern New Mexico, some of them rising to 12,000 feet, in the distance. At a highway exit not far from us as we rumble on to Las Vegas, N.M., a pickup truck has parked on a promontory so that it is visible to travelers coming along Route 66 from either direction. From a pole mounted on the cab the U.S. and Confederate flags are flying.
A couple have boarded at Albuquerque: Alan is a tour guide for a hotel in the area. He reminds us that right here, in the Sangre de Cristo range at the Glorieta Pass on the Santa Fe Trail, the 1862 "Gettysburg of the West" battle was fought. Here the Confederates won the day, but the Union forces were able to discover where the rebels were hiding their arms, and the U.S. Army destroyed their camp. The Confederates' dream of expanding into the Southwest was ended at this site. Historical reenactments take place here at Pecos National Park. So that explains the Confederate flag.
This area has a colorful history. Famous gunmen such as Jesse James, Wyatt Earp, Billy the Kid, and Buffalo Bill Cody are the stuff of lore in these parts. Many of them were unsavory chaps, but at least some of the time they strove to clean up the armed gangs that were protecting the big landowners. In those days Lew Wallace was the governor of New Mexico (still a territory then). If that name sounds faintly familiar, it's because he wrote the classic novel Ben Hur.
We're still just about the gunslingin'est country in the world. But a handy old six-shooter seems mighty quaint today compared to the ubiquity of kids with handguns and hateful killers with AR-15s.
At the summit
This stretch of the route in northeast New Mexico is the most mountainous and beautiful of the trip, with the cleanest, clearest, greenest vistas, curvy tracks and surprising sights at each turn. Thanks to the sharp-eyed young woman next to me in the observation car, I saw wild antelope out grazing in the fields. We're at the apogee of our journey, and we've hit it just as the shadows begin to lengthen, geological details start to blur, and evening turns to night.
I take my only true meal in the dining car, and it's only now that I'm really conscious of the train climbing uphill. As the train descends into the Great Plains that roll out from eastern Colorado, we pass through the town of Trinidad, Colo., once famous as the place where most of America's sex-change operations took place. We do Kansas in the dark of our second night.
In the verdant Midwest
When we see daylight again, we are arriving in Kansas City, Mo., ready to tackle our final three states. The rich farmlands of Missouri are worlds away from the last-seen Western landscape, and signal our entry into the Missouri and Mississippi River valleys. The states are smaller here and not so square. We cross the Mississippi at Fort Madison, Iowa, home of the state's maximum security prison for men. The last remaining double swing-span bridge on the Mississippi, the top level for cars and the lower level for our train, stretches 270 feet over this broad watercourse that perhaps more than any other single feature defines the character of the North American continent. Like the railroad, the Mississippi — with its long tributary rivers — is a major artery of transportation that American settlers used to build up the country.
Our first stop in Illinois is Galesburg, home of poet and historian Carl Sandburg, and an important stop on the Underground Railroad. There will soon be a National Railroad Hall of Fame established here. From now on, our sights are set on Chicago. The farms and rural towns slowly yield to the suburban lifestyle, and then inexorably to the densely populated outskirts of the great city. Union Station!
Resuming my Amtrek
After three days in Chicago, I resume my Amtrek across the continent. I'm told the trip to New York City's Penn Station is grueling and circuitous, but I've made this much of an investment so far and might as well complete the journey. This leg of the trip cost me $85 – or $223 total coast-to-coast.
The Lake Shore Limited departs Chicago's Union Station at 9:30 pm. A 20-year-old Latino college student from Texas I had met en route to Chicago, a major in urban and transportation studies, turned out to be a passionate train buff. He advised me to be sure to take a seat on the right side of the train going to New York.
At that hour of night not much was to be seen out of any window. At dawn's early light we pulled into Cleveland, having missed Indiana entirely and then two-thirds of Ohio in the dark. The train hugs the southern shore of Lake Erie all the way from Toledo to Buffalo, passing through Erie, Pa., along the way, but not so close that you can see the lake from your window. It's a steady, rhythmic alternation between urban railroad stations and the farmland countryside in between.
Once we passed Buffalo I understood why the Amtrak aficionado told me to sit on the right. Now inland heading east across New York State, there outside my window lay a body of water – the Erie Canal. For a while it looked like a distinct channel with firmly chiseled walls, but then it vanished into woods, marshlands and pools that might or might not have been remnants of the canal. And then the channel would reappear. Echoes of this storied piece of 19th-century construction streamed into my brain. I could almost see the barges floating by heaped with raw materials being shipped from the Western lands over to the manufacturing cities of the East.
As the conductors blared out the names of the stations – Cleveland, Buffalo, Syracuse, Albany – I had a strange sensation of having traveled this route before, but when? How long ago? Then it hit me: This was the route, but in reverse, that the Abraham Lincoln funeral train had taken, along this same Lake Shore route, from Washington to Philadelphia to New York, then up to Poughkeepsie, Albany, Cleveland, Chicago, and then to his final stop in Springfield, Ill. How many times had I listened to composer Earl Robinson and librettist Millard Lampell's magnificent mournful oratorio The Lonesome Train? – "a lonesome train on a lonesome track, seven coaches painted black, a slow train, a quiet train, carrying Lincoln home again." In sleepless Syracuse I dreamed our nation reversing course, back, back in time to April 1865 before that fateful night at Ford's Theatre. What a different land we might be living in today had Lincoln lived.
Watching for signs of the canal kept me occupied until Albany. After that point the barges entered the Hudson River and floated down to New York City. From Albany onward I was on familiar old territory, being a New Englander myself and having often traveled this stretch of rail down the eastern shore of the lordly Hudson, past West Point, past Croton and Beacon where Pete Seeger lived, and into Pennsylvania Station.
Amtrak seals a citizen's mystical union with the land, this great wide continent with its tragic, violent, sometimes heroic history that hums from every mile of laid steel. How do people regard this embattled, conflicted place that we call our United States? Does every square inch of it scream its monetizing potential? Is it a place to own and dominate? Or can we instead conjure visions of balance and joy for all, an Eden we restore to health and sanity? These are the musings of an American traversing the country over three rocking, rolling days in May across four time zones from sea to shining sea.
Go to sleep, you weary hobo.
Watch the towns go drifting by.
Can't you hear the rails a-singin'?
That's the hobo's lullaby.
Photo: The Mississippi River south of Fort Madison, Iowa, from an Amtrak train window. | Eric A. Gordon/PW