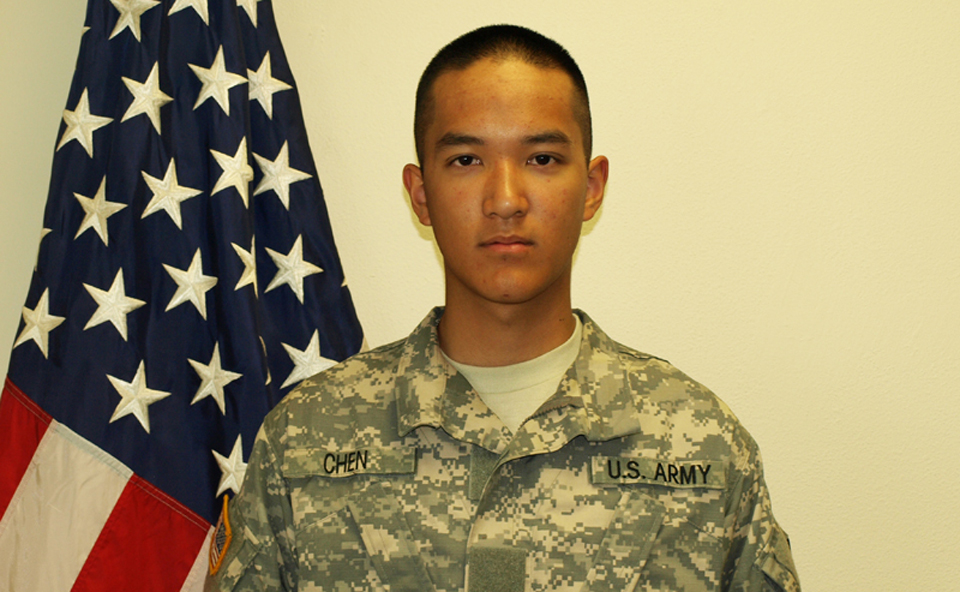 ST. LOUIS—You're an 18-year-old high school graduate, an American citizen born in Chinatown, New York City, an only child to hardworking immigrant parents, and instead of sitting in college classrooms you decide you want to serve your country in the U.S. Army, prove your valor and manhood, and be part of a team of heroes. Maybe become a New York City cop after you come home.
That would describe the dreams of Danny Chen in the year 2011.
It didn't work out that way.
Once he got through basic training at Fort Benning, Georgia, Danny transferred to Fort Wainwright in Fairbanks, Alaska, where the local tradition of "Racial Thursdays" allowed fellow soldiers to "let off steam" by ragging on any fellow American soldiers of color. Danny was able to bear that indignity by following the soldiers' creed of "looking the other way" when their superiors seemed to be acting unprofessionally.
Then he shipped out to an outpost in Kandahar, Afghanistan, where Sgt. Aaron Marcum heaped abuse on Danny for his Chinese ethnicity, even encouraging the other soldiers to join in on the hazing. At its climax, after six weeks of daily mistreatment and humiliation, his fellow soldiers, following Marcum's orders, dragged him across rough gravel and stoned the defenseless boy, who was now all of 19 years old. Hazing became racial harassment became sadistic torture.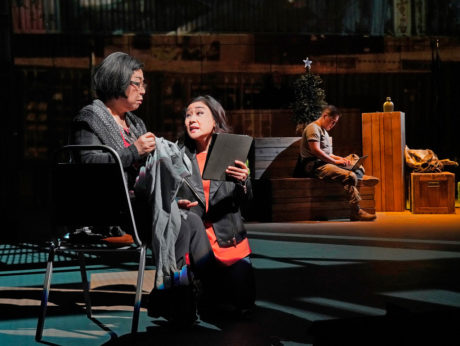 Feeling like his humanity had been drained from him, and seeing no other way out, Danny climbed a watchtower on the morning of October 3, 2011, wrote "Vegge—pull the plug" and "Tell my parents I'm sorry" on his arm, and shot himself at 11:13 a.m.
This incident, among others similar to it, led to the passage of the Harry Lew Military Hazing Accountability and Prevention Act, signed into law by President Barack Obama in 2013. A block of Elizabeth Street in Chinatown was renamed Private Danny Chen Way in 2014. His parents, friends and classmates will grieve him the rest of their lives.
There was a court martial in 2012, and some mild punishments were handed out to the offending men—some months in prison, demotion in rank, bad conduct discharges. Sgt. Adam Holcomb (named Aaron Marcum in the opera) faced a possible 17 years in prison, but was acquitted of negligent homicide, reckless endangerment, communicating a threat, and hazing. His convictions on two counts of maltreatment and one count of assault consummated by battery got him 30 days in prison, a reduction in rank, and a fine. The Asian-American community was understandably outraged by the meager sentences.
An American Soldier is now a two-act opera featuring all these tragic scenes, as well as some introductory material leading up to Danny's decision to enlist. It would be a heavy-testosterone cast but for the two main female characters, Danny's mother Suzhen Chen and his childhood friend Josephine Young. The opera received its world premiere on June 3 by Opera Theatre of St. Louis. Chinese immigrant composer Huang Ruo, born in Hainan in 1976 and now on the composition faculty at the Mannes College of Music at the New School in New York, wrote the eclectic score to a spare, graphic libretto by Chinese-American playwright David Henry Hwang. Huang Ruo discusses his composition in a video here.
The opera's original one-hour version premiered in 2014 at the Washington National Opera. At the encouragement of OTSL and the promise of a future production, it became the expanded full evening two-act documentary musical theatre now considered definitive, as Huang Ruo says, "to more deeply explore the compelling themes of this work—patriotism, structural racism, and betrayal at the hands of the very people who are meant to protect."
To composer Huang and librettist Hwang, "opera is not a place to gain a 'yes' or 'no' answer," but rather to "point a way to the future."
President Trump has bombastically announced his intention of removing transgender troops from the military service, a proposal that so far has not been upheld legally and may never come to pass. Nevertheless, this issue brings to the fore one of the longstanding indices of progress in America: Who gets to serve in the armed forces, to carry a weapon in the defense of our country, to be considered a full citizen entitled to rights and benefits?
A giant step forward took place during the Civil War, when Black men were handed guns. Non-citizens could also serve, often quickening their path to citizenship through the military. In 1948, following World War II, Pres. Truman ordered the desegregation of the military, and under Pres. Obama LGBTQ persons were invited to serve openly in a final correction to the unworkable "Don't ask, don't tell" policy instituted by Pres. Clinton. Women were also finally permitted to engage in combat operations.
All along, however, tensions have persisted along those and other lines, including religious. Racist superior officers such as Sgt. Marcum could still exert a life-changing impact at isolated military bases. In the opera he addresses Danny, singing, "You think you're so smart, / I don't give a damn. / Think your grades make you special, / Better than me. / Back home, you egg rolls / Get every advantage / But it's different here. / I'm in charge."
We like to believe we are always steadily marching forward toward the ideals of liberty, justice and equality, but the road can still be rocky. How many soldiers would put themselves at risk by standing up to such bigots?
To an opera lover, the sadistic set-up between the innocent Danny and the evil Sgt. Marcum recalls similar characters in Benjamin Britten's Billy Budd, where there is a homoerotic subtext that does not appear to exist in An American Soldier. But there are many other equally repulsive villains in opera as well— Pizarro in Fidelio, Iago in Otello, Scarpia in Tosca for starters.
Huang Ruo's fluidly blended music features both Chinese and Western modalities. The more traditional characters, such as Mother Chen (mezzo-soprano Mika Shigematsu), sing pentatonic lines that suggest Chinese folk song and lullabies (the pentatonic scale is the black keys on the piano). The more Americanized characters, such as Danny (tenor Andrew Stenson) and his friend Josephine (soprano Kathleen Kim) sing in a more contemporary Western style, though inflected with motivic themes from their own Chinese background especially when in dialogue with Mother Chen. Sgt. Marcum (bass-baritone Wayne Tigges) is the embodiment of a hateful, racially privileged psychopath. The script is so expressive that Huang's orchestra often becomes a subliminal element.
Structurally, the opera is nonlinear, for we know the end of the story from the beginning. In the very first scene Danny appears as a ghost visible and audible to us but invisible to the others on stage. Courtroom scenes are interpolated at several intervals in the story, as witnesses both defend and castigate Sgt. Marcum. In the final scenes Mother Chen and the memory of her son have an extended duet reminiscing about what might have been.
When the trial is over, with justice so ill-served that Mother Chen vows she will never stop fighting, the cast of judge and military chorus sing an ode to America's example:
"Today our soldiers / Are sent around the world. / Their weapons are many, / Planes and bombs and guns, / But in the fight / Against extremists, / Our greatest weapon may be / Our American creed. Unum, unum, unum / E pluribus unum, / 'From the many, one.'"
They continue: "Black and white, / All the colors of the world: / Asians and Latinos, / Muslims, natives, and Sikhs, / Wearing turbans, Wearing headscarves, / Women and men, / And LGBT. / Marching together / Under one flag, / Serving one nation, / Serving for us all. / We are not colorblind. / We are colorful. / E pluribus unum. / 'From the many, one.'"
Hearing that deep purple patriotism, I twisted in my seat thinking to myself, "After all that, they come up with this crap!" It seemed so patently false, not only in the self-perception of our country—especially under the current administration—but also in our larger role in the world. "Extremists?" The U.S., as Dr. Martin Luther King Jr. and so many others have reiterated, is "the greatest purveyor of violence in the world."
At the artists' reception after the premiere I asked both the composer and the librettist about this passage. They responded similarly to what the director says in the program: "ultimately we must ask ourselves how we, too, can come to terms with our nation's divisive views on American identity in the face of our professed ideals." That chorus is more of a discussion point than a conclusion. I could accept that, and also imagine how future audiences will hear that passage after such a harrowing story.
Michael Christie conducts a complex score, and Matthew Ozawa directs, swiftly moving people and solid sets on and off stage. The modern set design is by Andrew Boyce, with video projections by Greg Emetaz. The principal feature of the set is a sort of Erector Set NYC tenement building which later doubles as the guard tower.
You may need to keep a hanky handy for this powerful and moving work.
Four performances of An American Soldier remain through June 22. For tickets and more information see the OTSL website here.