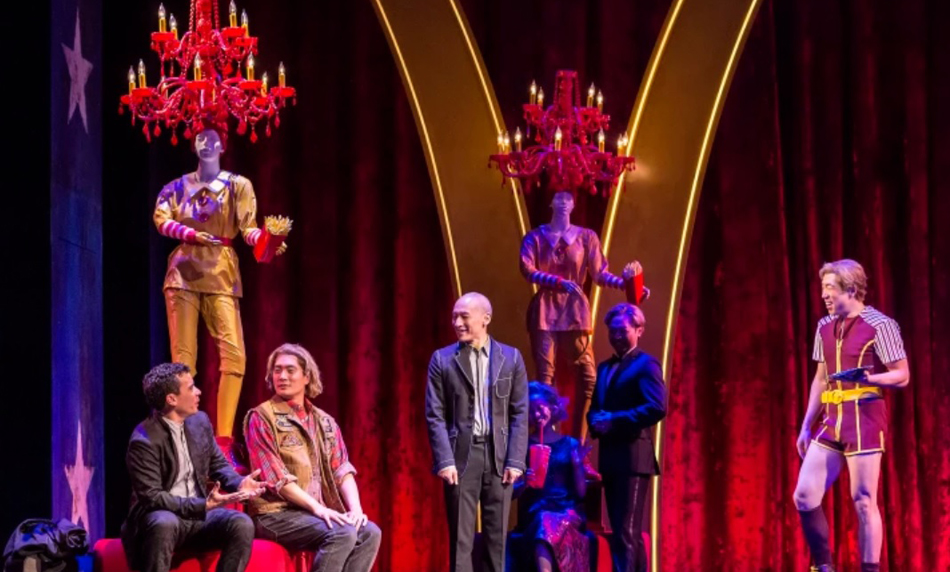 LOS ANGELES—It's not every day that the out of town tryouts for a big brand-new Broadway show take place in this city.
The world premiere of Soft Power (seen May 23) by powerhouse playwright David Henry Hwang (play and lyrics) and Jeanine Tesori (music and additional lyrics) is produced by Center Theatre Group, and opened at the Ahmanson Theatre here on May 16, directed by Leigh Silverman. It was originally conceived as a commission to honor the 50th anniversary of the CTG's Mark Taper Forum, but once the creative team got going, it became a more ambitious project requiring the facilities of a larger house.
Born to a family of Chinese immigrants, Hwang is known for such stage works as M. Butterfly, Chinglish, Yellow Face, Kung Fu, Golden Child, The Dance and the Railroad and FOB, and he has also worked on the musicals Aida and Tarzan and the revival of Flower Drum Song. Easily the best-known Chinese-American playwright, he says, "I've always loved The King and I" in an interview in the program. "But as I've gotten older, there's this complicated feeling where I know it is kind of inauthentic and making a political point subtly—reinforcing the dominance of the West. But it's done so beautifully that by the end of it I'm still in tears."
Jeanine Tesori is the 2015 Tony Award-winning composer of Fun Home, who also wrote Caroline, or Change with Tony Kushner, and Violet (reviewed here and here in PW).
"Jeanine says that musicals—and I've now incorporated this into the play—are an incredibly powerful delivery system," Hwang continues. "When the music is great, you kind of let the ideas it expresses seep into your heart." The Asian-American community has often expressed its frustration with musicals, such as Flower Drum Song, The King and I, South Pacific, Miss Saigon, and many others going back to Gilbert and Sullivan's The Mikado, that represent Asian lives through Western hegemonic eyes.
Now what happens if, say, 50 years from now, when, by means of the "soft power" exerted by cumulative economic forces, the Chinese New Silk Road has come to dominate the world, the U.S. is little more than an indebted vassal state, and the Chinese appropriate the American musical form to tell the story of the world from their point of view?
Soft Power starts off as a play—a contemporary comedy about a renowned Chinese-American playwright (whose name happens to be David Henry Hwang, played by Francis Jue) who hopes to break into the Chinese market with a Shanghai-based takeoff on Sex and the City. DHH meets with Xue Xing (Conrad Ricamora), a Chinese media representative of Dragon Media in Los Angeles, on a day when presidential candidate Hillary Clinton (Alyse Alan Louis) happens to be in town throwing a fundraising party after a Music Center performance of (curiously enough) The King and I. Xue Xing and Clinton briefly meet, a selfie is taken, and the seed of a future Chinese musical is planted.
It so happened that the night following my outing with Soft Power, I attended a rare performance, at UCLA, of the 1947 Virgil Thomson opera The Mother of Us All, based on Susan B. Anthony and her contemporaries, with a text (her last work, as it turned out) by Gertrude Stein. I mention this only because V.T. and G.S. are written into the libretto as characters, so the idea of the playwright (and composer) acting in their own musical theatre work is not an entirely new idea. Other composers (Sondheim of Company, Bernstein in A Quiet Place and others) have drawn substantively from their own lives without necessarily introducing themselves as characters per se.
As a critical plot point in the musical, DHH is randomly attacked by a stranger with a knife not far from his Fort Greene, Brooklyn home. This incident is based on exactly such an incident in November 2015. The assailant stabbed Hwang, severing his vertebral artery, and the playwright barely survived. As Hwang imagines the episode after the fact, the attacker probably thought DHH was an immigrant delivery man and struck out against foreigners taking good American jobs. When in unaccented English, Hwang cried out, "What the fuck?!" the man must have realized he had just assaulted an American citizen and ran away. He was never found.
The rest of the musical is something of a fantasia brought on by DHH's hallucinatory mental state. Xue Xing becomes Hillary Clinton's lover during the low point in HRC's life just after she has lost the 2016 election to Donald Trump, admitting there is something the U.S. could learn from China. It is through the intervention of the Chinese lover that the Trumpies lay down their guns, tacitly admit they are in deep debt to the Chinese, and yield to the New Silk Road as the new world order.
This musical within a musical within a play, reminiscent in structure to The Drowsy Chaperone,  marks the moment when the West is now for the first time definitively shown through Asian eyes. Owing to its newly perfected "powerful delivery system," this future, beloved East-meets-West theatre piece has shaped global consciousness about Western decadence and the inevitable rightness of Chinese dominance.
As Marx put it in The German Ideology of 1845 (three years before The Communist Manifesto), "The ideas of the ruling class are in every epoch the ruling ideas, i.e., the class which is the ruling material force of society, is at the same time its ruling intellectual force. The class which has the means of material production at its disposal has control at the same time over the means of mental production, so that thereby, generally speaking, the ideas of those who lack the means of mental production are subject to it. The ruling ideas are nothing more than the ideal expression of the dominant material relationships, the dominant material relationships grasped as ideas."
Hwang and Tesori have obviously read their Marx. As Xue Xing says, "A truly great civilization achieves soft power to change the way people think." Or as Xue Xing's American girlfriend Zoe, a budding actress who was a Bernie supporter says about "delivery system" musicals, "Once the violins start playing…."
Soft Power illuminates more than class relationships, but also contrasting psychologies. The Chinese are dutifully raised to value the success of the group—the collective, the nation—over individual happiness. It is enough for a Chinese person to be "happy enough," placing "face" over heart, sticking with your mistakes. That accounts for China's ability to raise millions out of dire poverty. In American culture, guns, violence, thuggery, sex, consumerism, hyper-masculinity, elections and the electoral college, and the absolute "pursuit of happiness" (there are songs about these), all point up individualistic traits which in the end will bring the U.S. down. Maybe, the Chinese ask, democracy doesn't work.
The score and scenic design (David Zinn) ingeniously reference any number of sources in the American musical tradition. Xue Xing is shown landing in a Chinese jet at "Hollywood Airport," the exact reverse of the American plane in John Adams and Alice Goodman's opera Nixon in China, not to mention the famous helicopter in Miss Saigon. Tesori's orchestra of two dozen musicians directed by David O, trembles with ironic Asiatic sonorities.
Ms. Clinton—now there's a woman Xue Xing can admire as someone who "stuck with her mistake"—is the female star, all razzmatazz in her Wonder Woman outfit belting out a brassy Jennifer Hudson Dreamgirls-like gospel number as she tap dances her way toward practically humping a McDonald's Big Mac. But it's all show. As she delivers her wonky, boring speech about how great gradualist democracy is, the crowd thins down to no one but her campaign manager (Maria-Christina Oliveras). As she and Xue Xing start falling in love, he has a Sound of Music-like "Do-Re-Mi" song in which he tries to teach Clinton about the four tones of the Chinese language, which she needs to understand if, for one thing, she is to correctly pronounce his name. She screws it up like an obtusely dense Westerner. In other words, she's tone deaf—one of the consistent criticisms of her candidacy—and more than Russian interference, more than the electoral college, more than gerrymandering, why she lost.
Choreography by Sam Pinkleton illustrates how the Chinese have adapted American dance moves. It would appear they've watched the 1961 Cultural Revolution-era ballet Red Detachment of Women a lot more closely than any film directed by Busby Berkeley. It has a derivative boxiness to it that is charming in context.
To me the single most hilarious scene is the opening of Act 2, when a panel of experts, including descendants of Xue Xing and the original creators of the Chinese Soft Power musical, gather to discuss the history of the show for its 50th anniversary revival. The panelists apparently believe their musical is the Shen Yun-like apotheosis of an idea that only rose to the level of a "regional form of musical entertainment" in America. A visiting American scholar of cultural history tries to refute their fake-factual interpretation, but is intimidated into deference to the dominant conversation.
The cast includes Billy Bustamante, Kara Guy, Jon Hoche, Kendyl Ito, Francis Jue, Austin Ku, Raymond J. Lee, Alyse Alan Louis, Jaygee Macapugay, Daniel May, Paul HeeSang Miller, Kristen Faith Oei, Maria-Christina Oliveras, Geena Quintos, Conrad Ricamora, Trevor Salter and Emily Stillings.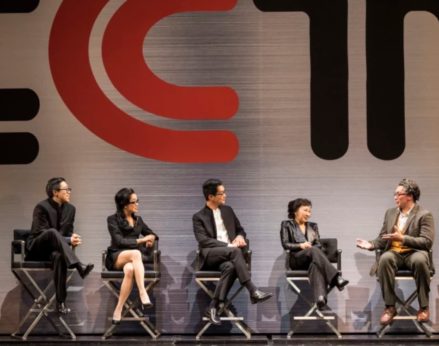 Superficially it would be easy for American theatergoers to conclude that a messy democracy is still preferable to autocratic rule by the Communist Party as in China (at least as most Westerners might see it), but the final Up with People-like ode to the American system left me frankly unconvinced, especially with the likes of Hillary Clinton leading the chorus. I couldn't help thinking that Hwang, Tesori and Co. must be feeling the same ambiguousness that I did. After all, they're in control of the "delivery system."
It's a fresh and different kind of show, open to a variety of interpretations, that makes us think self-reflectively about the entire history of the American musical and its power to shape human consciousness. It might go through further reworking before it lands on Broadway, so at present it may not be in its final form. It is courageous and seductive, intimate and cosmic at the same time. I would not have wanted to miss it.
Soft Power plays at the Ahmanson Theatre, 135 N Grand Ave., Los Angeles 90012 through June 10. For tickets and other information see the Center Theatre Group website here. Following its run in L.A. it moves to San Francisco's Curran from June 20-July 8.