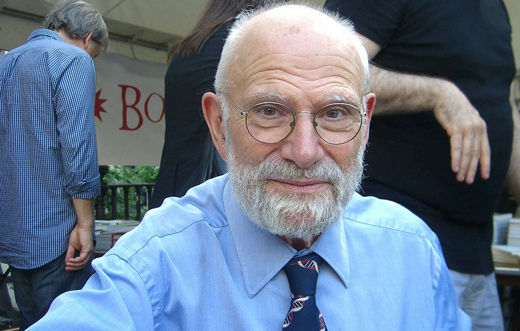 Many of us are mourning the passing of the popular British-American neurologist, professor and bestselling author Oliver Sacks, who died recently at the age of 82. Sacks' writing chronicled case histories of his brain-disordered patients whose challenges were detailed in the most sympathetic and fascinating of ways. Over the years, several of their stories, highlighting the immense variety in which human consciousness presents itself, became inspiration for stage and film productions.
A native of London, six-year-old Oliver was sent away to live in the English countryside by his physician parents to spare him the horrors of the Nazi Blitz. That the youngster suffered terribly as a result of the relocation in an institution headed by a cruel headmaster might have left both indelible psychological wounds as well as a depth of understanding for the plight of the afflicted. Sacks' approach seemed to come from the most humane of places; he treated his patients as individuals to be understood rather than as objects to be studied. He once shared that he felt closer to them than to his most familiar neighbors.
Living in the Topanga Canyon area of Los Angeles while a neurology resident at UCLA, Dr. Sacks became acquainted with the work of 19th-century "migraine physician" Edward Liveing. During that period Sacks experimented with a variety of drugs. In his book Hallucinations he noted that it was then that he decided that he wanted to become the Liveing of his era by authoring books on neurological complications and diseases.
Adding to the constellation of traits that made up Sacks' seemingly insatiable wellspring of curiosity about how the brain functioned was that he himself suffered from a rare and incurable brain disorder known as prosopagnosia, or face blindness. Individuals with prosopagnosia are not able to recognize faces – family members, the closest of friends, or in the most extreme cases, even one's own face.
Portrayed by Robin Williams, Dr. Sacks was introduced into public discourse by the 1990 film Awakenings, which followed his inspired approach to patients who were suffering from an atypical form of encephalitis. After years rendered virtually unresponsive by the disorder, they were given an experimental treatment that included administration of the drug L-Dopa by the young doctor, and for a short time the group (one member played notably by Robert De Niro) was brought back to life in glorious fashion only to return, sadly, to their original vegetative state.
Sacks once said that we "see with our eyes and with our brain. Seeing with the brain is called imagination," bringing to mind an illuminating chapter in his bestselling book The Man Who Mistook His Wife For A Hat, entitled "The President's Speech." The neurologist had been treating a group of patients stricken with global aphasia, a malady causing their brains to be incapable of understand the meaning of specific words. So clever however was their adaptation, that by instinctively focusing on the non-verbal cues of the speaker, the patients had become astute decoders of the "intent" embedded in the message being sent. After arriving late one day for an appointed meeting with his patients, the good doctor was surprised to see many of them laughing uproariously at a televised speech being given by President Ronald Reagan. After investigating, Sacks found that their spontaneous response had been caused by "the old Charmer, the Actor, with his practiced rhetoric, his histrionisms, his emotional appeal." The president, it seemed, could "crack up" the assemblage but he could not deceive these human lie detectors!
In 2001, Sacks revealed that he had not been in a close relationship for years, adding that he viewed his shyness as a disease that had been a major obstacle throughout his life. In his autobiography On The Move: A Life, published earlier this year, he spoke of his homosexuality. In 2008 he started a relationship with the writer Bill Hayes.
In a February 2015 New York Times essay Sacks let the world know that he had only a short time remaining due to a metastasized ocular tumor that had invaded his brain and liver. He declared his wish to deepen his friendships, bid farewell to loved ones, continue to write, see more of the world and "to achieve new levels of understanding and insight." He passed away in his home in Manhattan on August 30th.
Photo: Wikipedia (CC)