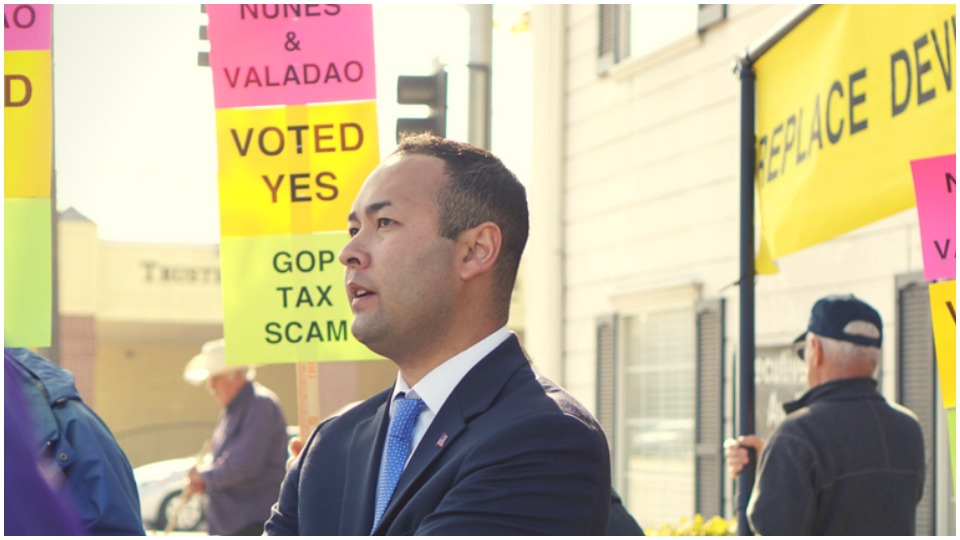 FRESNO, Calif.—A youthful Fresno County prosecutor who is the son of immigrants and a first-time political candidate is running an ambitious campaign to unseat 44-year-old, eight-term Republican Devin Nunes in Congressional District 22 in Central California. People's World staff and two other National Writers Union members traveled to the district to meet on October 3 with 34-year-old candidate Andrew Janz and hang out with the campaign volunteers.
Does he have a chance?
On Highway 99, near Tulare, we drove past a roadside billboard with a photo of a somewhat surprised-looking Devin Nunes and the words "#NunesMustGo" followed by "if you prefer Russian" and that slogan written out in Cyrillic letters. The humor refers, of course, to Nunes, chair of the House Intelligence Committee, who has defended the man who came in second in the popular vote against charges that he won the election owing to Russian interference. It was Nunes who made an illegal midnight run to the White House to offer up unauthorized proprietary Justice Department reports on the Robert Mueller investigation.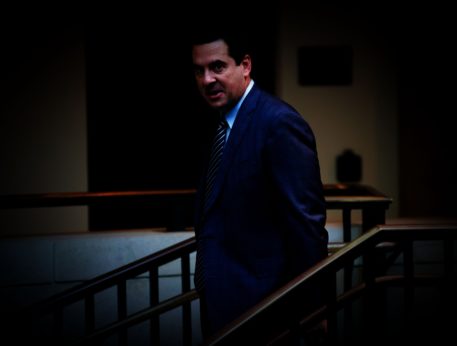 The partisan Nunes is considered by many to be Trump's Number 1 lapdog in Congress. He voted against the DREAM Act, for Trump's wall, to dismantle Medicare and privatize Social Security, and to slash taxes for corporations and the rich.
Within the remaining weeks before November 6, Republicans will go after Janz with everything they have. The president, who has sent his daughter Ivanka out here for lucrative fundraisers, is determined not to let this district turn Democratic. Agribusiness, the major industry in the district, has some very wealthy and influential Republicans: They too want to make sure C.D. 22 doesn't turn. Janz will need to counter with an unprecedented Democratic vote. There is no doubt that if Janz wins, it will be a major upset.
Andrew Janz is the son of a Canadian father and a Thai mother. His dad was in the Peace Corps, met his mother in Thailand, and they returned to the States. Andrew grew up bilingual. He worked his way through school, flipping burgers at McDonald's, then attended college and law school. He is married to a mental health therapist.
The spacious campaign office is located in a strip mall just off Blackstone Ave., one of the main streets in this city. The office was active with multiracial volunteers of all ages, many of them women. Tables have been set up for volunteers to make phone calls to voters with relatively little noise interference. From this office, precinct walkers also go out to neighborhoods with voter information. There is another office located father south in the city of Visalia, but Fresno is the main campaign center.
I talked with volunteer Janet Schraer, a retired interior decorator from Berkeley. "I was outraged," she says, by what she was seeing in the months after the 2016 election. "I was tired of sitting on the couch and screaming at the TV, and reminding my friends that's not useful." After the election, she took a couple of political science courses at her local community college because she wanted to understand the Constitution. So, what, I asked, was the appeal of Donald Trump? "I don't know," she answered, "that would require a psychology class." But at least she can truthfully claim that in her lifetime "I have voted for a Republican." Schraer moved to Fresno for three months to help with the campaign. "The reason I'm the office manager is I went to the bathroom and somebody voted me in."
Schraer is impressed by the fact that Janz is not accepting any corporate donations. "A congressman's job is to represent people, not special interests, and that's the campaign I'm committed to running," Janz writes in his fundraising appeals. This factor alone is an often-cited motivator driving donations to the current crop of red-to-blue candidates. Schraer is currently writing a book tentatively titled "The Loving Family is a Socialist Institution: A Road-Trip Memoir for Politicians," in which she will counsel officeholders to consider, as in a supportive family unit, what policies are going to be best for children and their future.
"The needs in the Central Valley are huge," Janz says. "And they're not being met by a representative who is rarely in his district and is more concerned about his next appearance on Fox News than holding town halls with the voters who elected him." Devin Nunes's constituents have held regular rallies outside the Nunes district office in Clovis, where there's rarely anyone working, with the message "Where is Nunes?"
The mostly vertically shaped 22nd C.D., pretty much in the smack-dab middle of California, includes large portions of Fresno and Tulare counties, including the city of Fresno (but only its northern and eastern parts), the mid-size cities of Visalia and Tulare, and smaller communities such as Reedley, Dinuba, Kingsburg, Lindsay, and Corcoran. Some of these town names are familiar places in United Farm Workers history. Registered Republicans have a 10-point edge over Democrats, 42 to 32 percent. The June 2018 primary for top two candidates gave Nunes a wide margin over Janz: 58 to 32 percent.
People's World interviews Andrew Janz
Janz is counting on continuing changes in the district, which is getting younger and more diverse. "I think we're going to win," he told People's World. We spent a morning on the California State University at Fresno (Fresno State) campus, talking with students and trying to grasp what was on their minds. It is very clearly a "majority minority" university, reflecting the 47 Latinx percent in C.D. 22.
Janz asked us to write down these numbers: In 2008, McCain took the district by 60 percent. In 2012, Mitt Romney took 56 percent, and in 2016, Trump got only 52 percent—although in that last race, Nunes won re-election with 68 percent.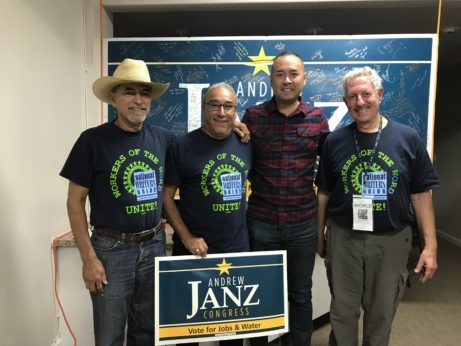 Janz observes that C.D. 22 is "not the most extreme Republican district," and that his chances here are greater than in other places. For one reason, "There hasn't been a competitive race here since 2002." He has been endorsed by legendary farmworkers organizer Dolores Huerta and by every major labor organization in the Central Valley, with the exception, so far, of the police union. He calls himself "a champion for unions."
Starting out as an almost complete unknown, Janz is now polling eight points behind Nunes, with a month to go before the election. "There is a trend here," Janz says. Much will depend on the critical turnout of women, Latinx, and seniors. The campaign has identified as many as 6,000 registered Republican Latinx voters whose choice this year could go to Janz. Even some long-term Republicans Janz talks to admit that Nunes has done little for the district in 16 years. He will also need students and 18 to 25-year-olds, a notoriously challenging population to engage.
Fresno State student Vivian Aguirre says Nunes "overpromises and underdelivers." "We need a change," she adds, "and I think that Andrew Janz will provide that change." I also met a pair of naturalized students who are cousins brought to the U.S. as one-year-old girls from Yemen. Yusra is studying graphic design and Manal plans on a nursing career. They had no trouble describing themselves as "pro-Democrat, anti-Trump." They were aware that Trump has threatened to remove green card status from people, or anyone in their families, who have availed themselves of public support programs. "But those are the people who often need it the most," Yusra says. Reflecting her own people's crisis back in Yemen, she says our government "takes our taxpayer money and it goes straight into war. They're killing civilians." But she wasn't sure if she was registered to vote, and wondered why she couldn't just do it online. Will people who think like Vivian, Yusra, and Manal be able to influence the thousands of fellow students who need to get to the polls to make change possible?
Andrew Janz met with us for over an hour. Various other topics came up, such as immigration, water rights, Prop 10, education, Social Security, federal spending, taxes, healthcare, jobs, campaign approaches within a red district, campaign finances, and other topics. Janz seemed very relaxed and open to discussing any subject we cared to know about. When we said (more than once), "Just a couple more questions," he said (also more than once), "Don't worry, I'll give you all the time you want."
In a quick roundup of the issues we touched on, Janz has made a campaign issue out of clean drinking water for everyone in the district, and the all-important water rights and policies that should concern a purported agribusinessman such as Nunes. "In 16 years, what has he done?" Janz asks. "A lot of growers are getting sick and tired of Nunes's approach." You can't talk about water in the Central Valley, Janz starts off, without taking climate change into account. You can talk about dams, maybe, or canals or tunnels or more storage, or what to do about disappearing groundwater and the sinking land in some areas. But any way you look at it, most of our water comes from the Sierra Nevada and global warming could bring the end of that.
On jobs: There is so much improvement the Central Valley needs—water projects, housing, education, high-speed transportation. "We need federal investment in local infrastructure." That would bring us good well-paying jobs "with benefits that can support a family," but where would the funds for it come from, he asked rhetorically. "There's a vast amount of money we spend on our military-industrial complex priorities," he answered. We need to end the corporate tax giveaway, he says, and we need a national conversation about funding our educational system.
Janz sees many problems and contradictions in immigration policy. He supports a newly structured, fair guest worker program with labor protections in place. He looks forward to the opportunity "to work with Republicans toward a comprehensive immigration solution."
His union-printed campaign literature says, "Andrew will fight to…expand access to quality, affordable healthcare." "It's just wrong that anyone has to choose between going broke or staying sick," reads one of his campaign handouts. PW asked why he doesn't join the progressive demand for Medicare for All. Janz answered clearly and cautiously: He's for it in theory but would rather not jump the gun and pronounce for it until he gets to Congress and has an actual bill before him with all the particulars laid out, especially how it will be funded, and what happens to people working currently in the private healthcare and insurance economy.
As a prosecutor assigned to the Violent Crimes Unit, Janz is well aware of the many social factors that go into criminal behavior—lack of jobs and education, gangs in Fresno, the availability of drugs, for example—and is also aware of the racial and ethnic disparities in arrests, sentencing, and incarceration. Some 60 percent of the families in District 22 rely on some form of government support, as the median income there is in the low $50,000 range for a family of four.
He spoke with us about the small town of Reedley, farther south on Highway 99, where a forward-looking police chief has been instituting restorative justice measures effectively lowering rates of convictions and imprisonment. Authorities work with families, schools, and communities, as well as with the aggrieved parties, to work out satisfactory resolutions to criminal acts that are more humane than prison and with longer lasting outcomes.
"I've seen first-hand the carnage that easy access to military grade weapons has caused," Janz states. "I support an individual's right to bear arms, but I'm committed to enacting common sense measures like universal background checks and closing private sale loopholes…. I'll never take a dime from the NRA."
We were impressed by Janz seeking our views on a couple of topics. For example, how to stabilize and guarantee Social Security? We suggested that if the cap on contributions were lifted completely, then the very rich, who reach their annual cap literally by the end of the day January 1, the problem would be well on its way toward solution. Also, we questioned him when he thought aloud about raising the retirement age. Yes, wealthy and healthy people are living longer, we countered, but not those who have lived lives of heavy labor. In fact, overall the longevity figures in the United States, if anything, have started to go down slightly in recent years—and are likely to decline even further if healthcare is privatized. And on the upcoming California ballot, he asked our thoughts about Prop 10, which would not put rent control into effect across the state but which would allow cities to devise their own policies which are currently forbidden.
Is this contest non-competitive?
Several political polling services rate the Nunes-Janz race as not competitive. For that reason, the Democratic Congressional Campaign Committee (DCCC) is not providing funds to Janz, as it is to other red-to-blue races they hope to flip. He doesn't claim to be especially worried about that, although one feature story on his campaign, by John Wildermuth in the San Francisco Chronicle, quoted him as saying, "I'm worried about their lack of interest in a most compelling contest" against someone such as Devin Nunes who "is universally hated in Democratic circles." Nevertheless, Janz is considered a leading online fundraiser among Democrats, reportedly garnering over $1 million a month, mostly coming from Democrats across the nation salivating over the chance to give Nunes his long-deserved comeuppance. If Janz wins, there will be some egg on DCCC faces.
His campaign promotes "transparency, ethics, and accountability in government," and he promises to sponsor regular town hall meetings such as the district has not seen in years. "And if I don't win this time," Janz says, "we will have built a solid foundation for the next race in two years' time."
Nunes has adopted scary, unhinged talk about Janz's support from "far-left resistance activists." A recent 40-page glossy magazine (non-union printed) that Nunes sent to every household in the district focuses on The Fresno Bee, the leading newspaper in the district, and its reputed bias against the incumbent. The hysterical tone recalls what readers can find in the National Enquirer, attacking Hollywood and San Francisco liberals, echoing the president's broadsides against "the lying press" and the media as "enemy of the people." Inside this smarmy little collector's item of weird campaign ephemera appear reprints of positive articles about Nunes from the Wall Street Journal, the National Review, and the Weekly Standard. The back cover is a frenzy of right-wing imagination, the "ship" of the sinking Fresno Bee flying a battered red Soviet flag, with hammer and sickle SOCIALISM and RESIST flotsam going down into the salty deep. If this is representative of Devin Nunes's thinking, it would appear that he has adopted the paranoid attack style of the president he worships.
The open secret in the Central Valley, as elsewhere, is that farms depend on immigrant labor to operate, and much of the labor is undocumented—and underpaid, with fewer or no benefits. But rural areas are more often than not represented by Republicans who suck up to the anti-immigrant Trump. They refuse to speak up about the economic absurdity, not to mention the moral crisis, of threatening to apprehend their labor force and denying workers a path toward citizenship.
There would seem to be a clear disconnect in bankrolling and voting for politicians who commit themselves to immigration policies that would destroy their own livelihoods. But are their farms and agribusiness factories getting regularly raided by ICE? No, they are not, although the threat is ever-present. The growers know there are no other workers out there who will milk their cows, sow their crops, and harvest their grapes, fruit, almonds, and vegetables at these wages. So it looks, in the end, like a protection racket: Support Republicans up and down the ballot, cry "SOCIALISM!" against any of their challengers, and we won't raid your farms, for now.
An explosive investigative report in Esquire magazine by journalist Ryan Lizza exposes many of the lies with which Devin Nunes and his family surround themselves. Much of the article circles around the obvious fact that large-scale agricultural enterprise, almost everywhere across the country, depends heavily on undocumented labor. Here you may read the whole piece. And here you can read a fiery defense of freedom of the press by Marek Warszawski in response to Nunes's Trump-like attacks on the Fresno Bee.
For further information on Andrew Janz, go to the campaign website.
David Trujillo and Ismael Parra contributed to this story.