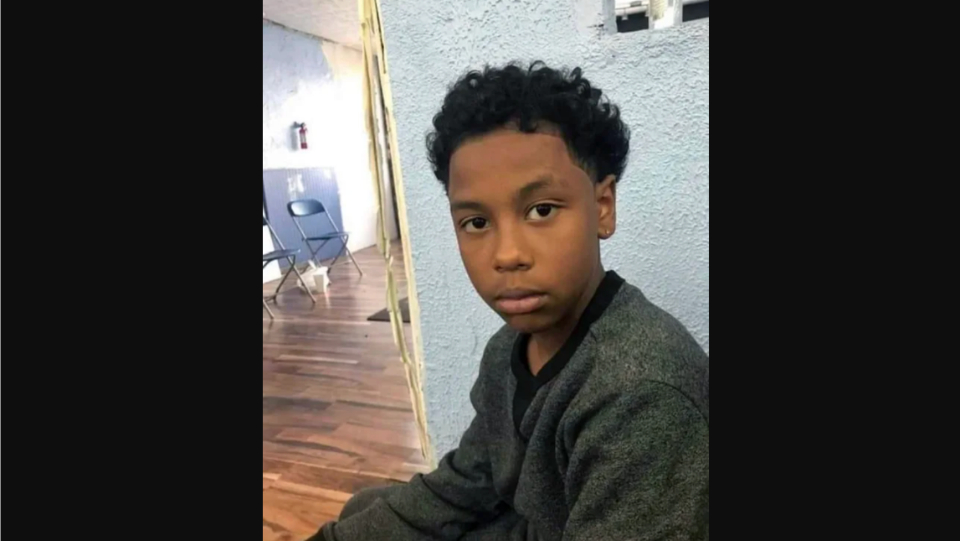 COLUMBUS, Ohio—"I wish I could see him, smell him, hold him again." The heartbreak of Megan Reed, mother of 13-year-old Sinzae Reed, moved and angered an entire community as she spoke at a recent event to bring attention to the injustice surrounding her son's murder.
Zay, as he was called by his family, loved music and video games and hanging out with his friends and family, according to an obituary prepared by his family. He was a typical teenage boy from Columbus.
Since Sinzae Reed's murder on Oct. 12, Columbus Police have identified, arrested, declined to charge, and subsequently released a 36-year-old white male suspect whom multiple witnesses identified as the shooter.
The circumstances surrounding the investigation have called into question the city's commitment to protecting its Black residents and have made plain the limitations of new laws changing standards of self defense as it is applied to instances of gun violence.
According to a police affidavit, on the afternoon of Oct. 12, Krieg Butler exited his red pickup truck outside of the Hilltop apartment complex where both he and the Reed family lived. A witness reports seeing Butler exit his truck and fire multiple shots at Reed before fleeing the scene in his vehicle.
A partially-released autopsy showed two gunshot wounds, one to his hand and one to his chest. Reed died of his wounds that evening.
At the time of the shooting, Butler was out of jail on probation following a recent domestic violence conviction, a status that precludes firearm possession under federal law. Both the Reed family and witnesses to the shooting were familiar with Butler, and he was quickly identified and arrested by Columbus Police in an incident that involved the use of the SWAT team.
However responsive the city may have been to apprehend the suspect in Reed's murder, the course of events changed rapidly after a meeting with the Franklin County Prosecutor's office. According to recent media reports, a lawyer representing Butler presented self defense claims to the prosecutor, who subsequently filed a motion to dismiss the case in Franklin County Municipal Court.
Family members told the Columbus Dispatch that Reed was shot in the back, although police have not commented on the nature of his wounds pending an ongoing, and much delayed, investigation by the Franklin County Coroner.
There is no indication that Reed was armed in any way, and it is not clear how a 13-year-old boy on foot could pose a plausible lethal threat to an adult man in a pickup truck.
Under Ohio's 2021 "Stand Your Ground" law, modeled after legislation passed in at least 36 other states, lethal force is justified if an individual "reasonably believed that the force was necessary to prevent injury, loss, or risk to life or safety." This would appear to increase the burden of proof on prosecutors to demonstrate the lethal intent of the accused.
In fact, the expansion of the legal standard of self defense in instances of gun violence has led to a spate of gun murders that might previously have resulted in serious charges but which can now be excused though extrajudicial processes overseen by local police departments.
Earlier this month, there was a case of another 13-year-old African American boy, Karon Blake, who was killed by a "local homeowner" in Washington, D.C., who assumed Blake was breaking into vehicles. The Democratic mayor of D.C., Murial Bowser, acted swiftly to protect the identity of the shooter and has thus far deferred all questions to an ongoing investigation by the local police. No charges have been filed in the case.
A similar course of events has evolved in R eed's case. No forensic evidence has yet been released to prove or disprove Butler's self defense claims. Meanwhile, sworn eyewitness testimony which appears to undermine claims of self defense was not considered.
Representatives of Columbus Police maintain that there is no statute of limitations on potential murder charges against Butler and that the case remains under investigation.
However, after weeks of inaction and allegations of bias against the family of Sinzae Reed, anger and frustration has continued to build among family members and within the larger community. Reed's death is the latest incident in a long history of violence against Black Columbus residents being met with seeming indifference by city officials and police.
Public comment on the case was received during the weekly Columbus City Council meeting on Jan. 9. Council President Shannon Hardin called for a brief recess, during which several members of the community were invited to speak, including representatives of Sinzae Reed's family and Rebecca Duran, mother of Donovan Lewis, who was slain in his bed by Columbus police last year.
Notably, the passionate testimony of the community was not livestreamed, and no recording can be found on the City Council YouTube page due to the fact that body was technically in a brief recess and not an official session.
Ramon Obey, a community member representing Reed's family, spoke to the struggle the family has experienced since the murder, including not being informed of Butler's release. The killer continues to live in the same apartment complex as the family.
Later, Hardin questioned the head of public health and safety about the normal process for informing victims' families of changes in incarceration status for potentially hostile individuals, claiming he wasn't sure how the process worked as it wasn't strictly within his department's purview. He did, however, promise to "get to the bottom of it."
Ramon recommended a move away from complete reliance on the Columbus Police Department for public safety and toward a community-oriented crisis response solution, advocating for city funding of mutual aid groups currently operating in the Sullivant Ave. area.
He also noted the increased police presence in the chamber that night. The recess, intended to be five minutes, lasted 15 as family members and representatives called for racial justice and community-based policing.
Recent comments from City Councilman Emmanuel Remy following the meeting seemed to suggest that increased access to after-school programs and more parental involvement might help prevent future incidents similar to what happened to Sinzae Reed. It is unclear which after-school programs were available to the 36-year-old shooter Kreig Butler at the time of the incident or the extent to which his parents are involved in his day-to-day life.
Sinzae's mother, Megan Reed, told ABC News, "I'm very frustrated because I know if it was the other way around, if it was a Black man and my child was white, the Black man would be in jail, and my son would have justice."