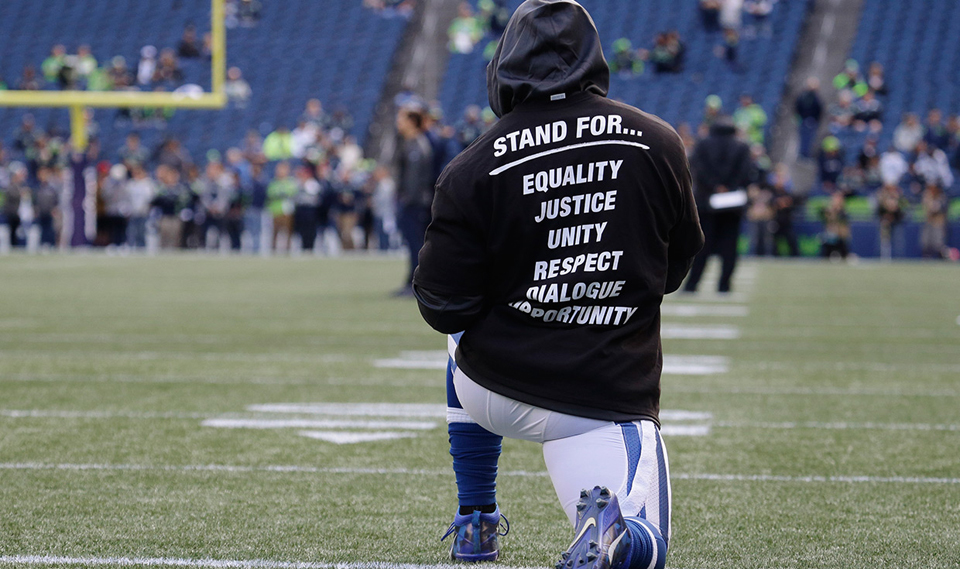 NFL team owners were busy out in Atlanta this week during their annual spring meeting. Typically, this three-day, multi-millionaire elite club shindig draws little to no attention from the public or media. This year is a bit different though.
On their agenda were items such as a rule to eject players who hit with their helmets, new team ownership approvals, upping kick-off excitement, the recent sports betting decision from the Supreme Court, and reworking the Super Bowl host bidding process.
Of course, all that pales in comparison to the one dreaded issue really occupying their minds: National anthem protests.
With fragmented and contentious discussions around implementing penalties against players who protested during the leagues dominating their March 2018 meeting, owners kicked it down the field until now—hoping enough time had passed to give them some political and PR cover.
At the afternoon meeting session today, NFL owners approved a new national anthem policy that gives individual teams the authority to set their own anthem-related rules and allows players to remain in the locker room during the song, according to sources inside.
While several owners have recently indicated publicly that they believe a resolution must be reached before the start of the 2018 season, there is little agreement on how to get there, and there did not seem to be much support among owners for a league-wide "stand for the anthem" policy.
Owners could have reintroduced the NFL's pre-2009 policy and kept all players inside locker rooms until after the anthem, similar to the current college football anthem policy.
Jerry Jones, owner of the Dallas Cowboys, and Robert McNair of the Houston Texans, made it clear from the begining that they expect all players to stand during the national anthem.
"We certainly want to make and will make a thought-out, deliberate decision," said Jones about the protest, while speaking to reports in the hotel lobby after the meeting." Whatever we do, let's put the focus on what the NFL's about and that's playing football.
"We ask the world, 'Don't turn your head. Look at us. Wait a minute. Look at the NFL. Look at everything we're doing.' And then when we have some issues we've got to work through, we realize we've asked you to look," he added. "Let's do as good as we can do."
The new policy removes the current requirement from the league's game operations manual that players be on the field during the anthem, allowing them to stay in the locker room, and it gives teams the power to set their own policies for players who choose to be on the field while the anthem plays, including the ability to discipline players for any type of protest.
NFL Commisioner Rodger Goodell, in response to this new policy, released a statement that read:
"We are dedicated to continuing our collaboration with players to advance the goals of justice and fairness in all corners of our society.
"The efforts by many of our players sparked awareness and action around issues of social justice that must be addressed. The platform that we have created together is certainly unique in professional sports and quite likely in American business. We are honored to work with our players to drive progress.
"It was unfortunate that on-field protests created a false perception among many that thousands of NFL players were unpatriotic. This is not and was never the case."
He said the new policy will keep the focus on the game.
NFLPA responded to this new policy saying: "The NFL chose not to consult the union in the development of this new 'policy.' NFL players have shown their patriotism through their social activism, their community service, in support of our military and law enforcement, and yes, through their protests to raise awareness about the issues they care about. The vote by NFL club CEOs today contradicts the statements made to our player leadership by Commissioner Roger Goodell and the Chairman of the NFL's Management Council John Mara about the principles, values, and patriotism of our league. Our union will review the new 'policy' and challenge any aspect of it that is inconsistent with the collective bargaining agreement."
Kaepernick's first direct action against police brutality and racism was to stay seated while the national anthem played during a San Francisco 49ers preseason game in 2016.
Shortly after, other players—most notably Eric Ried, Michael Bennett, Malcom Butler, Malcolm Jenkins—high schoolers, marching bands, and other athletes took a knee, pushing the movement onto the national scene and into the public narrative.
"I'm going to continue to stand with the people that are being oppressed," said Kaepernick in an August 2016 interview. "To me, this is something that has to change. When there's significant change, and I feel that flag represents what it's supposed to represent, and this country is representing people the way that it's supposed to, I'll stand.
"This stand wasn't for me. This is because I'm seeing things happen to people that don't have a voice, people that don't have a platform to talk and have their voices heard and effect change. So I'm in the position where I can do that, and I'm going to do that for people that can't."
The players' movement worked. It made people uncomfortable and pissed off those in power.
If you draw the ire and harsh criticism of the tweeter-in-chief, you know you're hitting the right triggers.
But it came with a cost: Both Kaepernick and Reid are out of work (blacklisted) and have filed non-injury grievances against the NFL through their union, the NFLPA.
The new policy also contains a clause that the league could fine a team for any protest by a player on the sideline during the anthem, according to sources inside. Any team that wants to allow players to protest would have to be willing to pay a potential fine by the league.
This change will go into effect during the 2018 season.
Check out the policy statement below.