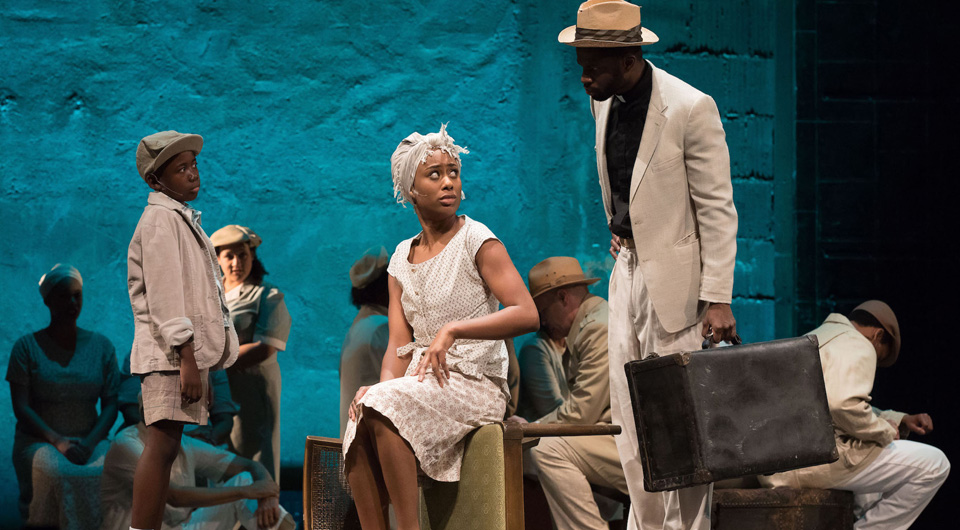 A 1949 "Broadway opera," the last staged work by émigré composer Kurt Weill, returned to Los Angeles for the first time since the touring company passed through in 1950, and it was a stunner.
The two performances of Lost in the Stars, on Jan. 28 and 29, concluded Lift Every Voice, a three-week, city-wide series of concerts, conversations and community engagement celebrating the unique ability of music and the arts to address challenging social and moral issues. Jeffrey Kahane conceived and planned this festival as the capstone to his 20-year career as musical director of the Los Angeles Chamber Orchestra (LACO). The orchestra produced this series with help from many other local and national arts organizations. The musical was presented at UCLA's Royce Hall in partnership with Center for the Art of Performance at UCLA (CAP UCLA).
Although billed as a "semi-staged production," it could easily compare to any number of minimalist stagings of operas and musical theatre that can be seen at leading houses. With all its glorious choral music, Lost in the Stars could also be successfully performed oratorio-style for a powerful impact.
With musical influences including Tin Pan Alley, gospel, African American spirituals and blues, Lost in the Stars follows Absalom, the troubled son of a black minister in apartheid-era South Africa, who unintentionally kills the son of a white neighbor. The Rev. Stephen Kumalo fights to keep his family together, guide his loyal congregation, and reconcile his own shaken notions of faith, mercy, justice and hope. His own brother John, a labor organizer in Johannesburg, calls him "you old faker," indicating the tension between religion (sometimes submissive) and political work (sometimes incorrect) that would have to be worked out in the course of struggle. The show ends with a heartrending act of mutual empathy in the realization that "life slips away," recalling South Africa's later Truth and Reconciliation commissions.
A landmark in the history of American musical theater, the original production ran for more than 300 performances, closing on July 1, 1950. It was still running when Weill died of a sudden heart attack on April 3 at the age of fifty. The text on his gravestone by playwright and lyricist Maxwell Anderson came from Lost in the Stars: "This is the life of men on earth / Out of darkness we come at birth / Into a lamplit room, and then – / Go forward into dark again."
Few places in America had the opportunity to see and hear a live performance of the work because the national tour was canceled in protest when the producers learned that black cast members would be denied the right to stay in the same hotels as white cast members. It has been infrequently revived in the years since.
In case there are readers here who have any say in musical theatre or opera houses across the country, let me say this now: Lost in the Stars should be at the top of your list to program for a forthcoming season. Either revive this enchanting production, which needed no more props or sets than it had, or create your own production. This material is worth more than the gold mines of Gauteng province that built the great city of Johannesburg, and so necessary for American audiences to see and hear without delay.
Lost in the Stars was not billed as a "Broadway opera" at its birth. Weill was part of a movement that included other composers such as George Gershwin, Leonard Bernstein, Marc Blitzstein, Gian Carlo Menotti, Aaron Copland, Douglas Moore and Carlisle Floyd, who could not get their work staged by any legitimate opera company in America (there weren't many then) because of widespread prejudice that opera had to be foreign and marketable to subscription audiences.
So composers placed their work either on Broadway, usually featuring some folk or popular elements, or in university music schools where commercial standards did not apply. Today it is common for such works as Street Scene, Porgy and Bess, Regina, The Consul, Candide, West Side Story, A Little Night Music, or Sweeney Todd to be heard in leading opera houses around the world.
Anderson's stage adaptation for Weill is based on Alan Paton's novel Cry, the Beloved Country. But it did not feature faux-African music or Zulu tribal dances, which would likely have been seen as patronizing and inauthentic. Instead, Weill wrote a basically American-sounding musical because the creators wanted to make a statement about American apartheid which was rampant almost everywhere across our country, not just the South. The late 1940s was the zenith of lynching, black voter suppression, restrictive covenants, segregated schools, housing, transportation, and public accommodations of all types, White Citizens Councils and the Ku Klux Klan. The Jim Crow moment cried out for protest. This was the German Jewish refugee's appeal to his adopted homeland.
The opera (okay, I'm going to start calling it that) has large roles for principal characters, with arias of operatic range and proportion, but the ensemble has a critical part, as if to say the masses are the ultimate protagonist, and this particular story is but an episode in a people's epic. These performers come from the SITI Company Actors and the Albert McNeil Jubilee Singers.
One of the early numbers is a choral piece about folks taking the (segregated) train to Johannesburg, the national engine of industry and wealth, which compares to the number "There's a boat dat's leavin' soon for New York" in Porgy and Bess. That Broadway "folk opera" with music by George Gershwin (perhaps the first in this new genre) was the very first show Weill saw in America, and continued to influence him.
Out of that mass some wonderful songs emerge from people who are not otherwise significant individuated characters. For example, Linda (Melonie Collins), with "Who'll Buy," her luscious invitation to sample her tasty fruits and vegetables. I hesitate to say it's full of double entendres — it's more like quadruple! — and possibly echoes the "Strawberry Song" from P&B. How about that nine-year-old fourth grader Joel Baptiste Muepo who practically stole the evening with his "11 o'clock number" (a show-stopping song close to the end that reenergizes the audience in the lead-up to the finale and offers the audience a catchy melody to hum exiting the theater). That song, "Big Mole," directly refers to the hard lives of the men who came to Johannesburg to become gold miners. Muepo has a brilliant theatrical career ahead of him if he wants it (right now he's in the Gifted and Talented Education program at Windsor Hills, Calif., Math Science Aerospace Magnet Elementary School).
Issachah Savage has a large presence as the Chorus Leader, his stentorian heldentenor voice soaring to paint the mood of the crowd. Soprano Lauren Michelle plays Irina, Absalom's pregnant girlfriend, and has a couple of standout moments with the songs "Trouble Man" and "Stay Well." The unquestioned star is bass-baritone Justin Hopkins, in the role of the Rev. Stephen Kumalo, whose tragic story stands at the heart of the opera. In a series of solo numbers, and in his dialogue, he reveals himself to be one of the leading vocalists of our time, and you can quote me!
Incidentally, further connections to Porgy and Bess: The original Porgy, Todd Duncan, also premiered the role of Kumalo, and director of both operas was Rouben Mamoulian. The white characters in both works are speaking roles only, an artistic decision meant to detract nothing from the sadly neglected art of the black performers.
Anne Bogart, co-artistic director of New York City's theatre ensemble SITI Company, directed in such a way that the performers themselves created whatever "sets" each scene required, whether a street scene, a church, the interior of a home, a farm, a courthouse. It was a wise choice to use conductor Jeffrey Kahane's orchestra pit as an entranceway to the stage. It was from that lower level that Absalom, the accused son (Samuel Stricklen), rises to the courtroom, as the populace thunders about the impossibility of justice under apartheid conditions. The scene recalls that Nelson Mandela similarly rose from detention in the basement up to his courtroom for the trial that sent him off to Robben Island, and like Absalom descending those hellish stairs again once ruled guilty.
It's true that the use of supertitles, common in opera even in English, though not in musicals, distracts the eye somewhat from the action, and at every moment Bogart's stage was a lovely picture. Yet the unclarity sometimes of Anderson's luminous words also detracted.
At the cathartic final reprise of the searing song "Cry, the Beloved Country," Absalom has already been hanged, and Irina, with the next generation in her belly waiting to be born, alone sings the last repeat of that phrase.
Cry, indeed, for South Africa, the beautiful, beloved country. Cry, too, for the heinous sins, and for the thwarted promise of America.