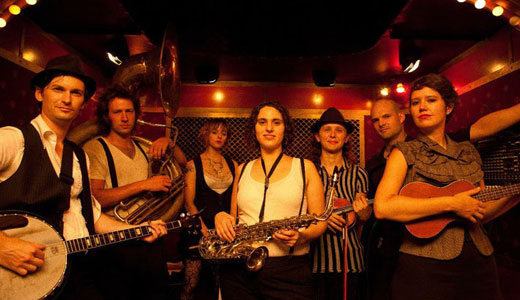 NEW YORK – Apocalypse Five and Dime, a band with self-proclaimed musical roots in bluegrass, Balkan brass, punk, hardcore, '50s rock, doo-wop, and New Orleans second line, performed after a return of the Super Fun Variety Show here Feb. 24, at the Living Theatre on Manhattan's Lower East Side (LES). Their unique and quirky sound induced the audience to clear away the theater's seats and begin stomping and dancing to the music.
Apocalypse Five and Dime combines vocals, percussion, a saxophone, and both string and brass instruments to produce a sound that New York Music Daily once called: "twisted intense bluegrass/Balkan." The band is well known to followers of New York City's brass and roots music scenes, which might be characterized as belonging to a broad "hipster" trend, popular among many of Williamsburg, Brooklyn, and LES young people.
The band has performed at numerous venues in addition to the Living Theatre, including Pete's Candy Store, the Jalopy Theatre, and the Henry Winston Memorial Hall. They combine their stomping sound with radical, pro-labor politics.
Singer and banjo player Phil Andrews, who cofounded the band with percussionist Rebecca Heinegg, says although their lyrics "aren't always explicitly political, we do like to think that we are part of a radical subculture that can inspire and sustain a radical community of organizers."
He encourages aspiring musicians to "just find your instrument and do it."
"We are living proof that anyone can play music," he says.
Andrews created a one-act musical entitled, "We Shall Not Be Moved," and twice performed at the Stagger Back Brass Band's May Day Show, an annual event in New York City, celebrating labor history from around the world. The musical tells the story of a 1937 sit-down strike in New York and Detroit by retail workers (mostly women) to protest discrimination and working conditions at Woolworth's stores. Basing a musical on workers' protests during the Great Depression is not accidental as Andrews considers folk icon Woody Guthrie a big influence.
Another musical may be in the making with the theme of how music is used in the workers' movement. Andrews said, "Organizing is hard work, and sometimes you just gotta dance it out!"
Here is list of upcoming performances and recordings of their music.
Not to be overlooked, musical act Cobra Gold and the dance/choreography act Good to Go Girls were among the performers in the Super Fun Variety Show here at the Living Theater. A sister-brother team, Ellia and Josh Bisker, hosted the show, exchanging witty banter and generating seamless transition between each performance. The audience was thoroughly entertained throughout the show.
Photo: Apocalypse Five and Dime at Pete's Candy Store (Tod Seelie)