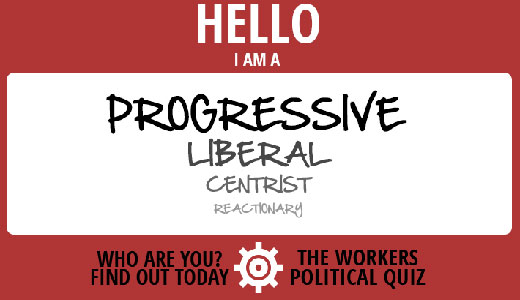 In the online age we are constantly being asked to take surveys, respond to polls and register comments. But how many of these surveys also seek to educate? The Communist Party of Wisconsin is doing its best by launching the "Workers Political Quiz."
The online quiz asks 10 simple questions, covering issues of economics, peace, and democracy. The questions are designed to help pinpoint the person taking the quiz on the political spectrum. Once the quiz is completed the answers are automatically tabulated and the quiz taker is informed if they rate as a "Reactionary," "Centrist," "Liberal," or "Progressive." Those taking the quiz need not include their email address to participate, but if they do, in addition to getting the results of the quiz in terms of the political label they are closet to, they will also get an example of others who fit the same label. They also receive a longer explanation of what that particular political outlook is based upon and what it's adherents rank as their priorities. The quiz results also provide the participant with a short list of some famous personalities that fit into the same category.
For instance, Albert Einstein, author of essay "Why Socialism?" and W.E.B. Du Bois, author of "The Souls of Black Folk," are examples of "Progressives." The coup plotting Chilean strongman Augusto Pinochet and anti-birth control former Pennsylvania Senator Rick Santorum are ranked as "Reactionaries."
The quiz is quickly proving to be one of the most popular features of the Communist Party of Wisconsin website, which itself was launched just this year.
Party activist Reza Mehrparast said, "Creating a website for the Communist Party of Wisconsin presented us with a unique challenge, on the one hand the concept of socialism is hardly a new one, and the party itself has been active since 1919. We wanted to illustrate that proud history while at the same time presenting the current struggles in which the party is engaged."
Mehrparast went on to say that while the quiz itself is new it drew inspiration for its creation from such other applications as the Little School for Marxist Education on the website of the Communist Party of Texas and Norman Markowitz's "Marxist IQ" quiz which is found regularly on the website of Political Affairs. But it isn't the last innovation the Wisconsin party has planned for their presence on the web.
"In today's marketplace of ideas websites are critical" commented Mehrparast, "to keep them fresh and have their users check in frequently they must be updated regularly, so it's time to redouble our efforts."
In the meantime Mehrparast said he hopes people will enjoy the quiz, learn something from it, and pass it along to others.
Photo: CPWisconsin.org