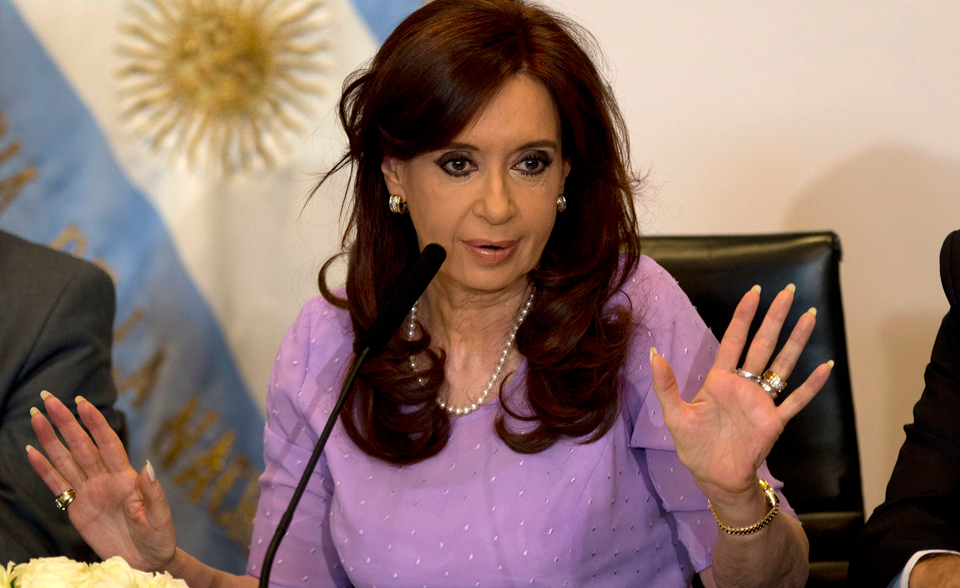 WASHINGTON—The Oct. 27 Argentinian election, which will probably unseat current right-wing President Mauricio Macri, will have a big impact on workers and unions, Argentina's former ambassador to the U.S. told a recent congressional briefing.
That's because the leading presidential candidate, who appears to have wide support and apparently leans towards a pro-worker platform, is Alberto Hernandez, former chief of staff to the late President Nestor Kirchner. Hernandez is the Justicialist Party nominee.
The Justicialists succeeded and incorporated the legendary Peronist Party. They even incorporated the most-recent Peronist icon: Former President Cristina Fernandez de Kirchner. An ex-senator, she succeeded Nestor as president, and she's Hernandez's running mate.
The Justicialists also have a big lead: In the late-August presidential primary, the Hernandez-Fernandez ticket tallied 47.7% of the vote, in a 24-million-plus nationwide turnout. Macri and his running mate got 32.1%. Nominees of all the other parties, including a leftist-Socialist coalition, finished in the single digits. If Hernandez-Fernandez stays above 45% and with a 10%-plus margin over their nearest foes on Oct. 27, they win without a runoff.
Whether the right-wing GOP U.S. Trump administration will welcome Hernandez's looming win is questionable. And that could affect workers worldwide.
Prior U.S. governments, together with Argentina and Brazil, pushed at meetings of the G-20 – the world's leading industrial powers – for stronger worker rights. Those efforts went down the drain when Trump and Macri took office and when the Brazilian Congress impeached, convicted and removed President Dilma Rousseff of the Workers Party, says Cecilia Martin, Argentina's former ambassador to the U.S.
Macri tailored his policies to cater to bondholders and other creditors on Wall Street, she told the session, which the AFL-CIO Solidarity Center co-hosted. "And those creditors support the vulture capitalists" who threaten Argentina, Martin said.
Bosses welcomed Macri, she added, with measures such as refusing to bargain with already-recognized unions, and by exchanging real wage stability for big wage cuts.
Government efforts to fight for workers could revive if Hernandez wins, Martin told the group, though details have yet to be worked out. But there are two big roadblocks.
One is the Argentine economy is a mess. "Macri is expected to leave and leave behind dire challenges" to both workers and the economy, Martin cautioned. The other is past support for workers worldwide from the U.S. and Brazilian governments won't be there.
"All of the problems that were in place when he (Macri) took office have mushroomed," she added. Poverty is above 36%, inflation has tripled, to 51% annually, and there's been an 18% reduction in real wages in the right-wing president's years in office. The nation's economy shrunk 3% last year. "It's become a giant casino," Martin said.
"So it's no surprise the Argentine people said 'stop,'" and Macri is on his way out.
Martin predicted Hernandez, with extensive government experience, will set jobs as "the major priority" of his administration, followed by increasing production and bringing stability to the economy. "It has to grow in a sustainable way," she said, without being specific. That also means "it must get enough dollars" in international aid "to service its debts and to serve its population at the same time."
By contrast, Macri turned to the U.S.-dominated International Monetary Fund for aid and got billions of dollars in loans. Martin said that instead of investing in infrastructure to rebuild the Argentine economy and provide jobs, Macri used it for tax cuts and to run up debt.
So he's had to go back to the IMF for more, and the fund "has a concept of an 'expansionary recession'" that hurts workers, she noted.
The "expansionary recession" policy calls for deep cuts – hitting social programs – to bring the Argentine budget into balance by 2020. "That's not realistic in this mess," she says. "Everyone sees a recession that will be so bad and that will continue until the IMF goes away."
That's where the U.S. comes into the picture, panelists said. Martin and Mark Weisbrot, co-director of the Center for Economic Policy and Research and its top Latin American affairs specialist, both noted the U.S. has an enormous say, if not an outright veto, of IMF policies.
"Congress can have a role in the fate of" the fight between Argentina and the vulture funds, Weisbrot explained. U.S. lawmakers could either push the IMF to help Argentina, to pull out, or to find a middle course. Congress has used its clout before to push the IMF in its desired direction – often in favor of the financiers.
"But the basic principle is…to have a fresh start" for Argentina, said another speaker, a professor from Columbia University. "There is no bankruptcy" for countries. "You need cooperation between debtors" like Argentina "and creditors" – the venture capitalists – to help the country get back on its feet without a smash that would trash workers, he explained.