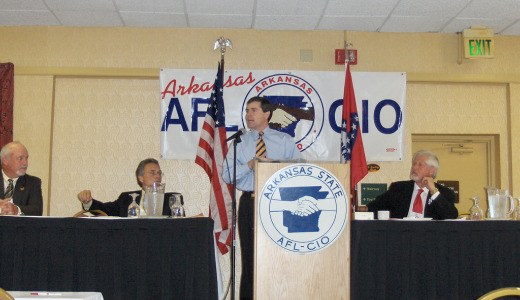 The labor movement has become a force to be reckoned with in the Arkansas Democratic Senate primary. Lt. Gov. Bill Halter, labor's candidate against Sen. Blanche Lincoln, is on track raise more money and is polling much better than her against all potential GOP opponents.
As of today, the Halter campaign has raised more than $2 million since it began March 1. That amount, which does not include millions of dollars pledged by the AFL-CIO and other unions early last month, is more than double the amount raised so far by the Lincoln campaign. When all of the union money pledged comes in Halter could have a total of more than $6 million compared to Lincoln's war chest of $4 million.
In addition, state polls now also seem to be breaking his way. A Rasmussen poll last weekend showed Halter performed better than Lincoln against all the potential GOP candidates. (Both are still behind the Republican field, but Halter is less behind.)
Those numbers came after a Research 2000 poll for DailyKos showed similar results. That poll had Halter gaining ground on Lincoln, closing the gap with her to 11 points.
Halter is challenging Lincoln in the Democratic primary for U.S. Senate because Lincoln has refused to fight for important issues like the Employee Free Choice Act, health care, finance reform and the environment.
"Our members have been watching Blanche's votes and they've decided enough is enough," said Alan Hughes, president of the Arkansas AFL-CIO. "We're not throwing our money down the well and getting nothing back from it, he said, referring to his federation's earlier support for Lincoln. "The final straw," he said, "was her decision to join Republicans in opposing the nomination of labor lawyer Craig Becker to a seat on the National Labor Relations Board."
Gerald McEntee, president of the American Federation of State, County and Municipal Employees, and chair of the AFL-CIO's political action committee, said the decision by the labor federation to support the Arkansas unions with large amounts of money was part of a new strategy by labor. "We're not going to let anybody take labor support for granted," he said, "and if you double-cross us, we will take action."
Advocates of health care reform and many other progressive groups, including MoveOn.org., have abandoned also Lincoln. Many raised money to pay for TV ads against her during last year's health care debate when she came out against the public option.
A Halter ad running now declares, "She didn't stand up to the special interests. She worked for them."
Liberal and progressive leaders from around the country are lending their support to the effort to dump the Senator.
MSNBC host Rachel Maddow drew applause during a recent talk at the Clinton School of Public Service in Little Rock, the state capital, when she said, "It's one thing to be a conservative Democrat. It's another thing to act like you don't want to be a Democrat at all."
The Halter campaign is also being helped by the anti-incumbent mood among voters. Halter takes advantage of this by pointing out that Lincoln has spent four years in the House and nearly 12 years in the Senate. On the issue of incumbency, the Lincoln campaign is clearly on the defensive.
The senator, who chairs the Senate Agriculture Committee, is running ads in which she tries to embrace her long government experience and her votes against health care reform and curbs on polluters.
In one ad, she is standing in a crowd of children who are wildly tossing dollar bills up into the air. She explains that wasted tax dollars are the reason she opposed the public option and cap-and-trade.
Another ad shows a farmer lifting bales of hay. He looks sternly into the camera and says, "It took us 184 years to get that chairmanship. I don't know why we'd want to give it up."
Responding to that ad directly, Halter has said, "You're not chairman of the Agriculture Committee if you're not reelected."
Photo: Arkansas Lt. Gov. Bill Halter addresses a state labor meeting in 2009. http://www.flickr.com/photos/labor2008/ / CC BY 2.0