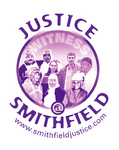 Smithfield Packing employs 5,500 workers who slaughter and package the meat of 32,000 hogs a day at its sprawling plant in Tar Heel, a tiny town 80 miles south of Raleigh, N.C. The facility has become a rallying point for the nation's labor movement and for civil rights, immigrant rights, community and human rights groups seeking an end to injustice.
On Aug. 29, thousands of supporters of Smithfield workers are expected to converge on Williamsburg, Va., to protest at the Smithfield Foods annual shareholders' meeting.
Although killing animals is inherently dangerous, the fast line speeds, dirty killing floors and lack of training make the company one of the most dangerous places in America to work.
According to U.S. Department of Labor statistics, at least one in three Smithfield workers has suffered job-related injury and illness every year since the plant opened in 1992. These figures hide the real story because the company has been cited for firing workers who report injuries. Even Smithfield's skewed figures show a rate of stress injuries 35 times higher than for workers in other manufacturing jobs.
Smithfield has refused to slow the lines or buy appropriate safety gear for workers because these would cut into the company's bottom line.
In its 175-page exposé on the meat industry's worker exploitation, "Blood, Sweat and Fear," Human Rights Watch charges, "These are systematic human rights violations imbedded in employment at Smithfield."
Jim Adams, an African American now permanently disabled and unable to use his left hand, was fired after he tried to file a compensation claim.
"They love you if you are healthy and work like a dog," he said, "but if you get hurt you are trash. They will look for a way to get rid of you before you report it. They will look for a reason to fire you or put you on a worse job like the cold room, or change your shift so you quit. So a lot of people don't report their injuries. They just work with the pain."
Like much of the non-unionized meat packing industry, the company has lured immigrants far from their homes with false promises of good jobs.
"Rosa," who worked at the plant since 2001, told the World she and her husband got on a bus near the Mexican border and were brought to a homeless shelter in North Carolina. She said she knew others similarly bused to meat plants in Minnesota.
In July 2006 the company voluntarily joined the Immigration and Customs Enforcement (ICE) Mutual Agreement Between Government and Employers program (IMAGE). Latino workers saw this as Smithfield's way of warning them to stop supporting the union.
When 400 Latino employees walked out in protest they were joined by 100 African American and 50 white workers.
When 400 African American workers walked out on Martin Luther King Day this January, 100 Latino and 50 white workers joined them.
Days later federal immigration officials arrested 21 workers inside the plant on administrative immigration charges.
"Rosa's" husband was among those taken in that raid. He has been deported back to Mexico. She remains in the U.S. with three young children born here.
Workers at Tar Heel narrowly lost a vote for the union in 1997 but a federal appeals court ruled the company used illegal tactics to disrupt the vote. They have waged a 14-year struggle to be represented by the United Food and Commercial Workers union.
Some 500 livestock workers walked off the job Aug. 6 after management refused to meet with them over access to clean drinking water as temperatures in Tar Heel hit 100 degrees. "You're talking much hotter than that with the heat index and the heat coming off the hogs," said Keith Ludlum, a white worker who had signed the complaint. The water that finally arrived four hours into the shift was contaminated with animal feces and blood.
Smithfield's public relations director Dennis Pittman said the company refused a meeting because "it is company policy to meet with only one worker at a time and we took care of everything. As far as I know they got their water."
The next day plant worker Jose Figueroa was terminated. Pittman said it was for being four minutes late but the union claims he was fired for union activities. Figueroa played a leading role in all three walkouts.
The movement for justice at Smithfield has scored major successes. On Aug. 1 the city of Boston suspended all purchases from the Tar Heel plant and urged all city supermarkets to do likewise.
A month earlier the city of Cambridge, Mass. did the same.
New York's Pathmark Supermarket chain has removed all products packaged at the Tar Heel plant from its shelves.
jwojcik @pww.org
Some of PWW's earlier stories on the Smithfield workers:
World's biggest hog boss meets its match: Smithfield workers take on global Goliath, by John Wojcik
Southern labor stirs in North Carolina, again, by Scott Marshall