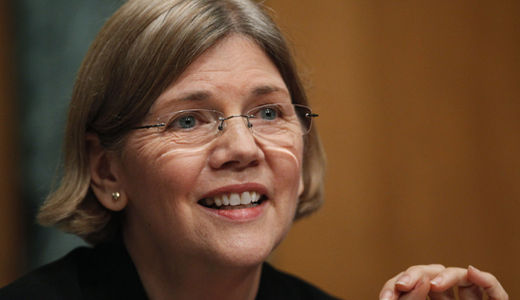 The signing took place less than 24 hours after a new Gallup poll saw Democrats, in large measure because of that finance reform, open up a six-point margin over the GOP. The increase in support for Democratic congressional candidates is, according to Gallup, the first statistically significant lead for Democrats since March.
Now that the finance reform measure is law, attention is turning to who the President will choose to lead the newly created consumer protection bureau.
Progressives are pushing for the selection of Elizabeth Warren, a Harvard law professor who has championed the cause of consumer protection for more than a decade. She is credited for her role, as an adviser to the Obama administration, in creating the consumer protection agency itself.
Labor unions and consumer advocate groups have mounted lobbying efforts in favor of her selection.
Rep. Jackie Speir, D,Calif., in demanding the selection of Warren, said, "The Wall Street bankers who got the benefits of a massive government bailout weren't able to kill the CFPB and they certainly don't like Warren. Some say she's ruffled feathers. The good old boy network of investors is uncomfortable around her. Is this because she is a woman in a male-dominated 'sport,' or is it that she's an advocate for middle-class families who sees nothing amusing about winning and losing with people's life savings?"
While most GOP senators are expected to oppose her nomination, conservative Democrats and "moderate" Republicans are still on the fence. "I'm not going to speculate on anybody and won't make up my mind on anyone until the president has made a nomination," said Nebraska Democrat Ben Nelson.
"We obviously have to have a strong individual in that capacity," GOP Sen. Olympia Snowe said, "but whether Warren is the right person for the job remains to be seen."
Felix Salmon, in a Reuters opinion piece urging the White House to nominate Warren, said, "The CFPB has been set up to be very independent. As such, it should have an independently-minded head, rather than someone who can be trusted to fall in line behind Treasury and/or other regulators if and when there are any clashes. It's never easy for a politician to nominate someone who they know will cause trouble for them down the road, but if anybody can do it, Obama can."
Some say Treasury Secretary Timothy Geithner is working to undermine her appointment in retaliation for Warren's sharp attacks on the Treasury Department during her chairmanship of the Congressional Oversight Panel for the bailout funds.
On the several occasions Geithner appeared before her panel, Warren was relentless in her efforts to pin him down on terms of the bailout that she said were bad for taxpayers – particularly the 100 percent payout to AIG's credit-default swap counterparties.
While Treasury officials have denied blocking the appointment of Warren, lobbyists for banks have reportedly floated other names including Assistant Treasury Secretary Michael Barr and Justice Depeartment competition policy chief Gene Kimmelman.
The improvement in support for Democrats noted in the latest Gallup poll, according to the polling organization itself, are the result, at least in part, of the party's success at getting Wall Street Reform through Congress last week. The poll was conducted July 12-18, as news of that success was out front in all the media.
The poll showed that increased support from independents explained some of the gains made by Democrats.
Forty-nine percent of voters said they'd prefer a Democratic candidate for Congress if this November's election contests were held today, while 43 percent expressed support for a generic Republican candidate.
That support is up from a virtual 47-46 percent tie between Democrats and Republicans in tracking polls a week earlier.
While independents still favored Republican candidates 43 percent to 39, that margin narrowed from the 14 point lead the GOP maintained only one week earlier.
Photo: Elizabeth Warren, Chair of Congressional Oversight Panel on Troubled Assets Relief Program (TARP). (AP Photo/Manuel Balce Ceneta)