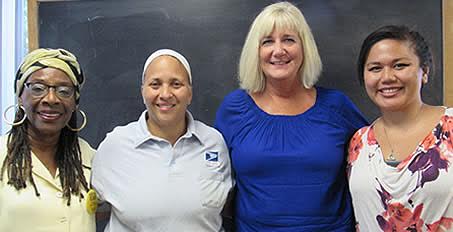 Last month, the Minneapolis Regional Labor Federation established its own local Commission on Racial and Economic Justice, modeled on the AFL-CIO commission that has toured the country for more than a year, holding hearings on those issues. Here, the local president explains why her federation acted:
We are at a critical moment in the history of our unions. We are facing the rise of the on-demand economy, a widening income gap, and a surge in dangerous discriminatory rhetoric, fueled by Donald Trump's campaign. From Brexit, to Brazil to right here in the United States, the very values we share as workers are under attack.
If this wasn't enough, we are facing tragedy, after tragedy in our very own communities, places where we are supposed to feel safe. This month we were rocked again by the death of an African-American male involved in a tragic police incident.
And this time, the news hit close to home, as one of our own union members was the victim. The story of (Teamster) Philando Castile and the live video of the aftermath of his shooting captured the attention of the entire country.
The events that surrounded Philando Castile's death and the subsequent calls for justice are not for our entertainment.
The names, the hashtags – they represent people, real people in our very own community. They have jobs. They work alongside us. They have families. They were our high school classmates.
These events are the result of a system set up with broken rules and biases both recognized and unrecognized.
As union members, we are on the front lines. We see the effects of these tragedies and the subsequent fight for racial justice playing out in our classrooms, hospitals, worksites and streets.
While we struggle to address the challenges we face, more violence, especially against first responders and the police is equally tragic and absolutely NOT the answer. Union members believe in safety on the job for all workers.
In times like these, it is more important than ever that we in the labor movement stand in solidarity with the entire community and do our part to advance the changes necessary to stop the senseless violence. We know all too well that union members are not immune to these inequalities.
We cannot continue to simply grapple with how to respond to tragic events; we need to put forth a bold agenda for justice for all workers.
Even in the face of these great challenges, I am very optimistic.
I am optimistic because our movement and the grassroots movement organizing in the streets is brimming with new leaders, leaders who not only want to see justice in the streets, but also in their workplaces.
I am optimistic because we at the MRLF have kicked-off our own Labor Commission on Racial and Economic Justice to start tackling these very issues and to chart a positive path forward in our own unions (see story in August 5 edition).
I am optimistic because our unions have shown a commitment to fighting for improved workplace standards for not only union members, but for all workers.
And, I am optimistic because our unions are committed to growing. Growing the labor movement is a strategy for addressing racial and economic inequality. A renewed emphasis on stronger community and labor partnerships will help make that growth a reality.
I am asking our affiliated unions to commit to being a part of the conversation to explore how workers can address the systemic injustices we face and to help develop and implement a bold agenda for justice for all workers.
And, I am asking our affiliated unions to take action in partnership with our community to grow the labor movement as a strategy for addressing our community's inequalities.
Throughout history, the labor movement – at its best – has grown by bringing together workers of all races, faiths and nationalities to work together in our unions in common cause for social and economic justice.
In 2016, this historic cause remains our highest calling.
Chelsie Glaubitz Gabiou is President, Minneapolis Regional Labor Federation.
Photo: Union members advocating for the creation of the MRLF's Labor Commission on Racial and Economic Justice (left to right): JoAnn Campbell-Sudduth, Education Minnesota retiree; Cathy Jones, NALC Branch 9 member; Mary Turner, president, Minnesota Nurses Association; Marie Dino, AFSCME Local 3800 member. MELF