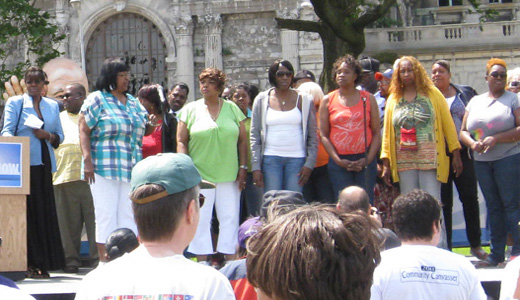 DETROIT – They believe that if a negligent slumlord did what he was supposed to do some of the worst urban blight in America could be used to generate good jobs.
People who love this economically battered city rallied last Friday in front of one of the nation's largest symbols of urban decay – the long-abandoned Michigan Central Train Depot – to demand that its billionaire owner fork up money for its rehabilitation. The rally was organized by the AFL-CIO "Good Jobs Now" committee, the Service Employees International Union, and religious and community organizations.
They said that if Manuel "Matty" Moroun would keep promises he made at the time of purchase to rehabilitate the depot, hundreds of good jobs would be the result..
Moroun's buying up of abandoned facilities and ownership of blighted buildings does not stop with the train depot.
Displayed at the rally were pictures of almost 500 properties Moroun owns.
The pictures amounted to a virtual gallery exposing Moroun as a slumlord whose properties are a clear and present danger to their surrounding communities. Buildings showed are in the process of falling down, often with windows missing and siding peeling. Yards are unkempt and overgrown with weeds. http://mattymoroun.com/
Rev. Charles Williams, pastor of the historic King Solomon Baptist Church, said rehabilitation of the train depot and Moroun's homes would create many jobs. At the Detroit depot alone there could be jobs for maintenance workers, carpenters, laborers, and iron workers, he said.
Williams said it is wrong to blame problems faced by Detroit on its residents. He noted that right-wing talk radio personality Glen Beck recently smeared city residents by comparing Detroit to Hiroshima and said its residents and unions were to blame.
"These buildings are not owned by Detroiters, they had nothing to do with it" said Williams.
A number of people pointed to the health hazards created by the properties Moroun owns.
Service Employee International Union member Viola Piggue, a nurse at American Red Cross, worried that Moroun's old homes are a danger to children who may live or play in them. "Every day I see lead paint-filled, asbestos-filled homes."
Moroun is also the private owner of the over eighty-year-old Ambassador Bridge that connects Detroit to Windsor, Canada. He holds a monopoly on commercial truck traffic between the countries and came under heavy fire for opposing the construction of a publicly owned bridge that Canada, Detroit and most of Michigan strongly support.
Windsor and Detroit are separated only by the Detroit River, helping to make it the busiest commercial border crossing in all of North America. A new bridge is needed to bring the crossing into the 21st Century and to create many jobs. Moroun opposes plans for a public bridge, even though an agreement with Canada allows the bridge to be built at no cost to U.S. taxpayers.
Democratic state representative Rashida Talib, whose district contains both the train depot and the bridge, said residents are plagued by a high rate of asthma caused by the heavy truck traffic coming off the bridge. "We deserve a better quality of life even though we are not millionaires," she declared.
Linda Dennis-Goss, a founder of Youth Making a Difference, pointed to the huge number of jobs a new bridge would bring. From the workers who would build it to the spin off jobs it would create, she said it is estimated a new bridge would generate 100,000 jobs.
Emphasizing the urgency of creating those jobs she said, "People are leaving the city because they cannot find jobs. I've been here 58 years; never seen it like this before."
She said "It's time to tune out people like Matty Moroun and create good jobs now."
Photo: Service Employees Union's choir about to perform at the rally. John Rummel/PW