The undaunted 29th Pan African Film Festival kicked off on the last day of Black History Month and runs through March 14.
I am a big fan of the work by actor/director/writer Nate Parker, which powerfully expresses Black consciousness and militancy in movies such as 2012's Red Tails about the heroic Tuskegee Airmen who were antifascists before Antifa; 2007's fact-based The Great Debaters, where Denzel Washington played a suspected Communist and proved Blacks can excel academically; and 2016's The Birth of a Nation, which Parker directed, co-wrote and starred in as Nat Turner, who led America's bloodiest uprising against slavery.
Without going into details about a tragic, complex issue that is beyond the scope of this movie review, it's my gut belief that past problems were dredged up and highlighted to discredit Parker and dissuade viewers from seeing his great, revolutionary epic about the African-American Spartacus, who made the slaveowners tremble in Virginia and beyond. (Nothing makes reactionaries shudder more than the nightmare that they'll be held accountable for their sins and have to pay for their crimes against humanity!)
So when I heard that after three years Parker was finally out of Hollywood's doghouse I was thrilled. But starting in 2019 I was wondering where and when I could see American Skin? (Vertical Entertainment released it early this year.) What's a film buff to do?
PAFF to the rescue! Leave it to the Pan African Film Festival to pluck American Skin out of obscurity and to not only screen it as part of its 2021 filmfest but to put Parker's movie in the limelight as PAFF's "Centerpiece Film," followed by a Q&A with Parker and casting director Tracy "Twinkie" Byrd.
As usual, the uncowed Parker boldly takes the gloves off in American Skin and tackles head on one of racist America's worst transgressions against Blacks: Excessive use of force by police and the failure to hold them accountable for their atrocities. (What does it say about the union busting post-Reagan era that what are arguably the USA's most muscular entities fighting for their employees represent law enforcers and athletes?)
Keep in mind that Parker wrote and directed American Skin well before the brutal murder of George Floyd last May, which (along with other police killings) triggered 2020's historic Black Lives Matter rebellion. (Although to be honest, you don't exactly have to be Nostradamus or the Amazing Criswell or Jeane Dixon to predict that cops will continue murdering Black people in these United States, which has been as American as apple pie since 1519.)
American Skin, which includes the credit "A Spike Lee Presentation," opens with police pulling over an ex-Marine, the symbolically monikered Lincoln Jefferson (Parker), and his 14-or-so-year-old son Kajani Jefferson (Tony Espinosa), who are committing that heinous crime of DWB—driving while Black. Cellphone recording is also involved in the incident, which quickly escalates out of control. Of course, this being racist AmeriKKKa, the death sentence is imposed for some purported minor traffic and/or vehicle violation. And naturally, the killer in uniform is not held accountable for his homicidal actions and gets off Scot-free.
While watching this almost 90-minutes feature I thought: Okay, so Nate is taking many of the elements involving blue-on-Black violence and dramatizing them. For instance, the victim has a first name that sounds unusual to the ears of dominant majority audiences, with perhaps an African influence, and a last name that is very Anglo. And the young casualty's biological parents are no longer together, and so on. And there are artsy filmic flourishes, mixing cellphone footage with film, flashbacks, etc. All right, so maybe we've seen this show before, from the TV news to narrative movies like Ryan Coogler's 2013 Fruitvale Station and 2018's The Hate U Give, but it is nevertheless a worthy subject that merits revisiting in dramatic form.
But then Parker throws a curveball that seems to come out of nowhere—at least this viewer didn't see it coming, as an act of direct action takes the tried-and-true story in an unexpected, altogether different direction. It becomes a classic the-worm-turns or the-tables-are-turned fable with a social justice twist. This critic doesn't want to reveal any plot spoilers, so suffice it to say Lincoln leads a band of militants who take Matters pertaining to Black Lives into their own revolutionary hands in a quest for fairness and righteousness. Let's just say that Lincoln, and other veterans of Washington's endless imperialist wars, decide to put their military training to good use, for a change.
This is exciting to behold and very thought-provoking. But as a storyteller, Parker does not set up their defiant move and prepare the audience properly. It just sort of happens—as does the film's denouement (although cops being cops, what happens is, alas, all too foreseeable).
As Officer Mike Randall, Beau Knapp (who ironically played John Brown's son Owen in the great 2020 Showtime miniseries The Good Lord Bird) delivers a solid performance expressing—and exposing—the policeman's point of view. Randall reveals that he followed procedures by the book, inevitably leading towards escalation—exactly what white supremacy's frontline perpetrators are trained to do in order to keep you-know-who down. As a father, Randall comes to understand the tragedy his actions have caused, particularly for Lincoln, a bereft dad. To his credit, Randall finally tries to do the right thing. But in America, where racism is systemic, not merely a matter of "personal" bias, his "wokeness" comes too late.
I hate to give plot points away to readers, so let's just leave it at that. Despite some screenwriting glitches or kinks, American Skin once again shows that the daring, brilliant Nate Parker is in the vanguard of film artists daring to confront and dramatize the thorny issue of racism in the U.S.A. The trailer can be seen here.
Chaos or community?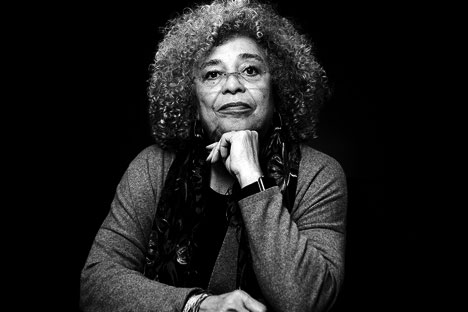 On March 13, 2:00-3:30 p.m. Pacific time, the PAFF institute is presenting what promises to be an exciting panel that likewise will take on these challenging subjects, with some of our great African-American leaders and thinkers. According to Pan African Film Festival PAFF Institute – PAFF 2021, the panel is entitled and about: "Where Do We Go from Here: Chaos or Community?—A powerful group of change-makers across multiple generations come together to discuss today's Black Lives Matter Movement in the context of the struggle for Black Liberation."
The outstanding panelists include that indomitable revolutionary icon Prof. Angela Davis, the former Communist Party activist, academic, and Black Panther Party supporter who was unforgettably subjected to a despicable FBI manhunt. Dr. Melina Abdullah is a Black Lives Matter organizer who gave the keynote speech at the "400th Anniversary Anti-Slavery Cinema/TV Commemoration" in 2019 at the L.A. Workers Center. Dr. Gerald Horne is one of the Left's leading historians and academics, who can be heard Saturday mornings on the weekly KPFK radio program "Freedom Now!" Jasmyne A. Cannick is a political strategist, journalist, and PAFF's PR person. This panel is being moderated by former Black Panther and PAFF co-founder, Ayuko Babu.
Be there or be square!
For info about PAFF see here.