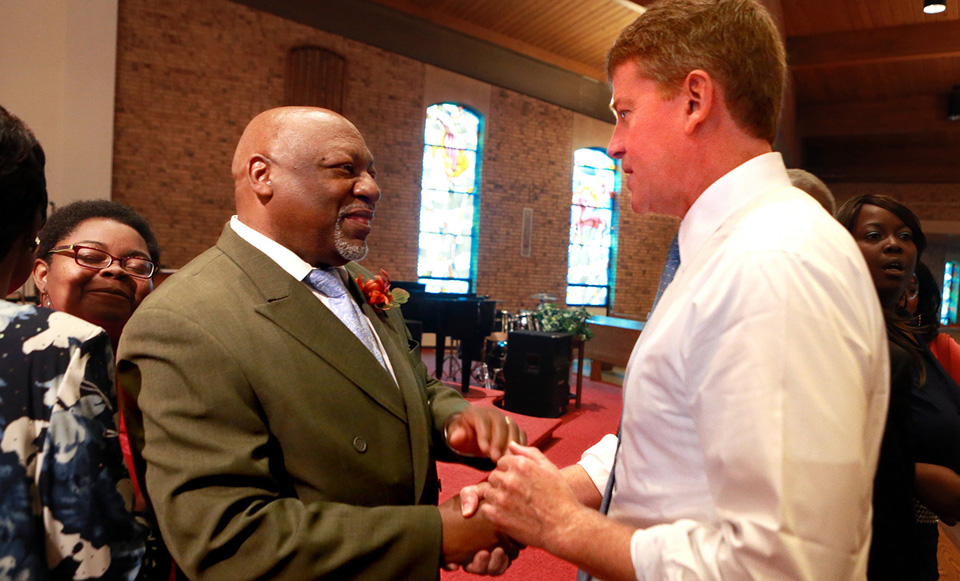 St. LOUIS – The race for governor of Missouri is the most important in its history. If Eric Greitens, a right wing Republican, wins, the Show Me state will officially become anti-union. It will not if State Attorney General Chris Koster, a Democrat, wins.
Both are running for the seat of term-limited Governor Jay Nixon, a Democrat, who time and again has vetoed so-called "right-to-work" bills passed by the state house and senate, which are both under the control of Republicans.
Koster is against "right-to-work," Greitens is for it.
The latest polls show them in a virtual tie.
With the Koch Brothers and other right wingers pouring in millions to back Greitens and with Koster trying to catch up, the race has become the most expensive in the history of Missouri. It has become a battle between an experienced public servant and a questionable 'outsider,' mirroring the presidential race.
Koster, 52, and a Missouri native, currently serves as attorney general, a position he has held since 2009. Prior to 2009, Koster served as Cass County prosecuting attorney and as state senator from the 31st District – as a Republican.
That's right. Koster was a registered Republican before making Missouri political history and publicly switching sides.
As he put it in 2007, "A man can change his beliefs in order to preserve his party, or a man can change his party in order to preserve his beliefs. Today I choose the latter. I'm a Democrat."
Koster's policies
According to AFL-CIO President Richard Trumka, Koster is "organized labor's best hope" to block passage of "right-to-work" in one of the labor movement's six targeted states this year.
However, Koster isn't just focusing on traditional union strongholds like St. Louis and Kansas City. He has supported rural agriculture and farmworkers throughout his entire political career, most notably campaigning statewide for a right-to-farm constitutional amendment which would combat the destructive and costly nature of big agribusiness.
Though considered a moderate by some progressive politicos, Koster's views on equal pay for women, expanded rights for the LGBTQ community and on healthcare and education sync perfectly with the Democratic Party's platform.
Interestingly, while Koster has legitimate progressive credentials – especially, pro-union credentials – he is also endorsed by the National Rifle Association. Complicating Koster's stance on gun control is the reality that Missouri has a large, 'pro-gun' rural population, which Koster will also represent if he becomes governor.
Greitens the 'outsider'
Eric Greitens, 42, introduced himself to Missouri voters in a TV commercial holding a military assault rifle and making the case that his military experience, entrepreneurship and status as a political 'outsider' was what the people of Missouri needed.
Similar to Donald Trump, Greitens wraps himself in the mantle of an 'outsider' while acting as a right wing insider by advocating for anti-worker, corporate interests.
Also a Missouri native, Greitens enlisted in the U.S. Navy, served four tours and is currently a lieutenant commander in the Naval Reserve. In 2007, he founded The Mission Continues, a veteran's service non-profit organization focused on helping soldiers adjust to civilian life.
Though their backgrounds are very different, Greitens and Koster have one thing in common: they both switched parties. Greitens was a registered Democrat, who in 2009 met with the Democratic Party's Senatorial Campaign Committee to discuss a potential run for U.S Senate.
He joined the Republican Party in 2015.
Greitens has pushed an ultra-conservative agenda. If elected, he says he will quickly sign a "right-to-work" law. And he strongly opposes abortion.
He sends a dog whistle message to racists by saying he wants to bring back "law and order," which is all but an explicit attack on the people of Ferguson who have been seeking justice ever since a police offer there shot and killed an unarmed African American teenager, Michael Brown.
On the other hand, shortly after Brown was murdered, Koster spoke to the congregation of the church he had attended. "A member of your community died at the hands of a member of my community," Koster said, "not just the Caucasian community but the law enforcement community." He then promised reforms to prevent such tragedies in the future.
Greitens political inexperience was on full display in the one gubernatorial debate that was held. He promised that, if elected, he would hire a government "chief operating officer" to ensure proper and efficient management of Missouri.
In other words, if elected governor, Greitens would hire a non-elected person to run the state.
Meanwhile, Koster has focused his campaign around his experience and competence in politics.
"Our government is an amazingly complicated entity," Koster says. "It has $27 billion in revenue, there's 16 cabinet departments and 53,000 employees. The role of governor is not an entry level job.
"The governor is the person who runs the budget. If you don't know enough to run the state of Missouri, then you shouldn't apply for the job."
The outcome
If Koster wins, along with Jason Kander, Democratic candidate for U.S. Senate, Missouri's working families may catch a reprieve from the repeated "right-to-work" assault.
Just as important, these two victories could give progressives a much-needed boost to tackle the Republican dominated state legislature.