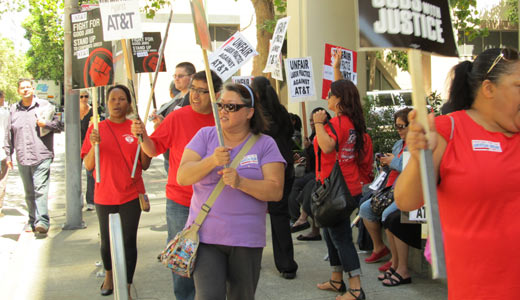 OAKLAND, Calif. – Some 18,000 AT&T workers in California and Nevada, members of the Communications Workers of America, walked off the job and onto picket lines Aug. 7 to protest what they say are unfair labor practices by the company.
Another 4,500 AT&T workers in Connecticut also walked off the job Aug. 7 over unfair labor practices.
The workers, who maintain the networks over which regular phone and cell phone signals travel, repair and install residential and business phone systems, install AT&T's video product and provide customer service and sales, have been in contract negotiations since February, and are working under a contract that expired in April.
Big sticking points in the talks include AT&T's demands for higher health care premiums and co-pays, and concessions on job security, scheduling, sick leave, disability and pensions.
The union says AT&T violated provisions of the National Labor Relations Act by "denying workers' rights to engage in protected, concerted activity; and by implementing unilateral changes without bargaining." Especially at issue are management's threats to discipline workers for wearing union stickers and buttons, and the company's abrupt, unannounced changes in working conditions for U-Verse video technicians.
The strike is slated to last at least through Aug. 8.
The union has filed dozens of unfair labor practices charges with the National Labor Relations Board. The NLRB has issued complaints against AT&T on two charges and is reviewing several others.
Dozens of pickets outside AT&T's Oakland offices early Tuesday afternoon were getting an enthusiastic reception from passing motorists.
Stepping away from the line for a moment was Local 9415 steward and mobilizer Christine Petterson, who said she and her fellow workers "want to concentrate on bargaining for a fair contract. We want to bargain as one union, but the company is focusing on actions we want to take together – we're asking for our rights as Americans."
Petterson – in normal times a customer service representative – agreed that health care is a very big issue. "We know health care costs are going up a lot, but we want the company to be fair," she said. "I'm a single mother – our health care coverage is going up but not our wages. That makes it very hard."
The union says workers took small pay increases in 2009 to protect their jobs and health care.
CWA points out that AT&T is "the largest and most profitable company in the communications industry," and the 12th biggest company in the U.S., with profits of around $20 billion in 2010 and again in 2011.
AT&T is also the country's largest employer of unionized workers, with over half of its quarter-million employees nationwide belonging to unions.
Though contract talks are "never easy … when AT&T violates the law repeatedly, the process really can't work," said CWA District 9 Vice President Jim Weitkamp. "Given AT&T's record profits, tax breaks and jaw-dropping executive compensation, there is no reason for them to insist on lowering the standard of living of a single worker."
CWA workers at AT&T facilities in the southeast rallied last week to pressure the company for a fair contract in that area.
AT&T Southeast said Aug. 7 it had reached a tentative agreement with CWA, to be presented to the workers for a ratification vote.
Photo: Marilyn Bechtel/PW