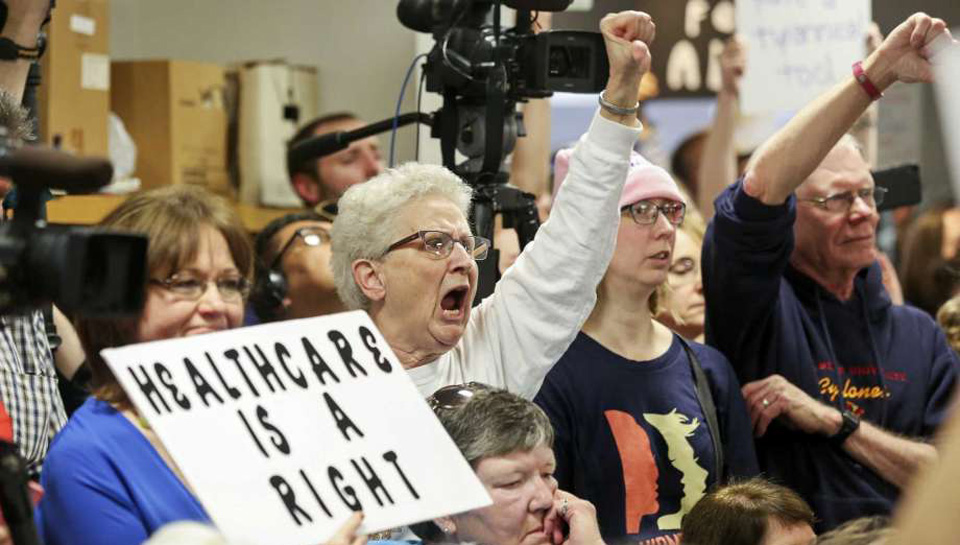 OAKLAND, Calif. – Amid the nationwide wave of town hall meetings during the Congressional recess, many gatherings and actions have been held across California, with saving and improving the Affordable Care Act high on the agenda.
California has been a leader in implementing all aspects of the health care law.
More than one-third of Californians – and 60 percent of the state's children – are now covered by Medi-Cal (the state's Medicaid), while another 1.4 million are covered through the state's exchange, Covered California.
Worry about losing their coverage animated many of those participating in a Feb. 21 town hall with U.S. Representative Tom McClintock, R-Elk Grove, one of the few California Republicans hosting town halls. The gathering drew some 900 people, who also expressed their concerns about the environment, education and other issues.
The scarcity of town halls hosted by Republican representatives aroused the ire of many constituents.
In the Central Valley city of Modesto, several hundred gathered at a constituent-organized town hall to demand that U.S. Rep. Jeff Denham, R-Turlock, oppose ACA repeal unless an even better plan replaces it. Denham was not there, though he sent a representative to  listen to the discussion. So far he has not scheduled a town hall on the topic. Nearly 110,000 people in his district would lose their coverage following repeal, the great majority of them having gained coverage through the Medi-Cal expansion.
In southern California, Rep. Darrell Issa, R-Vista, angered many constituents by failing to show up for a Feb. 21 town hall on the repeal of the health care law, despite "missing person"-style posters reading "Last Seen in Washington supporting President Trump," and a full-page newspaper ad published the previous week, inviting him to the town hall.
Other districts represented by Republicans, especially in the heavily-agricultural Central Valley, also have large numbers of people covered under the ACA. Rep. Kevin McCarthy, R-Bakersfield, the House Majority Leader, represents one of them.
On a more positive note, Rep. Barbara Lee, D-Oakland, joined Alameda County Supervisor Wilma Chan in holding a town hall here Feb. 18, which drew an overflow crowd of more than 1,000 people. Health care was a major issue, along with immigration, racial issues and women's rights.
In an interview, Lee told Oakland North that it is important for people to hear from others who have benefited from the ACA and how they would be impacted by repeal. "Second of all," she said, "it is important for people to know that we are together in this resistance movement against this anti-American backwards Trump agenda."
House Minority Leader Nancy Pelosi, D-San Francisco, also held a town hall Feb. 18, where she was joined by California Secretary of Health and Human Services Diana Dooley and the CEO of S.F. General Hospital, Dr. Susan Ehrlich.
Three members of Congress in nearby Contra Costa County – Reps. Mike Thompson, Jerry McNerney and Mark DeSaulnier – joined in hosting a town hall in Martinez on Feb. 18, with saving the ACA at the top of the agenda.
California mayors announced their own Feb. 22 Mayors' Day of Action in a press release signed by the mayors of San Francisco, Union City, West Sacramento, Los Angeles, Santa Barbara, Oakland, Davis and San Jose. The actions focused on virtual phone banks to members of Congress. The mayors said "staggering numbers" of Californians have benefited from the ACA, and added, "When we work together, Californians can accomplish great feats. We're confident that standing together, we can save the ACA."
The California Pan-Ethnic Health Network (CPEHN) says over two-thirds of Californians covered under MediCal are people of color), with every racial/ethnic group experiencing increased coverage since 2013. Latinos make up half those enrolled in Medi-Cal, while coverage has more than doubled among Asian/Pacific Islanders and risen by one-third among African Americans.
CPEHN warns that "Proposals to drastically change Medi-Cal by eliminating the Medi-Cal expansion for example, would significantly harm low-income communities overall with particularly negative impacts on Latinos, Asian/Pacific Islanders and African Americans.
An analysis by the University of California/Berkeley's Labor Center says California also faces major economic consequences under a partial repeal of the ACA. Besides the loss of coverage by millions now covered by Medi-Cal, and the loss of federal subsidies helping those covered through the exchange, the state would lose $20.5 billion in yearly federal funding for the expansion, and more than 200,000 jobs would also be lost, the majority of them in the health care industry.
No wonder that back in December, Health Access' Tam Ma told a Sacramento symposium on the Affordable Care Act, "It would be hard to imagine going back to a world without the consumer protections and financial support provided through the ACA and our other health care programs." And Anthony Wright warned participants to prepare not just for a sprint, but also for "the marathon ahead."