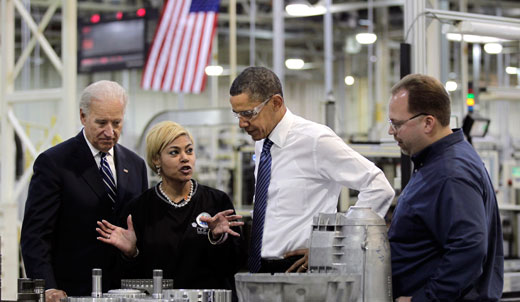 In a rousing speech to a legislative conference of the United Auto Workers, President Obama defended his administration's bailout of the auto industry and credited UAW workers as the real saviors of the big Detroit companies.
Without naming Mitt Romney, a feisty President Obama derided his opposition to the bailout.
"It's been funny to watch some of these folks completely try to rewrite history, now that you're back on your feet," Obama said. At first, the president said, the GOP opposed the bailout on grounds it would mark the end of the American auto industry. Then, Obama said, after the bailout succeeded, they said his administration did it to bail out the union.
The chief executive blasted "those trying to say the UAW made out like bandits" and he listed what he said were the "harsh sacrifices" workers made to save the auto companies, including retiree pension cuts and cuts in salaries and benefits for active workers.
Blasting Republicans who claim unions are "special interests," the President, in an angry tone, demanded to know, "Since when, in America, are its working men and women a special interest?" The crowd rose to its feet in sustained applause.
The bailout of the auto industry is back in the news, in part, because of the Michigan primary today. Trying to take advantage of support Michiganders give President Obama on the issue, former Pennsylvania Sen. Rick Santorum started running a robocall campaign that attacks Romney for opposing the auto bailout. This is despite the fact that Santorum himself was opposed to the bailout.
"I placed my bet on the American worker and I'll make that bet any day of the week," the president declared to the UAW delegates.
He praised the union, saying it was a major factor in making American history, including enabling the country to "defeat fascism" in World War II and the creation thereafter of the middle class itself.
He also slammed the Republicans for their concentration on so-called "value" issues.
"I keep hearing these same folks talk about values all the time," he said. "You want to talk about values? Hard work – that's a value. Looking out for one another, that's a value. The idea that we're all in it together and I am my brother's keeper and sister's keeper that's a value.
"They're out there talking about you like you're some kind of special interest that needs to be beaten down," Obama declared. "They are wrong. That's the philosophy that got us into this mess. We can't afford to go back to it. Not now."
Photo: Pres. Barack Obama and Vice Pres. Joe Biden are given a tour of Chrysler's Indiana Transmission Plant II in Kokomo, Ind. J. Scott Applewhite/AP