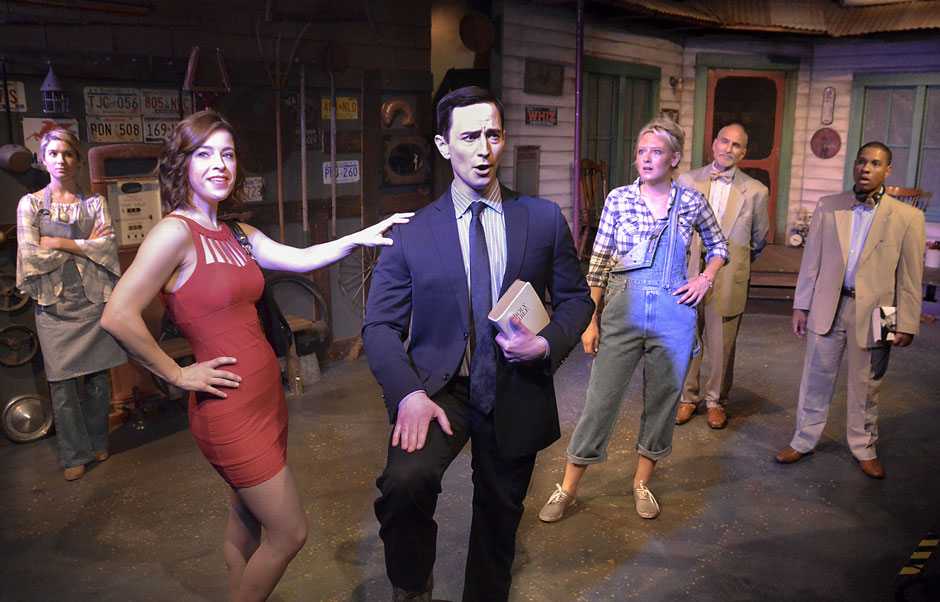 Weird how the Soviet past keeps spinning into view. Lately there's been an art show about Hungary and hippies during the Cold War, the film The Death of Stalin, a new CD featuring Yiddish Glory (songs of the World War II period in which the name of Stalin comes up repeatedly), and two plays: Mayakovsky and Stalin, and now the world premiere of Jews, Christians and Screwing Stalin.
Who doesn't love a good redemption story? Last weekend I saw that new play plus a "reinvented" five-year-old musical called Paradise: A Divine Bluegrass Musical Comedy. I couldn't help noticing how both stage works feature themes of atonement and end up with most everyone redemptively happy. Curiously, too, both plays involve boys left behind by a parent for others to raise. Let's talk about Paradise first (seen August 19).
Selling salvation by the pound
A vaguely Southern or Appalachian coal town called Paradise closed its mine a year ago, and is now one sad general store away from complete bust. Blind Ezra Johnson (Dave Florek) hangs out on the stoop as the town's hillbilly mascot, wisecracking his observations sitcom-style. The Broadway song-and-dance-loving Mayor Gayheart (Chip Bolcik)—his name gives away the deep dark secret everybody knows—keeps a running count of the population on a chalkboard: It's down to 41. His Black adoptive son Tater (Randy Taylor) does not wish to fulfill his father's Broadway aspirations; he's more interested in Steve Jobs and IT. Comely, virginal Louanne Knight (Kelsey Joyce) inherited the store, but dreams of a future in Nashville. A cornpone farmer Cinderella Tiara Applebaum (Cyndi), played by Paige Segal, rounds out the locals.
A charismatic preacher, Rev. John Cyrus Mountain (Jon Root) arrives to promise revival, along with his red-dress-wearing bombshell sidekick Chastity Jones (Nina Brissey), rescued from a Las Vegas club. He's in league with Peter Martinez (Jamie Daniels), a network reality TV producer from Hollywood, and they have a plan to deliver the town to greatness by putting its hokey, folksy denizens on their show. Anchoring the recovery will be a new megachurch with a Jesus Christ Superstore run by the self-admitted "for-profit prophet" "selling salvation by the pound."
Santa Monica's Ruskin Group Theatre has been committed to this bluegrass musical since its first production. Music and book are by Cliff Wagner book and lyrics by Bill Robertson and Tom Sage. It's directed (very well) by Michael Myers. Numbers have been added and the book has been tweaked. It is "certainly timelier at this point than when we first began," says Cliff Wagner. More than one reference to the current maker of a great America confirm some of the updates.
The four-man band is a huge part of the enjoyment in Paradise, with musical director Jim Doyle on drums, John Groover McDuffie on guitar and banjo, Gregory Boaz on bass, and Devitt Feeley on guitar and mandolin. They keep the house a-rockin'.
Rev. Mountain's first big number is "Greater Than Thou," in which he reveals his disdain for gays, hippies and marijuana. If pride is one of the seven deadly sins, he shows it in every chapter and verse of his song. So already we have an impression of him as a sleazy scumbag "prosperity gospel" type in expensive suits. He and Martinez pass around all-rights release forms everyone in town has to sign.
"Humility is a copout," says the preacher, echoing the behavior of multitudinous such characters parading across America's religious landscape today. A later song, "The American Way," completely fills out our initial impression that Rev. Mountain surely cannot be a man of God in any way that feels good.
Paradise might be advised for mature audiences. There's a whole lotta raunch goin' on. Chastity's number, in which she speaks of how Rev. Mountain's ministrations brought her out of her sinful past, is called "Jesus Is Deep Inside Me," and she illustrates it graphically on the handy stripper pole. In Act 2 Cyndi sings "The Missing Link," which to my offhand recollection may be the first song I have ever heard on the subject of lighting a bag of shit on fire—however, it's for a good cause: skewering the stuck-up kids at school who make fun of a hick farmer. There's more songs where these came from, but I can't give them all away, now, can I? Nor the playful, inventive, redemptive denouement.
Stephanie K. Schwartz did a detailed job with the set design, and Edward Salas got a workout with the lighting. Chip Bolcik did the sound design, and Dianne K. Graebner the costumes.
I have always had good experiences at the Ruskin (A Raisin in the Sun, The Alamo, among others), and Paradise furthers this small company's high standing. One of the biggest contributors to America's backwardness in so many areas is the tight grip the Evangelical community has on the predator capitalist party (and vice versa). Paradise makes it devilishly manifest.
Paradise: A Divine Bluegrass Musical Comedy plays through Sept. 23, Fri. and Sat. at 8 pm, and Sun. at 2 pm. Ruskin Group Theatre is located at 3000 Airport Ave., Santa Monica 90405. Tickets can be purchased online or by calling (310) 397-3244. Free parking is available at the theater.
UPDATE: Extending the run through October 21, 2018!
Jews, Christians and Screwing Stalin
Normally I would not begin a review mentioning the star performers in the cast. In this comedy by husband-and-wife (of 49 years) team of Mark Lonow and Jo Anne Astrow, well-known TV and film actor John Pleshette (Knots Landing, Murder One, Curb Your Enthusiasm) and stand-up comedian and actress Cathy Ladman (I'm Dying Up Here, Curb Your Enthusiasm, Scandal, The Tonight Show regular and her own HBO One Night Stand special) play Murray and Minka Grazonsky, Brighton Beach, New York City, September 1966. Murray died a few months earlier, but that doesn't stop him from dropping down from heaven once in a while to monitor the usual "family dysfunction" and the way it's playing out in the months since his passing, in the kitchen and living room of the boarding house they owned.
Took A Cab Productions and the ubiquitous Improv comedy club chain present this world premiere. Producer, actor, teacher, manager Mark Lonow also directs his co-written play. Lonow wears one other title: For 38 years he was a co-owner of World-Famous Improvisation, the parent of the Improv comedy clubs, where more stars than there are in the sky have gotten their start. A lot of them owe Lonow big favors. That's how people of the caliber of Pleshette and Ladman made a commitment to this play, now at the Matrix Theatre in L.A. Jo Anne Astrow herself has a long history in stand-up.
The play is set on Rosh Hashanah eve in 1966. From Paradise (no, not the Appalachian town referenced above), Murray watches as his grandson Joey (Hunter Milano) brings his pregnant, Christian Irish-German fiancée Caitlin McCarthy-Heitler (the titular Christian, based on Jo Anne Astrow, played by Sammy-Jack Martincak) home to meet the radical communist grandma (bubby) who raised him. The other denizens of the boarding house and Joey's mostly absent alcoholic father David (Travis York), who has had a minimal and not positive role in the family, comprise the rest of the cast.
Murray and Minka are immigrants to the United States, probably soon after the Russian Revolution. Murray wears a Russian worker's cap emblazoned with a red star. Minka was a wild girl of the Revolution—which helps explain the unwieldy play title—and her brother was Yakov Sverdlov, elected chairman of the All-Russian Central Executive Committee in November 1917, becoming thereby head of state of the Russian SFSR until his death (of either typhus or influenza) in March 1919. He was one of those responsible for the execution of Tsar Nicholas II and his family on July 17, 1918. He is buried in the Kremlin Wall. The city of Yekaterinburg was renamed Sverdlovsk until the demise of the USSR in 1991.
These characters are strongly based on Lonow's own family. The play is rooted in Lonow's childhood memories. Sverdlov was his great-uncle. He freely acknowledges being a "red diaper baby" who grew up around parents, relatives and tenants with those strong connections. The many gaps in the story leave important questions unanswered, such as why, if they were such passionate revolutionaries, they left Russia. He also claims that his bubby was a "Trotskyite"—although the less combative term would be a Trotskyist. That sounds a little off in context, but who knows, maybe she rejected Stalinism at a certain point and went in the Trotsky direction. What about Murray? What kind of commie was he? In heaven, he complains about having to meet Trotsky (proving that commies of all stripes indeed do go to heaven). I don't believe it would have been possible for a Trotskyist and a CPUSA member to sustain a loving marriage for over 40 years.
"Brighton Beach and Coney Island, where I grew up," Lonow told L.A.'s Jewish Journal, "were hotbeds of communism. Many of my relatives were young revolutionaries and then union organizers when they came to this country. Paul Robeson sang 'Ol' Man River' to me when I was four years old while I sat on his knee at a fundraiser at the Workmen's Circle."
Crossovers and anomalies in politics can sometimes challenge credulity, and I know it's impolite to question someone else's story, but I've got to say this mash-up just doesn't compute. OK, Lonow was a kid at the time, so maybe he remembers some of the details wrong. I don't believe Paul Robeson would have hung out in Trotskyite—or even Trotskyist—circles, and as for the social democratic Workmen's Circle, it was from the mid-1920s on firmly opposed to the Soviets. I wonder if the benefit Lonow remembers was for the communist-oriented International Workers Order (IWO), which the left-wing spinoff of the Workmen's Circle joined. Robeson would have sung for them.
More important, this domestic comedy never really explores what it meant to be a communist in the United States for all those years—from some time in the 1920s to 1966. Those momentous decades just melt away in time, and we never know what causes Murray and Minka embraced, what role they took during World War II, or during the McCarthyite 1950s, or the civil rights era, or Vietnam. Nor do we see what effect it had on the children raised in this household: What values did they learn? How did that affect their lives?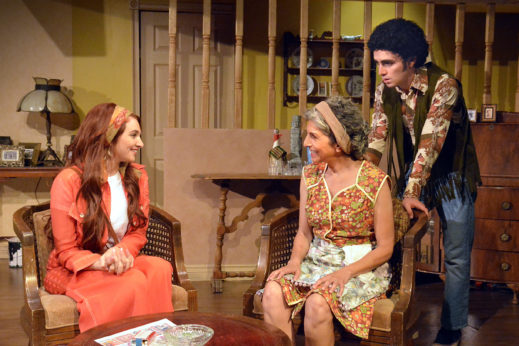 I was drawn to see this play because of the sociopolitical context promised—and I freely acknowledge that would not have been the priority for every theatergoer—but in the end, it seems the "Improv" mentality won out. Lonow was recently quoted in Broadway World, saying, "There is nothing today that can't be joked about. If you get the laugh, the topic is acceptable," however rude, crude or lewd. The whole Communist angle is little more than a coatrack on which to hang a joke-filled tale of atonement for past misbehavior and a promising family reconciliation.
I want to believe I am mature enough to let that disappointment go if the play itself otherwise held up. It did get a warm reception on opening night (August 18), and hey, I laughed too at a lot of the lines and sight gags. But in the end, these characters are familiar stock figures from the Yiddish and the Jewish-American stage (does anyone remember the 1922 play Abie's Irish Rose?), where Yiddish is freely tossed around, a meal around an important holiday such as Passover or Rosh Hashonah is a standard theme, and a principle from the holiday (in this case atonement) drives the momentum. At the same time I had to wonder, would these hard-core atheist communists be celebrating Rosh Hashonah, even in this fairly secular way—well, just possibly yes—but would Minka really be talking to God and really sound so prejudiced against Irish and Germans and pork? And utter the word shvartse? (the insulting Yiddish term for "black").
Take away the dramatically irrelevant commie teaser, the play is otherwise lightweight shtik, forced humor like…like a lot of stand-up comedy.
In advance publicity, Lonow and Astrow say they are looking forward to seeing "where things have to be massaged" before they go from the 99-seat Matrix to a New York opening. I do hope they get it right.
The three tenants are played by Sally Schaub, Marty Ross (both little more than walk-ons) and Laura Julian, whose part as Lillie Feinstein is the most developed: She is the classic yenta, the nosy busybody. None of them is strategic to the dramatic design.
The set design by Joel Daavid is packed with period authenticity; lighting design by Donny Jackson, sound design by Joseph "Sloe" Slawinski, costume design by Wendell C. Carmichael.
Jews, Christians and Screwing Stalin continues through Sept. 23, with performances on Sat. at 8 pm., Sun. at 3 pm, and Mon. at 8 pm. The Matrix Theatre is located at 7657 Melrose Ave., Los Angeles 90046. For tickets call (323) 960-4412 or go to the website here.