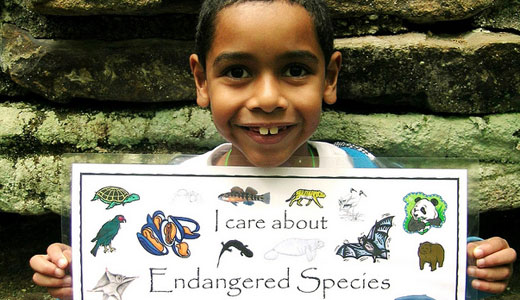 Today, May 18, is Endangered Species Day. It's a good day to note that the gray wolf in the western Great Lakes, the bald eagle, the Lake Erie watersnake in Ohio, the wood stork, Kirtland's warbler, Okaloosa darter, black-footed ferret and Louisiana black bear are among species that were once on the brink of extinction but have successfully rebounded or are showing significant progress towards recovery. And that means the human species has a better chance too.
The U.S. Fish and Wildlife Service and numerous organizations are honoring Endangered Species Day and the nationwide conservation efforts under way to protect America's endangered and at-risk species. This acknowledges the important role that the 1973 Endangered Species Act has played in protecting many species of animals and the ecosystems on which they depend.
Many federal agencies are involved in this work. It is coordinated by the U.S. Fish and Wildlife Service and the National Oceanic and Atmospheric Administration.
Sometimes industry hacks and "conservative" politicians have falsely portrayed the Endangered Species Act as an attack on jobs. They seek to pit the need for millions of jobs against the need to protect the environment including animal life.
But pollution, the spread of persistent organic pollutants, and climate change are threatening many species with extinction. This would turn animal life into yet another non-renewable resource that should belong to all humanity.
Humans count on animal and plant life for many medicines, for regenerating the natural world on which we depend, and for maintaining the complex web of life. We don't yet fully understand all the interactions that happen in the natural world, and we shouldn't destroy parts of it before we do. If we damage the natural world we live in, we run the risk of destroying or diminishing human life itself.
The Endangered Species Act is one small part of the necessary efforts humanity must make to keep functional the ecosystems we use for food, medicine, water purification, and other ecosystem services.
Many of the world's fisheries are being depleted, reducing the available protein sources for human consumption right at the point when we need to increase them. Protecting endangered species is protecting our future.
For more information, including events near you, visit the Fish and Wildlife Service's Endangered Species Day website.
Photo: U.S. Fish and Wildlife Service Southwest