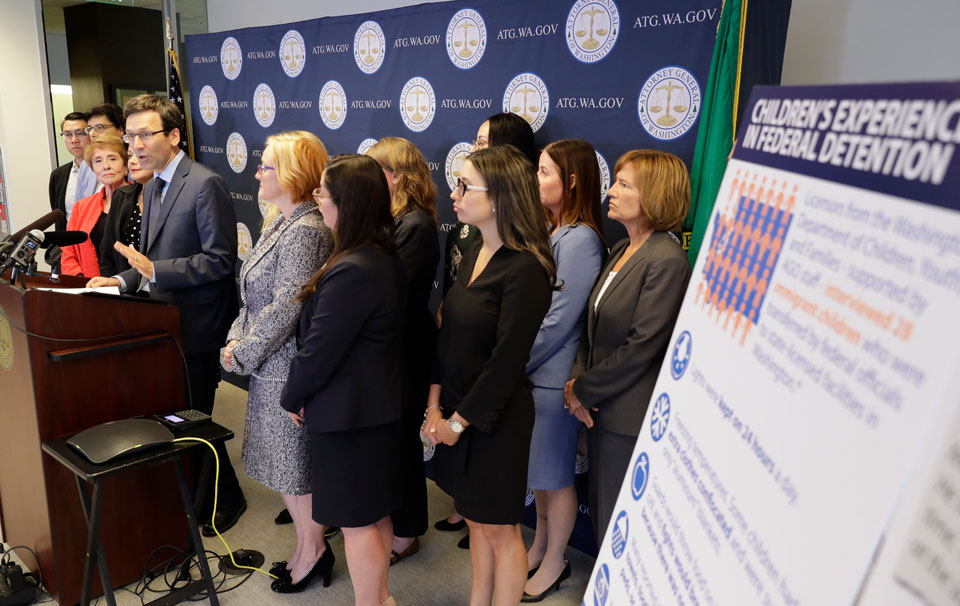 SAN FRANCISCO—More than 15 progressive state Attorneys General headed to federal court twice in six days in late August to try to halt two more of Donald Trump's anti-migrant schemes. And in the first suit they filed, pro-worker, pro-migrant, and union-backed Make The Road New York took the lead, aided by the ACLU.
That first suit, on Aug. 22, asks federal district judges in D.C. to bar the anti-immigrant Republican president from imposing summary deportation—without lawyers to help those picked up, judges, or hearings—on "suspected undocumented immigrants living anywhere within the country for up to two years," in the words of Minnesota Attorney General Keith Ellison.
That deportation order will split families and disrupt communities, Ellison added. The ACLU said it could even let federal agents pick up U.S. citizens and summarily throw them out of the country.
The impacts could be even worse. Even before Trump's government published the rule the month before the first suit, the case papers reported agents deported a Guatemalan mother of four who feared for her life, and whose father and mother were murdered by gangs. Back in Guatemala, the suit says, gangs raped and shot her.
The second suit, filed by California Attorney General Xavier Becerra and the others on Aug. 27, asked federal district judges in San Francisco to stop Trump's scheme to forcefully yank migrant kids away from their parents at the U.S.-Mexico border and then detain both groups, separately and indefinitely.
That plan is Trump's response to the 22-year old judicial Flores decision, which bars kids, documented or not, from being held by the Border Patrol or ICE for more than 72 hours after being picked up.
Both Trump actions cater to his own hatred of Hispanic-named people and to the numerous white nativists and racists in his electoral base, though the AGs—including Becerra, Ellison, Maryland's Brian Frosh, and Illinois's Kwame Raoul—did not use those words.
Gov. Gavin Newsom, D-Calif., supporting the second suit by his own AG and the others, made the connection, though.
"Yet again, President Trump is disregarding basic human rights and using helpless immigrant children as political pawns to further his ideological agenda. California will emphatically assert itself to protect the welfare and safety of all children, regardless of where they come from or the color of their skin," said Newsom.
"This reckless effort to deprive people of their fundamental rights will place countless immigrants at risk, including many people who have been in the United States for years," Make The Road's co-Executive Director Xavier Valdes said in a statement. "We will continue to fight against this administration's unlawful tactics."
"No prior administration has authorized such broad use of expedited removal against non-citizens who have resided in the country for significant periods or who have been apprehended in the interior of the country, far from the border," according to the first suit, by Make The Road New York, the ACLU and the state Attorneys General.
"To claim citizenship, a person must prove they've been admitted entry as a permanent resident, hold refugee status or have previously received asylum in the U.S., which prohibits their removal under current federal law," those court papers explain. Under Trump's new scheme, "Those (people) who cannot establish a lawful presence are scheduled for removal with just a bit of 'cursory paperwork' compiled by an agent and a supervisor, the complaint states."
Trump's second anti-migrant scheme is just as bad, say both the AGs and their court papers. The AGs say the kids Trump wants to split from their parents will do better once released, as the Flores settlement requires, into state care. The second suit notes Trump first ordered overriding Flores in Jan. 2018.
"This new Trump rule callously puts at risk the safety and well-being of children. It undermines a decades-old agreement reached in court by the federal government to prevent the unlawful detention of immigrant children," said Becerra.
"No child deserves to be left in conditions inappropriate and harmful for their age. We're taking the Trump administration to court to protect children from the irreparable harm caused by unlawful and unnecessary detention. With our partners across the country, we will fight for the most vulnerable among us."
"The federal government is tearing children apart from their families and now wants to strip away protections these children have while in detention," Illinois AG Raoul said. "Every American should be outraged by our government's treatment of migrant children at the border, and I am proud to continue to stand with my counterparts to fight for their health and welfare."
"The Trump administration's abuse of children is illegal and intolerable," said Maryland AG Frosh. "The United States should not be taking children from their families, and it should not be holding children in prison-like conditions.  Our law and our policy have, for decades, required humane treatment of children.  This new, terrible idea will not stand."
The second suit's papers say Trump's policy "violates a number of the Flores Agreement's critical protections for immigrant children's safety and well-being, intrudes into the core state function of licensing care facilities for children, and will cause irreparable harm to immigrant children, their parents, and the states which will welcome them upon their release" from the feds.
The papers also note Trump's scheme will turn the kids over not to state care or to their parents, but to private companies. While it does not say so, those firms would then get federal dollars for housing the kids, but with little oversight or rules.
Flores requires quick release of the kids from federal custody and, before that, their placement "in the least restrictive conditions possible," the papers say. Trump's rule, the AGs said, "permits and calls for the prolonged and indefinite detention of immigrant children in detention facilities" in "prison-like conditions."
Putting the kids in those prisons—under awful conditions even according to Trump's own Homeland Security Department—will harm the "mental and physical health" of both kids and their parents, it adds.
"By replacing state licensing and enforcement of state child welfare laws with audits by federal contractors, the rule will prevent states from fulfilling their historical and ongoing responsibility to protect the health, safety, and welfare of all children, including immigrant children held in care facilities and with foster care families within their boundaries."