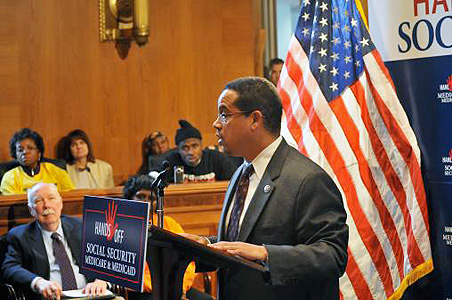 The Progressive Caucus co-chairs Keith Ellison, D-Mich., and Raul Grijalva, D-Ariz., were set to introduce a bill into Congress today that repeals the March 1 sequester, which they describe as an "austerity bomb." The bill, which they plan to call the Balancing Act, aims for "balance" in long-term deficit reduction between revenue and cuts.
The Balancing Act invests in job creation and calls for paying for those investments with defense cuts, in addition to the non-defense cuts touted by Republicans.
The bill comes while Democrats and Republicans chart very different plans for the March 1 sequester. On that day we reach the next deadline on which the GOP flexes its hostage-taking muscle, threatening yet again to destroy the economy unless they get severe cuts in programs supported by the majority of the American people.
While the bill introduced by the Progressive Caucus co-chairs kills the sequester altogether, at closed-door meetings this week Democrats are discussing raising revenue through closing loopholes in taxes on the wealthy and capping income tax deductions. Republicans, on the other hand, are saying that raising revenues by increasing taxes on the wealthy cannot be part of the mix at all.
Republicans are putting forward a "continuing resolution" which, according to Bloomberg News, would fund the government through Sept. 30 at about $974 billion, well below the current level of $1.043 trillion. "It's a serious cut," Oklahoma Republican James Lankford told Bloomberg.
On March 27 the continuing resolution that is now authorizing government spending will run out. Republicans are threatening to shut down the government that day if there is no budget in place or if their harsh continuing resolution is not adopted in lieu of a budget.
Democrats are going in a different direction. A proposal out there from Sen. Carl Levin would raise $200 billion in revenue from closing loopholes. Levin's plan targets corporate deductions for stock options and rates on investment income known as carried interest.
The Levin proposal would also penalize offshore financial institutions that impede U.S. tax enforcement, defer tax deductions for corporations that move jobs and operations offshore until the corporation repatriates the profits from offshore operations and pays taxes on them, and treat offshore funds deposited in U.S. bank accounts as repatriated funds subject to taxes.
Meanwhile, opposition to cuts in the so-called entitlements continues to grow with veterans adding their voices to those opposing the chained CPI cut to Social Security.
Sens. Bernie Sanders, I-Vt., Jeff Merkley D-Or., and Sheldon Whitehouse, D-RI., hosted veterans groups, labor unions and others this week at a press conference to oppose the chained CPI proposal, which would cut benefits to all Social Security beneficiaries, including veterans.
At the press conference, the Iraq and Afghanistan Veterans of America, which represents 200,000 veterans and supporters, condemned the idea. "This proposal would balance the budget on the backs of those who fought for us," said IAVA's vice president, Tom Tarantino.
If its not bad enough that Republicans have two dates, March 1 for the sequester and March 27 for the continuing resolution, on which to hold the nation hostage, they also have a third. On May 19 the debt ceiling would be reached. After that day the government would be unable to borrow to sustain its operations and would default on its debt, triggering a global financial crisis.
Progressives note that Republican posturing aside, the budget has already been slashed by $1.5 trillion since 2011 and that the November elections clearly showed that people now want a round of taxes on the rich and job creation, not more cuts in social services.
Most economists say that, in view of the massive cuts that have already taken place, the shrinking of the economy for the first time in 30 months last quarter is not surprising. More cuts on March 1, they say, will only court disaster.
They note that the deficit is already shrinking dramatically, down 25 percent since 2009 in relation to the economy.
There is no immediate debt crisis, most labor economists note, but there is a job crisis and jobs, they say, would fix the deficit.
Photo: Rep. Keith Ellison, Congressional Progressive Caucus website.