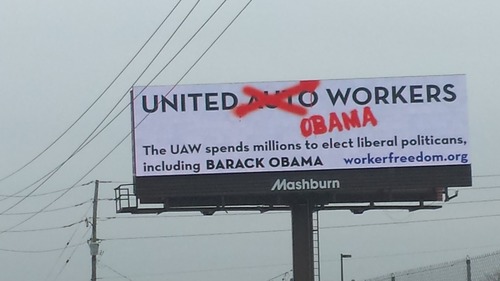 DETROIT (PAI)–The United Auto Workers are dropping their federal appeal of their narrow recognition election loss at Volkswagen's Chattanooga, Tenn., plant. Instead, union President Bob King says, they will concentrate on a probe by congressional Democrats of political interference that led to the Valentine's Day defeat.
The union added it will also concentrate on ensuring that a new sport utility vehicle assembly line comes to Chattanooga. The top two Republican pols who interfered, Gov. Bill Haslam and Sen. Bob Corker, promised that – if, the two said, the workers rejected the union.
The union lost the vote 712-628 after threats by both politicians and other ruling Tennessee Republicans to yank tax breaks and other state aid from VW in Chattanooga if the workers went union. The Chattanooga drive was a key part of the UAW's effort to enter non-union foreign auto firm "transplants" in the anti-union South, as well as part of labor's overall effort to increase union density in that region.
Besides the interference from Corker and Haslam, outside Radical Right groups also pumped millions of dollars worth of anti-labor anti-union advertising into the Chattanooga area, with billboards and ads linking the UAW to President Obama and saying the union would take away peoples' guns.
King's April 21 announcement said raising the issue of the political interference made the union's point, even without the National Labor Relations Board administrative law judge's hearing on the case, scheduled for this week. King added the NLRB hearing was hampered by refusal of the two pols to appear.
The UAW "based its decision on the belief that the NLRB's historically dysfunctional and complex process potentially could drag on for months or even years. Additionally, the UAW cited refusals by Haslam and Corker to participate in a transparent legal discovery process, which undermines public trust and confidence," the union said in a statement.
"The unprecedented political interference by Haslam, Corker and others was a distraction for Volkswagen employees and a detour from achieving Tennessee's economic priorities," King said. "The UAW is ready to put February's tainted election in the rearview mirror and instead focus on advocating for new jobs and economic investment in Chattanooga."
"UAW wants to help create quality jobs and build world-class products for American consumers," the union's southern regional director, Gary Casteel, added. "With this in mind, we urge Haslam to immediately extend the incentives that previously were offered to Volkswagen for this new SUV line, and do so unconditionally."
Instead of pursuing the NLRB's legal process, the union is banking on Congress to continue to shine the spotlight on the political interference with the vote.
That spotlight may come if Haslam replies to an April 16 letter from Reps. George Miller, D-Calif., and John Tierney, D-Mass., seeking state documents and e-mails relating to the Chattanooga vote. Miller is the top Democrat on the GOP-run politically polarized House Education and the Workforce Committee.
Citing their oversight responsibilities, the two lawmakers "respectfully request information about whether any Tennessee state officials directly or indirectly conditioned, or threatened to condition, state aid to Volkswagen (VW) on the outcome of the efforts to establish a union and/or works council at the Chattanooga plant," their letter says.
VW was neutral in the election and its officials said it favored a works council at Chattanooga to handle labor-management relations in a joint, cooperative manner. VW has works councils at all plants worldwide, except Chattanooga and China. It also has a master works council, mandated by law, at headquarters.
"Workers at the Chattanooga plant have sought union representation with the United Auto Workers and the creation of a local works council, a labor relations model based on other VW plants around the world," the letter added.
"A National Labor Relations Board election…was intended to allow workers at the plant to freely choose whether to unionize, and ultimately bargain for a works council, a right guaranteed to them under federal law. Objections have been filed to that election, alleging the process was tainted by actions and statements of outside parties, including state officials.
"Recent press reports suggest Tennessee officials may have conditioned state aid…for adding a new full-size sport utility vehicle line to the VW plant on the outcome of the workers' representation question. For example, a document prepared by state officials dated August 23, 2013, entitled 'Project Trinity Final Summary of Incentives,' proposes various cash grants, tax exemptions, and tax credits in support of the VW expansion and included a provision stating such aid was 'subject to works council discussion between the state of Tennessee and VW being concluded to the satisfaction of the state of Tennessee.'"
"In circumstances in which state aid has been conditioned or is threatened to be conditioned on the outcome of a question of workers' representation, Congress has a significant interest. Such state-level conditioning may undermine employees' federally guaranteed freedom to choose whether or not to be represented by a union," Miller and Tierney said. They asked for the documents within 30 days.
Photo: Anti-union billboard from right-wing website workerfreedom.org