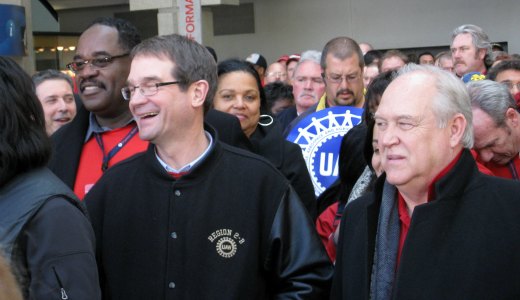 DETROIT – With the announcement on Wednesday of a new four-year agreement with Chrysler, the United Auto Workers union has now completed its negotiations with the domestic auto companies. In September, workers at General Motors approved their contract by a two to one margin. Workers at Ford will conclude their voting by next week, while those at Chrysler are just beginning to discuss the contract.
United Auto Workers President Bob King said the union entered into this year's contract negotiations with the "wind in our face." He was referring to the economic crisis and high level of joblessness that has caused auto sales to plunge. He also could have been referring to the vicious Republican-led attack on the right of labor to collectively bargain.
In addition, the difficulties arising from the huge presence of foreign-owned non-union auto companies operating in the United States – such as Toyota, which is unionized in Japan but not here – have made negotiating doubly difficult. King has said the UAW no longer represents the overwhelming majority of workers in the industry – something the union realizes must be overcome to make significant advances. https://www.peoplesworld.org/auto-workers-face-tough-battle-in-contract-talks/
The agreements at the three U.S. auto companies contain signing bonuses for workers ranging from $6,000 at Ford to $1,750 at Chrysler (with an additional $1,750 if Chrysler meets financial targets), and profit-sharing formulas based on the companies' North American profits. However, to the understandable dismay of many, the contracts have no wage increases for first-tier (longer-term) workers and no reinstatement of cost of living increases. Recent concessions such as changes in job classifications and work rules remain. There were no changes to worker contributions on health care and no changes to pensions.
Early voting returns at Ford show a very close vote. Ford has raked in $14.3 billion in profits since 2009 and many are rightfully upset that Ford CEO Alan Mulally was paid $26.5 million in compensation for 2010.
The agreements do begin to lessen the wage differential between first- and second-tier workers, a goal King stressed during this year's bargaining convention. The rate for these workers will rise approximately $4.00 an hour to $19.28 over the course of the contract. It is a significant increase but still below the $28.00 average for first-tier workers.
Additionally, commitments were garnered to keep more production in the United States. According to the union, the three agreements will add more than 20,000 new direct jobs to the economy, with 6,400 jobs at GM and 12,000 at Ford, including bringing off-shored manufacturing back to the U.S. from Europe, Mexico and China.
The union has taken transparency and member discussion of the contracts to a new level. The contracts, all 500 pages in GM's case, were immediately posted online and members are engaging in spirited discussion on a Facebook page the union set up.
Facebook comments reveal the different issues workers are sorting through as they decide how to vote.
Discussing the Ford contract, one posting says, "For the current times this is a GOOD contract. Hire over 5,000, new products, update plants, etc. Money is not the only thing that makes a good contract. Yes, I'm losing the Christmas money, $700.00. But people are getting a better chance to get a good job, so I'll live with it."
Another retorts, "I'm voting NO! I want to be 'in the loop'! I have sacrificed, worked hard and given back! I want my piece of this billion dollar puzzle!"
In a press release on the Ford agreement, King reiterated the challenge created by the non-union plants.
"As long as unionized workers are being forced to compete with non-union workers who in most cases receive lower pay and benefits. there will continue to be a downward pressure on the wages and benefits of all autoworkers," the UAW president said. "The pathway to rebuilding America's middle class and creating long-term job security for all American autoworkers must include organizing workers at the foreign-owned automakers operating without unions in the United States."
In negotiating the 2011 contracts King has praised the role played by President Obama in saving the industry during the troubled times of 2009 when GM and Chrysler needed government loans to survive. Following the conclusion of the GM contract King said, "Let's be completely clear about this: None of this would have been possible without the efforts of President Obama, who invested federal funds to help turn the company around, protect the auto supplier base and keep good-paying jobs in America."
That stand contrasts sharply with Republican presidential contender Mitt Romney who argued against federal loans to GM and Chrysler, a move that could have destroyed the industry and 1.4 million jobs.
Photo: Vice President General Holiefield,President Bob King and Secretary Treasurer Dennis Williams prepare to march at the 2011 UAW Bargaining Convention. John Rummel/PW