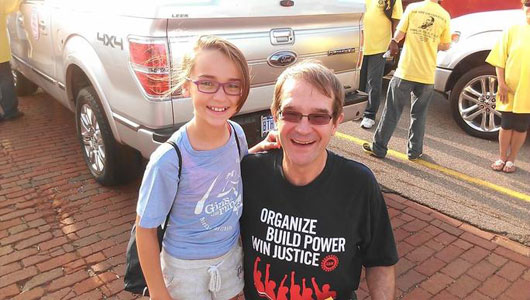 The social compact is gone, said Bob King, president of the United Auto Workers, yesterday in Detroit. "And if we want a growing middle class again, we need to restore it."
"Globalization in itself is not the enemy. Technological change is not the enemy," said King. "These developments offer the promise of increased prosperity. But the promise and potential benefit of globalization has been corrupted by unrestricted and unrestrained domination of corporate interests. Profit seeking and the interests of the wealthy and powerful have dominated policy-making so that globalization has benefited the few rather than spreading the benefits fairly."
Unions and collective bargaining are the most effective anti-poverty program, King continued. But outdated and weak labor laws have made it increasingly more difficult for workers trying to come together for a voice on the job.
"Unions are the vehicle by which working people gain their fair share of the wealth they create,"he said. "Balancing corporate power, unions created the middle class. Our mission, then, is clear. The UAW and all unions bear a major role in rebuilding our middle class."
King discussed the four ways the UAW is working to create more worker power, including partnership and collaboration with employers, support for workers' organizing efforts, engaging with global unions for mutual support and working with coalitions with the shared goal of social justice.
Read more details about the UAW approach in King's speech: The Fight to Restore the American Dream.
The above article is reprinted from the AFL-CIO Now Blog.
Photo: AFL-CIO NOW Blog