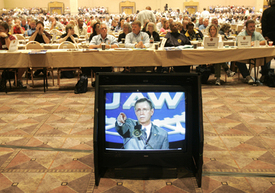 LAS VEGAS — The fight for jobs and national health care were uppermost on the minds of 2,000 autoworkers and retirees who gathered here for the United Auto Workers convention June 12.
In a fiery hour-long address that opened the meeting, the union's President Ron Gettelfinger evoked the UAW's fighting history, rallied the troops to change Congress and thwart Bush's anti-worker agenda, renewed the union's commitment to organizing the growing ranks of unorganized workers in U.S. plants owned by foreign automakers, and demanded a single-payer national health system.
"Everything the UAW has fought for," said Gettelfinger, "is under attack by a number of multinational corporations who want to rip up our contracts and impose poverty-level wages on workers."
At the same time, citing the present reality that unionized automakers account for only 58 percent of the country's vehicle production, Gettelfinger seemed to be laying the basis for future concessions to auto's Big Three.
"The largest U.S. automakers, GM and Ford, are losing money in their North American auto operations," he said. Gettelfinger was explaining what he called "the most painful decision I've had to make" as union president, his move earlier this year to allow automakers to cut negotiated benefits. GM and Ford have announced plans to close or downsize two-dozen plants and cut 60,000 hourly workers jobs.
Gettelfinger wasn't giving a pass, however, to GM's spin-off, auto parts giant Delphi. Delphi's worldwide profits haven't prevented it from filing for bankruptcy in the U.S. Most here regard the bankruptcy as a cynical maneuver to get a judge's OK to dump legally binding contracts. The result will be wages slashed, pensions eliminated and enormous job loss. Referring to "unscrupulous employers and their battery of bankruptcy vultures," Gettelfinger blasted Delphi CEO Steve Miller's proposition that, in the union president's words, "American workers need to get over the idea of having a middle-class lifestyle and resign themselves to barely scraping by."
Gettelfinger praised bankruptcy reform legislation introduced by Sen. Evan Bayh (D-Ind.) and Rep. John Conyers (D-Mich.) that would prevent "a multinational corporation like Delphi from excluding its profitable foreign operations from the bankruptcy court's consideration."
Scores of delegates hit the floor mikes during the four-day meet, expanding on the themes of health care, political action, and organizing, but none called for shared sacrifice.
"Health care should be on the front burner of all unions in this country," said Local 110 Plant Shop Chair Lew Moye from St. Louis' Chrysler assembly plant. Along those lines, the first resolution passed by the convention stated: "The best solution is a comprehensive, single-payer plan to provide quality health care to every man, woman and child in the United States." The resolution, adopted unanimously, singles out legislation introduced by Rep. Conyers, HR 676, the U.S. National Health Insurance Act.
The convention also addressed environmental concerns, supporting improved fuel efficiency through raising Corporate Average Fuel Economy (CAFE) standards and government assistance to the U.S. auto industry to produce advanced technology vehicles.
UAW membership is down to 600,000 from a high point of 1.5 million in 1979, and more losses are inevitable as thousands leave GM and Delphi's payrolls as the result of buyout offer agreements reached in the week before the convention opened.
Although not sufficient to make up for these losses, 66,000 new members organized in recent years, including 11,000 in the South, gave some cause for optimism. So did the determination of the delegates, scores of who took to the floor to weigh in on the issues.
"Protecting jobs" was the number one priority for David Edgar from Local 869 in Warren, Mich. How to do it? "Start with taking back the House in November," he said.
Russell Reynolds, president of Local 651 representing 2,500 workers at Delphi's East Flint plant, the former AC spark plug facility, says he personally takes some of the blame for what's happening at Delphi. "I haven't stood up enough to protest," he explained. But Reynolds is all about changing that. "The biggest problem I see is George Bush," he said. "We've got to have a president who believes in the American people and the Constitution."
The gathering was anything but somber, and in its second day of meeting, delegates collectively jeered a reference to a New York Times headline to that effect. Later the same day, Vice President Bob King made a moving presentation featuring newly organized rank-and-file delegates speaking on their experiences of fighting for a voice at work. Then the entire delegation engaged in an exuberant on-the-spot "practice" demonstration, complete with signs, music, chants, arm-in-arm marching and dancing, in preparation for taking to the streets in support of workers' right to organize and the Employee Free Choice Act.