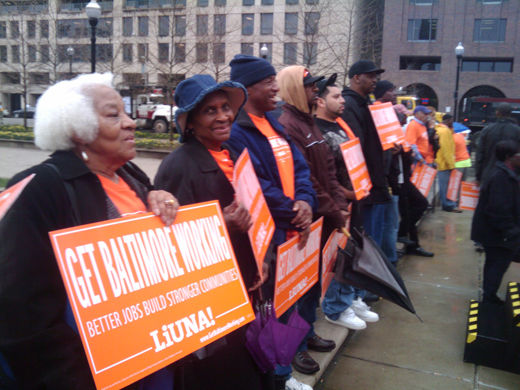 BALTIMORE, Md. – Chanting "What do we want? Jobs. When do we want them? Now," a crowd of 300 union members and their community allies rallied in the rain at City Hall Mar. 22 to support a bill to create construction jobs for Baltimore City residents. All the supporters were clad in bright orange tee shirts provided by LIUNA (Laborer's International Union) which read, "Get Baltimore Working."
The bill, introduced in the City Council by Baltimore City Councilman Bill Henry, 4th Councilmanic District, will require contractors and local unions to work together to provide Baltimore residents with jobs that come with first class training, living wages, health benefits and retirement plans.
In addressing the crowd, Councilman Henry explained that Community Partnership Agreements (CPA), such as the one he was proposing, have been passed all over the country and that it's time to get Baltimore on board.
Betty Thomas, a community leader who helped to mobilize for the rally said, "This legislation will make sure that city tax dollars go for employment for people in Baltimore City. Baltimore families are starving. Time is of the essence."
Kevin Cosby, a minority contractor explained that the bill is good for minority contractors, for unions and for workers in Baltimore City. Individuals, he said, would be put on a career path through the legislation. It's about giving opportunities to people who otherwise would not have a chance.
Ernie Greco, president of the Baltimore Central Labor Council, told the crowd that the "other side" is working very hard against the bill. Earlier in the day opponents of the bill said on the radio that the it would not create jobs for Baltimore City residents. The jobs would go to out-of-city union members with seniority. Greco explained that, in fact, seniority doesn't take effect in construction. He added that the labor movement is behind the proposal and is starting to garner support among the rank and file.
The campaign for passage of the CPA bill coincides with a nationwide AFL-CIO drive for jobs highlighted by the "Week of Action for Jobs" last week with rallies and picketlines all across the nation sponsored by the "Jobs for America NOW" coalition of 60 grassroots organizations.
Councilman Henry urged concerned citizens to contact their city council representatives to tell them to vote yes on the bill to get Baltimore working again.
Photo: PW/Jordan Farrar