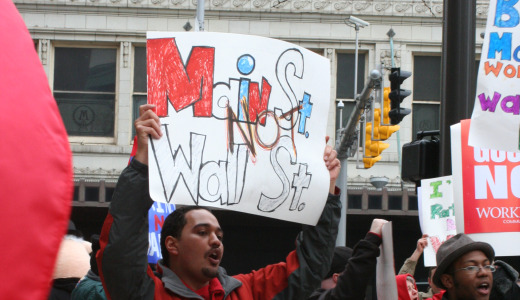 CLEVELAND – Labor and community groups rallied here in Public Square Monday to demand banks pay to repair the massive damage they caused to the U.S. economy.
"Millions have lost their jobs because greedy bankers brought our economy to a halt," Liz Shuler, national secretary-treasurer of the AFL-CIO, told the boisterous crowd of 150 picketing the Cleveland office of Morgan Stanley. "They invested in junk. They inflated bubbles that popped. They got billions in bailout money. It's time for them to pay their fair share."
But, she said, for Morgan Stanley "it's back to business as usual." They paid their CEO James Gorman $11 million and use taxpayer money to lobby against regulation of the financial industry, she said.
"They refuse to loan money to small business and college students. They put the robber barons to shame."
As she spoke, her point was dramatized by a man wearing a tuxedo and a pig mask who made mock attempts to steal purses and pick the pockets of demonstrators.
Shuler outline the AFL-CIO program to create 10 million jobs and called for taxing bank executive bonuses. The labor organization is also urging support for bills in the House and Senate to tax financial transactions and raise $150 billion a year for jobs programs.
The event was one of nearly 200 being held by the AFL-CIO and allied groups around the country targeting Wall Street banks. Other speakers here included Mike Piepsny, head of the Cleveland Tenants Organization, who said Cuyahoga County was continuing to face 15,000 home foreclosures a year because of layoffs and the subprime mortgage lending policies of the Wall Street banks. Pat Gallagher, sub district director of the United Steelworkers, said refusal by the banks to provide credit had caused thousands to lose jobs at the Republic Engineered Products mill in nearby Lorain.
Wanda Navarro, a member of Workers United and a presser at the Hugo Boss men's suit plant, urged support for the fight to stop the company from closing.
"We can change their minds," she said. "We will keep fighting until they do."
Photo: Debbie Kline