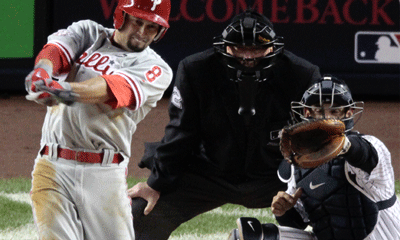 As the New York Yankees and Philadelphia Phillies battle each other in this year's World Series, 12 members of the Major League Baseball Players Association have announced their support for the Employee Free Choice Act.
Three of the players endorsing the worker rights bill are currently in the World Series: Jimmy Rollins and Shane Victorino with the Phillies and Mark Teixeira with the Yankees. Ball players Heath Bell, Dave Bush, LaTroy Hawkins, Torii Hunter, John Lannan, Andrew Miller, J.J. Putz, Justin Verlander and Adam Wainwright have joined them. The players signed a joint statement released Oct. 28.
In the statement the players and their union said:
"All Americans should have the same opportunity we've had – to be able to join a union without being fired and to negotiate with their employers without being penalized. Today, our country is facing some tough times. Health care costs are skyrocketing. Families are losing homes. Savings and retirement income are disappearing overnight."
They continue, "Now more than ever, we need a strong union movement to protect our jobs, our pensions, and our future. The Employee Free Choice Act simply guarantees a level playing field for all workers. It makes sure everyone plays by the same rules. That's as important in the workplace as it is in baseball."
Whether you're a bus driver, a journalist, a teacher, health care worker or a major league baseball player the choice to have a union on the job and bargain for better working conditions matters to all workers no matter what kind of work they do, Free Choice supporters note. The right to bargain along with your co-workers for fair wages, good benefits and safe working conditions is a fundamental right that will ensure a stronger economy for all, they say.
Meanwhile the World Series is on and baseball fans throughout the country are watching every game as the Yankees and the Phillies go head to head. As of Oct. 30 the series was tied 1-1. The Phillies are trying to maintain their glory – they were crowned World Series champions last year.
Photo: Phillies' Shane Victorino hits a run scoring single during the ninth inning of Game 1 of the Major League Baseball World Series, Oct. 28. (AP/Eric Gay)