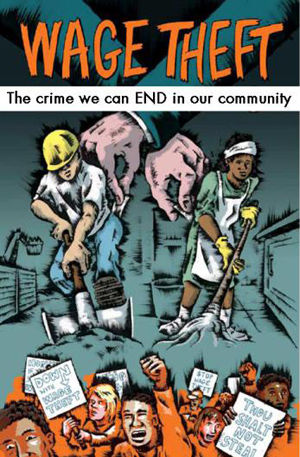 SAN JOSE, Calif. – Low-wage hourly employees battling wage theft at Ma Laboratories , a distributor of high-tech products headquartered here, received strong support at a rally June 6. The event was organized by the Santa Clara Wage Theft Coalition outside the old Santa Clara County Courthouse.
Wage theft, particularly from low-wage, immigrant workers, is a national epidemic. Attorney Ruth Silver Taube, a spokesperson for the coalition, reported that she has worked with hundreds of victims in the local area, while nationwide over two-thirds of low-wage workers suffer some form of wage-related violation every week.
Wage theft includes not only failure to page wages due but also refusal to pay for legally-mandated paid meal and rest periods and harassment and threats against workers who speak out against abuses or go to government agencies for redress.
The thieving doesn't stop even when workers receive a favorable judgment from government labor commissions. Silver Taube pointed out that workers generally succeed in collecting only a quarter of the settlement money mandated by the commissions.
Santa Clara County, also known as Silicon Valley, is a national hub of the high-tech industry. It also receives the highest rate of wage-theft complaints in California.
Michael Tayag of the Pilipino Association of Workers and Immigrants (PAWIS), a coalition member, said that many Filipinos are forced by poverty to emigrate from their homeland, only to suffer mistreatment as workers in the United States. The majority of PAWIS members, he reported, have suffered wage theft and other abuses such as deprivation of meal and even bathroom breaks. Because their families are dependent on their low-wage jobs, they are very vulnerable to retaliation by employers.
Worker members of PAWIS have nonetheless stood up and filed complaints with the local labor commission and have been awarded over $100,000 in settlements. Collecting the money, however, is another matter. Tayag noted that one worker who was awarded $6,000 has been able to collect only $100 of what he is owed.
Several workers from Ma Labs spoke eloquently of the abuses they have suffered. One, who worked for the Labs for 11 years, spoke of being allowed no rest breaks and having pay deducted for lunch breaks that he was not allowed to take. When he filed a complaint with the county labor commission, the company sent him home and then fired him. Other abuses noted in a class action complaint filed on behalf of the workers include encouraging employees to begin work before their scheduled time but not paying them for the extra work, forcing hourly employees to work "off-the-clock," and maintaining a manual recordkeeping system alongside the electronic one that allows Payroll Department agents to manually override electronic records of employee hours.
Coalition legal assistant Evelyn Ramirez spoke for workers who could not appear publicly because of concern over their immigration status – a frequent barrier to victimized workers seeking legal redress. One told of how, when he went for a bathroom break, he would be followed by supervisors or paged repeatedly on the PA system. Another reported that he was made to work 16 hours straight without receiving overtime pay.
The Santa Clara Wage Theft Coalition was organized last year to fight these abuses. It includes a number of immigrant and low-wage workers' organizations and Working Partnerships USA, which is affiliated with the South Bay Labor Council. The group has already succeeded in introducing in the Santa Clara County Board of Supervisors an anti-wage-theft measure that would, among other things, suspend permits of employers committing repeated wage-theft violations and provide for liens on companies to pay workers' wages and penalties due them. County Supervisor David Cortese, now a labor-backed candidate for mayor of San Jose, is taking the lead on this measure. A similar measure is being developed for the San Jose City Council.
The coalition is planning further actions, and the supporters at the courthouse appeared ready to follow Silver Taube's closing call: "Join us in our struggle to end wage theft in our county and in our country!"
Members of the Pilipino Association of Workers and Immigrants voice their support for the wage theft campaign: