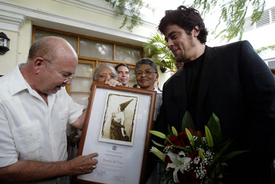 On July 30, President of the Cuban Union of Artists and Writers Miguel Barnet presented to Puerto Rican actor Benicio del Toro the Tomás Gutiérrez Alea International Film Prize, an award sponsored by the Cuban Union of Artists and Writers (UNEAC). The award ceremony took place at UNEAC's Martínez Villena hall.
Del Toro was accompanied by U.S. actors Robert Duvall, James Caan and Bill Murray, as well as producer Steve Bing.
Benicio said he shared this award with all Cuban artists and he felt very proud to receive this important prize because Gutiérrez Alea had influenced him so much by his 1966 film "La muerte de un burócrata," (Death of a Bureaucrat).
Del Toro said that he was not lucky enough to meet Tomás Gutiérrez Alea, but h e did meet some of his disciples, Daisy Granados, Jorge Perugorría and Luis Alberto García.
Barnet said that he was very fortunate to receive a group of outstanding U.S. and Puerto Rican actors after so many years because this is a sign of respect toward the Latin American and the Caribbean culture despite the U.S.. blockade against Cuba.
Cuban actor Jorge Perugorría, who worked with Benicio del Toro in the famous film "Che" by director Steven Soderbergh, said that Del Toro was very humanitarian and commended him for his professionalism and commitment not only socially and politically but also to the history and current situation of all countries all over the world.
After the award ceremony piano player Guillermo Tuzzio played a selection of Cuban and international songs. Bill Murray joined him in singing "As Time Goes By," the famous theme from the film "Casablanca."
From Juventud Rebelde — The newspaper of Cuban youth www.juventudrebelde.co.cu/