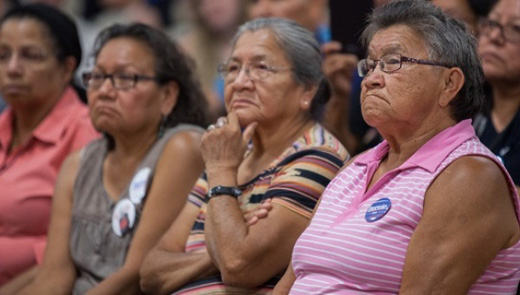 At the Black America Forum on Friday, February 14, in Minneapolis, Bernie Sanders was asked a very important question looming in the minds of American Indian voters. Sanders could have and should have done much, much better with a question posed by nationally-known and long-standing fighter for Native American rights, elder warrior, and tireless advocate, Clyde Bellecourt, who is also a founder of the storied American Indian Movement (AIM)..
Bellecourt was among the AIM leaders and activists invited to the Pine Ridge Reservation in 1973 by the local Lakota civil rights organizations that resulted in the siege at Wounded Knee. His inquiry to Sanders in Minneapolis was: "Are you going to honor the treaties?"
Sanders' lackluster answer: "The Native American people have gotten a terrible deal from the federal government. I will do everything I can to redress that. Absolutely. Thank you all very much."
Watching the video left this writer in a state of initial, visceral unease as Sanders gave such a terse, uncomfortable, rushed, and mediocre response. Bellecourt responded, shouting, "You still haven't answered the question," as Sanders hurriedly exited the room. I watched it at least twice. Now, don't get me wrong I am still a Sanders supporter, but again, he could have done so much better.
To begin with (and I don't fault Bernie for this), but why was Bellecourt the last audience member to be given the mic for a question? Although he prefaced his question with several lengthy remarks, historical and otherwise, relevant to the Indian "cause," this was quite understandable considering that non-Indian America hears so little about Native people. His remarks needed to be heard and appreciated.
He brought up the key issue of the treaties that the U.S. has consistently broken throughout history and in the present-day has just as consistently ignored. Sanders' response was simply too routine, rushed, and disrespectful. It almost seemed as if he was running out of the venue. So what if Bernie was late for another campaign appearance!
But all things considered, his prior record of concern for Native issues belies his response on this occasion, or I would like to think so. Also, he was not blindsided in this instance because the issue of treaties should have been on his mind in light of his campaign's recently-created Native American Policy Committee and his visits to various parts of Indian Country.
I can only assume that the treaties would be an agenda item for his Indian policy committee, especially in light of these covenants coming to the forefront in reference to the abortive Oregon occupation and the Burns Paiute unratified treaty which is reverberating with national attention.
But on the voting horizon, he is by far the best candidate in regard to Native concerns. Compared to 2008, Hillary Clinton has said little in reference to Native people during this campaign, despite the fact that she hails politically from a state – New York – with many Indian nations, federally and state recognized.
Sanders on the other hand is a co-sponsor of the 2013 Violence Against Women Act, which increased the jurisdictional sovereignty of tribes over non-Indians who commit crimes on tribal land. He is also the co-sponsor of the Save Oak Flat Act to repeal the Southeast Arizona Land Exchange Act that authorized the Oak Flat transfer, that would grant land sacred to the Apache people and others in the Tonto National Forest to a foreign mining company.
Sanders has been a consistent opponent of the deadly Keystone XL Pipeline, which has been vehemently opposed by American Indians nationwide, while Hilary Clinton who initially was in favor of the Pipeline later opposed it on the feeble grounds that it was a "distraction."
Overall, Sanders was in a position at the forum to make a strong statement on the treaties and give a respectful answer to a tried and true warrior who has spent his life advocating for American Indian rights. May he do better next time, and let this be a learning experience. Let's not have it happen again. Native people expect and deserve more.
Photo: Bernie Sanders.com