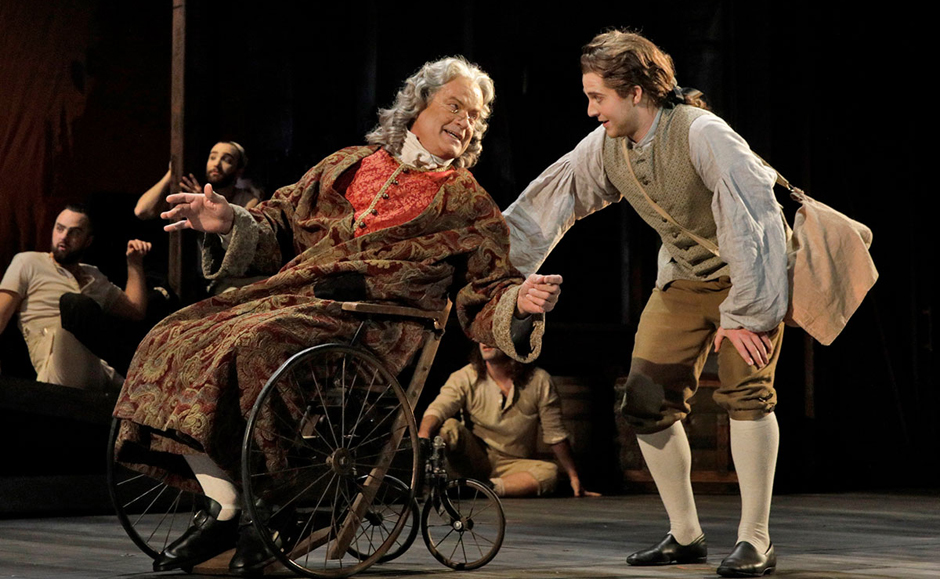 LOS ANGELES—In the history of Western storytelling, along with Homer's The Odyssey, Frank Baum's The Wizard of Oz and Jack Kerouac's On the Road, Voltaire's 1759 Candide ranks as one of the greatest sagas ever told about protagonists embarking upon great travels. This is what mythologist Joseph Campbell called The Hero's Journey. The 18th-century title character Candide's (tenor Jack Swanson) epic gallivanting takes him from Westphalia, in what is now Germany, around much of Europe to the New World, where he experiences Uruguay, the legendary golden realm of El Dorado, and beyond.
The French Enlightenment philosopher Voltaire explicitly imbued his novella with philosophical inquiry and insight. During his global peregrinations, Candide is joined from time to time by an entourage consisting of his would-be sweetheart Cunegonde (coloratura soprano Erin Morley), her snobbish, elitist brother Maximilian (Theo Hoffman), the sensuous servant Paquette (Peabody Southwell), the Old Lady (Broadway veteran Christine Ebersole), and Cacambo (Joshua Wheeker), who is first encountered at Montevideo.
Doctor or Professor Pangloss, who tutored Candide, among other students, in "metaphysico-theologo-cosmolo-nigology," is an intriguing, droll character through whom Voltaire spoofs some of his fellow Age of Reason philosophers. Pangloss is mocked for his perpetually excessive optimism in what he calls "this the best of all possible worlds."
Born out of wedlock, during his globetrotting Candide—so named because "his judgment was quite honest and he was extremely simple-minded"—seeks to find out the meaning of life. Is it to attain status, wealth, glory, sexual gratification, love, or what? As such, this musical adaptation, which first appeared on Broadway in 1956, is one of the most philosophical operettas ever staged. It is also highly entertaining, with a bubbly overture conducted by James Conlon so enrapturing and ebullient, one of those rare pieces of music which makes one glad to be alive—if only to be able to hear such joyous sounds.
Casting Kelsey Grammer as the French philosophe Voltaire (1694-1778) and Professor Pangloss is a sly, canny choice. As one of left-leaning La La Land's most outspoken Republicans, who endorsed wackadoodle Congresswoman Michele Bachmann for president in 2012 and also backed GOP contenders George W. Bush, John McCain, Mitt Romney, Rudy Giuliani, Ben Carson and Trump, Grammer certainly has one of the finest minds of the 18th century. The conservative actor's selection to portray Voltaire and Pangloss is also inspired, in that Grammer's most popular character, Dr. Frasier Crane, was a psychotherapist in the beloved Cheers sitcom, who went on to dispense psychological advice as a radio shrink on the air in TV's Frasier spin-off series. To be fair, the multiple Emmy Award-winning actor who warbled Frasier's closing theme song "Tossed Salads and Scrambled Eggs" acquits himself well as the preposterously pretentious optimist Pangloss. (Speaking of television theme songs, a snippet from Candide's frothy overture was played during Dick Cavett's talk shows.)
Interestingly, Candide has deep 20th-century political implications. In 1951, playwright Lillian Hellman's lover, novelist Dashiell Hammett (The Maltese Falcon, The Thin Man), refused to name names of members of the Civil Rights Congress' bail fund, and as the CRC's president he was found guilty of contempt of court. Hammett, who'd volunteered for the Army at age 48 to serve during WWII, served time in a West Virginia federal prison where, according to Hellman, he was forced to scrub toilets. The creator of Sam Spade, Nick and Nora Charles testified before Senator Joe McCarthy's "reds-under-the-beds" Senate Permanent Subcommittee on Investigations on March 26, 1953.
Hellman herself was summoned to testify before the House Un-American Activities Committee, and her letter to the witch-hunters was read during her hearing on May 21, 1952, by the Committee's chairman. Hellman's defiant text contained one of the HUAC hearings' immortal lines: "I cannot and will not cut my conscience to fit this year's fashions…."
As Voltaire's novella contained scenes about the Inquisition in Lisbon (the Grand Inquisitor is played here by Brian Michael Moore), Hellman saw parallels between the auto-da-fé and the HUAC/McCarthy era, and proposed adapting Candide into a play, with Leonard Bernstein composing some incidental music. According to LA Opera's program notes, Bernstein became so enamored with the idea that "he persuaded her that it should be a 'comic operetta.'" LA Opera stages the work this year, marking the centennial of Bernstein's birth.
In the late 1930s Bernstein staged a student production at Harvard of Marc Blitzstein's radical musical The Cradle Will Rock, the pro-labor Federal Theatre Project play that had literally been suppressed on Broadway at bayonet point. Bernstein's first opera, 1952's Trouble in Tahiti, dedicated to Blitzstein, was a critique of bourgeois American life. Red Channels, that compendium of anti-communist opprobrium, named Bernstein. (Much later, in 1970, after Bernstein held a fundraising party for the Black Panther Party at his Park Avenue penthouse in Manhattan, author Tom Wolfe mocked him for being "radical chic" and "mau mauing.")
Nevertheless, Bernstein also composed his only original movie score not adapted from another medium for 1954's On the Waterfront. The music, which earned an Oscar nomination, is undeniably powerful—but directed and written by Elia Kazan and Budd Schulberg, who both gave names to HUAC, Waterfront is a defense of informing. The protagonist, however brilliantly portrayed he may be by Marlon Brando, is an informer.
Kazan was considered to be the Hollywood Blacklist's "quintessential informer," who even took out a full-page rationalization of his naming names in The New York Times. Thus a character usually depicted as a "snitch" or "rat" becomes the hero in this symbolic     justification of collaborating with the HUAC and McCarthy purges. So Bernstein's cooperation with Kazan and Schulberg's homage to finking is, to say the least, eyebrow raising, yet it may have been his ticket to ride in reversing the Red Channels-HUAC curse.
Although Bernstein and Hellman's operetta is written and performed at the Dorothy Chandler Pavilion in English, supertitles are projected during the numerous arias and ensembles, but not the spoken dialogue. This version of Candide is well acted and sung, adroitly directed by the Kennedy Center's Francesca Zambello, especially in the mass scenes' complex staging. Eric Sean Fogel's choreography and costumes by Jennifer Moeller do the trick, as does the chorus directed by the redoubtable Grant Gershon. James Noone's scenery, or lack of, is a completely missed opportunity. The operetta looks like it's staged in an old warehouse or abandoned railway station. Wouldn't you love to see the mythic El Dorado visualized? I assume that the mostly bare stages are due to budgetary concerns, but only Pangloss knows.
This is a mere quibble, however, in this the best of all philosophical operettas, which includes, for example, plenty of ruminations on class divisions. Like Dorothy, Candide did not know both of his biological parents, which may explain their searching far and wide and why they reach similar conclusions: "There's no place like home." Perhaps expressing Voltaire's credo, Candide's final scene answers the Big Question: What's it all about? What is the meaning of life? In any case, we must all cultivate our operas.
Candide will be performed Feb. 8 and 15 at 7:30 pm and Feb. 11, 17 and 18 at 2:00 pm at LA Opera at the Dorothy Chandler Pavilion, 135 N. Grand Ave., Los Angeles 90012. For tickets and further information see the company's website.
Scenes from Candide can be viewed here.
The third edition of "The Hawaii Movie and Television Book" co-authored by L.A.-based film historian/reviewer Rampell drops in March 2018.